In our house, May and June is sports season. And I have to say that it's one of my favourite times of the year! Even though the month is incredibly busy, there's something so energizing about watching my boys play their favourite warm-weather sports as the baby plays on a blanket in front of me.
But to make sure the whole family has a good time during our various sports activities, being prepared is a must! As soon as Zackary's baseball games and Benjamin's flag football season kick off, I prepare a bag of essentials to help ensure that we're ready for anything during a game.
Have kids in summer sports too? These are the items that I love to have at every game!
Refillable Water Bottles
While it goes without saying that I make sure my sports-playing boys have a water bottle filled and ready to go, I also pack two extra bottles just in case. Sometimes, the day is so hot that I need a little refreshment too! And sometimes, my boys will play an especially hard game and finish off their own bottles early on. No matter what the reason, I'm always happier having extra water available.
Pocket First Aid Kit
My boys don't get many bumps or scrapes, but I still want to be prepared if they (or other kids on the team) need a bandage or an ice pack. As soon as sports season starts, I take my travel first aid kit and move it into the back of my car so that it's ready if anyone on my boys' teams need it. It's amazing how much a simple bandage can help a child feel better and get back in the game.
Insect Repellant
While I love the warmer weather, I don't love the insects that make their appearance when the snow is gone! Mosquitos are the main annoyance here in Saskatchewan, and they're already plentiful this year. Keeping my favourite insect repellant in my sports bag ensures that I can watch a game in comfort, and my boys can play without distraction.
And for times when I'm a little too slow applying insect repellant, I keep a Benadryl Itch Stick ready in my bag. This convenient stick contains a topical antihistamine/analgesic and a skin protectant to help relieve itching due to bug bites and stings. It's a quick and easy way to soothe any bites so my boys can focus on their game, and I can focus on cheering them on!
Children's Benadryl Allergy Medication
Both my boys suffer from mild to moderate seasonal allergies. And since I have the same issue, I know how distracting it can be trying to focus on even a simple task while battling itchy eyes, a stuffy nose and sneezing. That's why I always make sure that I pop a box of Children's Benadryl Chewables into my bag, just in case one of them starts to show the signs of a reaction.
I recently learned that everyone has a limit in the amount of allergy triggers their body can handle. Too much pollen, dust, animal dander and other allergens can surpass a person's natural threshold and cause a reaction. That explained to me why there seems to be no rhyme or reason to my boys' reactions. But by keeping Benadryl ready in my bag, I'm prepared for that sudden "crossing of the threshold," even if it only happens once or twice a sports season!
Blankets
The weather in May and June is notoriously unpredictable in Saskatchewan and sometimes the nicest day can turn frigid by the time the sun starts to go down. That means that I've been caught shivering in shorts and a t-shirt more times than I care to remember!
So now, I always keep a couple of blankets ready to pull out when needed, whether I'm laying one out for the baby to sit or wrapping up in one to stay warm after a sudden drop in temperature. I also fold up an extra sweater for everyone in the family and leave them all in the car just in case we need even more warmth.
Wet Wipes
From cleaning up dirty hands after a big play, to letting me freshen up after discovering a port-a-potty is out of toilet paper, a travel pack of wet wipes is a multi-use workhorse that always comes in handy. I choose a variety for sensitive skin, so that everyone from my husband to my baby can use them when needed. (And at nine months old, my baby needs them pretty often!)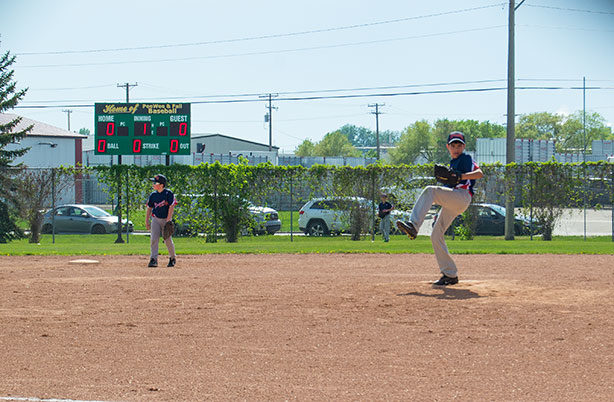 Next week, my oldest son has his first baseball tournament, which means we'll be spending most of the weekend at the ball diamond. I'll be doing a double-check of my sports bag to help ensure I have everything I need for a fun-filled sporting event and replenishing any items that are running low.
Since Zackary is one of the starting pitchers this year, Children's Benadryl Chewables are especially important for me to have ready. I know he would be so upset if he wasn't able to pitch properly because he was dealing with an unexpected allergic reaction.
There are plenty of other items that I find come in handy as well, from snacks for my baby to extra money for the concession to camping chairs that let us avoid uncomfortable bleachers. But these six items are the ones that I find myself using again and again.
If you have kids in organized sports, check out your own bag of essentials and see if you might want to add a few of these. When it comes to kids, I usually find that you can never pack too much, or be too prepared!