Disclosure: I am part of the PTPA Media Brand Ambassador Program with Philips Avent and I received Compensation as part of my affiliation with this group. The opinions on this blog are my own.
For the last few months, Cormac has delved into the wonderful world of real food. Even though he's still adorably toothless, he's gone from pureed meat and vegetables to soft pieces of cooked food in record time…and loved everything he's tasted!
But despite his fondness for everything from pasta to pickles, he also still loves to breastfeed. And I'm more than okay with that! I've always been a fan of extended nursing, mostly because I loved that bonding moment with my children so much. And if Cormac is anything like his older brothers, he'll be breastfeeding for quite a few months yet.
That means that when I'm not home to feed Cormac, I want to have breastmilk ready for him in a bottle. When I first gave birth, I used the Philips Avent Comfort Manual Breast Pump to express milk, and I loved its lightweight design and how easy it was to use.
But I wondered if pumping could be even easier, and so I was thrilled when Philips Avent let me test out the Comfort Double Electric Breast Pump as well! I'd never used an electric breast pump before, but I'd heard some great things from friends and family.

Portable Convenience
With three kids in the house, our family's life is pretty busy. So, one of the immediate things that appealed to me about this electric pump is that it came with a convenient carrying bag for easy portability. The pump, all its accessories and two bottles all fit into a sleek black case that was no bigger than my purse!
For the ultimate in convenience, the pump also features two power sources. When using the Philips Avent Comfort Double Electric Breast Pump at home, an AC adapter lets me plug the pump into the wall for steady power. When away from home, I can insert batteries and power the pump cordlessly any time and anywhere.
Functional Versatility
The pumping system consists of the base unit, two tubes with a special suction attachment on each end and two pumping units connected to Philips Avent bottles. Like the manual pump, I liked the fact that the pump could attach to any variety of Philips Avent bottle.
That versatility is something that Philips Avent is passionate about, and it showed in the other features of the pump as well. For better comfort, women can choose from three different pump cushion sizes to get the best personal fit. And the pump offers three different suction strengths for more effective expressing.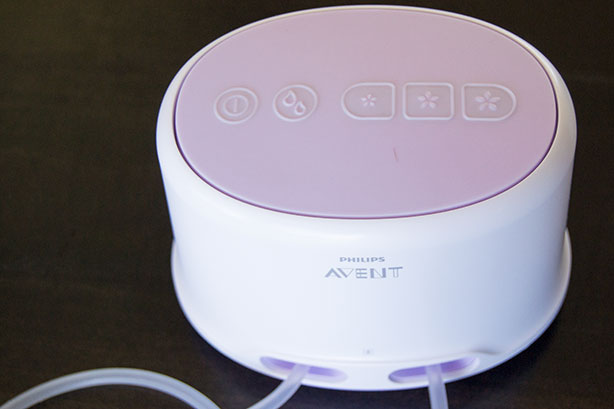 Tips for Using an Electric Breast Pump
It being my first time using an electric breast pump, I wasn't sure what to expect. I loved the fact that I could pump from both breasts at the same time, but I decided I'd start pumping on just one side until I figured out the settings that worked best for me.
Getting a good seal is important, so before I positioned my breast, I made sure to press on the cushion to get rid of any air bubbles. Then I just hit the power button on the pump and let it do the work.
The pump starts on a stimulation mode that's designed to trigger letdown and get milk flowing. Once that happened, which took about twenty seconds, I turned the pump to the lowest suction setting.
What surprised me most about the Philips Avent Comfort Double Electric Breast Pump was how comfortable it was to use. I fully expected it to be a little harder on my breasts than a manual pump since I wasn't controlling the pressure and rhythm while pumping.
Instead, the opposite was true! I quickly learned that the lowest suction setting was a little too low for me and set the pump at medium suction. It was gentle, yet strong enough to keep milk steadily flowing. I was comfortable enough with the process that I decided to start pumping on the other side as well.
While I found the electric pump gentler on my breasts than the manual one, I did notice that it took a little longer to get a similar amount of milk. Since the electric pump features a steady rhythm, it wasn't as customized of an experience as using a manual pump is. I often speed up or slow down pumping with a manual pump to maximize milk flow. The electric pump's consistent pattern meant milk flowed a little slower, but it was noticeably more comfortable to use.
I used the pump for about twenty minutes, which gave me enough milk for a small feeding for Cormac. And I loved the fact that I could lounge comfortably while pumping! Since my first experience, I've started making sure I have a book on hand so that I can read while pumping. The hands-free experience and gentle suction mean that I get to focus on me, while also making sure I have milk ready for my baby!
If you've been wondering whether an electric pump is a good choice for you, I highly recommend trying out the Philips Avent Comfort Double Electric Pump for yourself. The customizable settings and comfortable experience make it a great choice for women that crave a relaxing pumping experience. Having won the PTPA Seal of Approval, it's a pump that's been tested and enjoyed by breastfeeding mamas across the country. And after using it for myself, I can see why!