With all the hot weather we've had so far this spring and summer (and with more heat in the forecast, sunscreen is a top priority for me this year. Of course, I always make sure that I have a good children's sunscreen for my three boys.
But I also need a sunscreen for myself and my husband. I've been interested in sport sunscreens because even though we're not playing active sports, we have been working hard and getting sweaty building our deck, planting trees and spreading topsoil.
That means choosing a sweat-resistant, long-lasting sunscreen is a must. Luckily, brand-new Banana Boat Simply Protect Sport Spray Sunscreen is the perfect solution!
This sunscreen features 25% fewer ingredients and no added fragrances or oils. It has a sweat and water-resistant formula that's quick and easy to apply thanks to the aerosol can. I decided to test it out while my husband and I put up our back deck railing and planted our berry bushes.
When it comes to spending a lot of time working outside, I'm a huge fan of aerosol sunscreen. It's so much faster both to apply initially and to re-apply during the day without interrupting my workflow. This sunscreen took just seconds to spray onto my arms, neck and face, and provided protection for well over an hour.
My husband has been outside even more than I have since I often take Baby Cormac into the house for snacks or a nap. And this sunscreen is the one that he grabs time and time again. He keeps it on a shelf in the garage for easy access, so he can reapply it throughout the day at a moment's notice.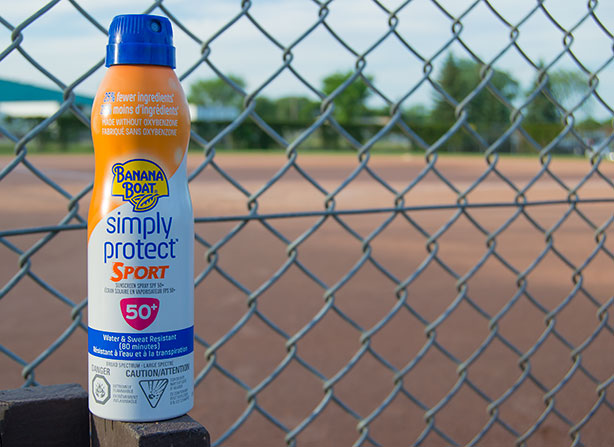 In addition to being great for outdoor work, Banana Boat Simply Protect Sport spray sunscreen is designed to protect skin even when exposed to pool and ocean water, wind, sweat and sand. On an acreage with no trees, I was impressed with how my skin stayed protected even in strong prairie winds.
Whether you love summer sports or just plan on doing a lot of outdoor work this summer, the new Simply Protect Sport spray sunscreen has great coverage, high protection and can stand up to the elements to help keep skin from burning. Check it out and see how fewer ingredients can offer all the protection you need!