Disclosure: I am participating in the Burnbrae Farms campaign managed by SJ Consulting . I received compensation in exchange for my participation in this campaign. The opinions on this blog are my own.
It always amazes me how busy my family is when summer arrives. School may be out for two months, but our schedule doesn't seem to slow down at all!
In fact, with three boys in the house every day, I need quick and easy weekday meal solutions more than ever.
That's why I've started making sure that I always have Burnbrae Farms Naturegg Simply Egg Whites in my fridge to help with those weekday challenges.
These egg whites are fully pasteurized, making them perfect for everything from smoothies to royal icing. And with just a few added ingredients, they make a great healthy meal!
Even though most people think eggs equal breakfast, we love having egg dishes for other meals, whether that's in a Bacon Egg Salad Wrap or a batch of Tuna Salad Deviled Eggs. And for an easy lunch or even light dinner, a Greek Egg White Omelet Roll is quick to whip up and has a flavour the whole family loves.
With just 245 calories per serving and 20 grams of protein, it gives me the energy I need to tackle the busiest days!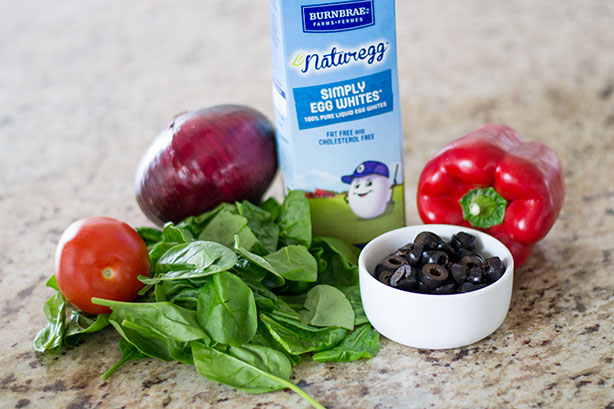 Making it is as simple as whisking together Burnbrae Farms Naturegg Simply Egg White with milk, pouring the egg whites into a pan and sprinkling on our favourite Greek toppings. After baking for half an hour, I have a healthy omelet that feeds the whole family.
And while I like this high protein, vegetarian version of baked omelet, there are infinite variations to try as well!
Sprinkle on ham, green pepper and cheddar cheese for a heartier, meatier version. Or try crumbled bacon with diced tomato and mozzarella.
Having Burnbrae Farms Naturegg Simply Egg Whites in the fridge has been so handy for all kinds of my favourite recipes. I love how easy the liquid egg whites make adding lean protein to different meals!
From breakfast wraps to meringues, Burnbrae Farms Naturegg Simply Egg Whites are such a versatile product to have in the fridge for quick meals and desserts. Grab a carton and try whipping up this easy Greek Omelet Roll to see how simply weekday meals can be!
Greek Egg White Omelet Roll
A simple and healthy baked omelet perfect for breakfast, lunch or a light dinner.
Ingredients
1 1/2 cups Burnbrae Farms Naturegg Simply Egg Whites
1 cup skim milk
1/3 cup flour
1 tsp salt
1/2 tsp pepper
1 tsp parsley
1 1/2 cups torn fresh spinach leaves
1 tomato, diced
1/2 cup red pepper, chopped
1/4 cup red onion, chopped
1/2 cup sliced black olives
1 cup feta cheese, diced
Instructions
In medium bowl, whisk together first six ingredients until blended.
Line 9 inch by 13 inch pan with parchment paper. Pour egg mixture into pan.
Sprinkle with remaining ingredients.
Bake at 350 degrees for approximately 30 minutes, until eggs are cooked through.
Lift omelet out of pan using edges of parchment paper and let cool for five minutes. Gently roll up omelet and cut into slices.
Serve immediately, garnished with additional tomato, parsley and feta if desired.
Nutrition Information:
Yield:

6
Serving Size:

6 people
Amount Per Serving:
Calories:

161
Total Fat:

7g
Saturated Fat:

4g
Trans Fat:

0g
Unsaturated Fat:

2g
Cholesterol:

23mg
Sodium:

817mg
Carbohydrates:

14g
Fiber:

2g
Sugar:

5g
Protein:

12g