In just a year, my darling Cormac has gone from a cuddly baby to a wild and independent toddler. He climbs the ladder into his brother's bunk bed. He plays in the dog's water bowl. And, most of all, he gets messy!
From playing outside in the mud, to sneaking chocolate chips from the bag in the pantry, to feeding himself absolutely everything, Cormac has made getting messy an integral part of his day.
And getting him to wash his hands properly at the sink is virtually impossible.
Fortunately, Aveeno has created a solution that's perfect for babies like Cormac and a busy mom like me!
New Aveeno Baby Hand & Face Wipes with oat extract and aloe are softer, larger, and biodegradable baby wipes that let me take my baby from sticky to stylish with no fuss and no muss!
Since my little one's skin is easily irritated, I love that the new wipes are specially formulated for his sensitive skin. In addition to mild cleansers, the wipes contain moisturizers that help nourish his skin as they gently clean.
I've been doing a lot of holiday baking, so I've had plenty of opportunity to test the wipes as my baby taste-tests my cooking. But my first chance came when we had our favourite lasagna-stuffed French bread for supper one night.
Cormac, in true independent fashion, only let me feed him for a mouthful or two before he started insisting on feeding himself. And so, I carefully cut a piece of saucy, cheesy, meaty bread into squares and set it in front of him.
Within minutes, my little angel was covered in sauce and having the time of his life. And then I knew it was time to grab the Aveeno Baby Hand & Face Wipes!
I loved that I didn't have to try to manipulate Cormac to the sink and wash the sauce off his hands and face. Instead, a few quick wipes had Cormac cleaned up and ready to go play with his toys.
As I should have known, later that same evening I was reaching for the Aveeno wipes once more when Cormac insisted on having a homemade Nanaimo Bar for his bedtime snack. For a baby that's only sixteen months old, he's quickly learned that Mom makes some yummy (and messy) treats!
Fortunately, cleaning Cormac's sticky chocolate fingers was just as quick and easy. In fact, Cormac soon wanted to take the wipe away from me and wash his hands himself!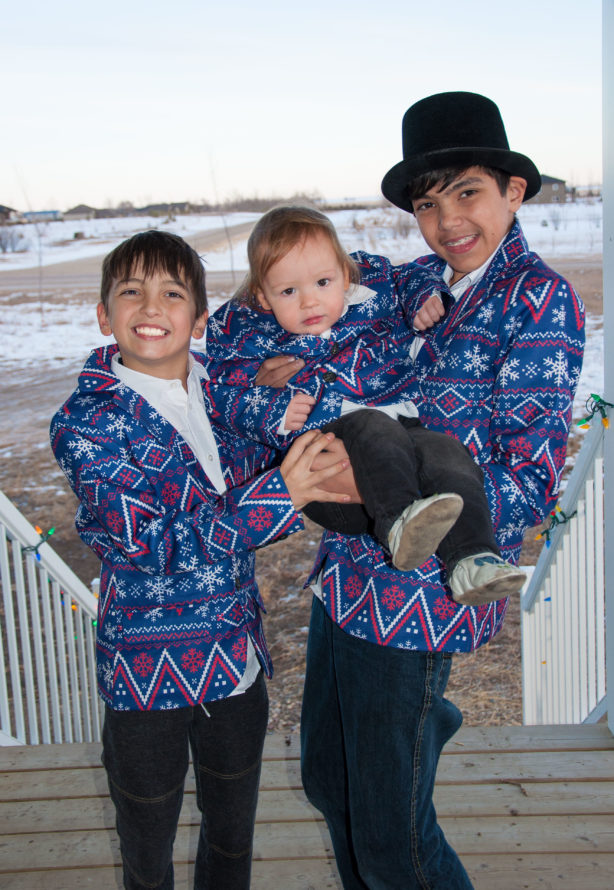 With New Year's Eve fun just days away, keeping my little man looking his best is a bigger priority than usual.
And chances to get messy are also higher! In fact, just a few days ago, a local business gave Cormac a chocolate treat right before it was time for photos with Santa!
Luckily, Aveeno Baby Hand & Face Wipes are perfectly portable as well as convenient, so I had a package of wipes ready to use in the diaper bag. Within minutes, Cormac was looking fresh and clean for his photos once more!
Fragrance-free, alcohol-free and gentle enough to use over and over again when Cormac gets into mischief, these wipes have made the busy holiday season so much easier on me!
Find them in stores now and help your little one mess to impress during the holidays!