Disclaimer: This post was sponsored by AfterShokz and PTPA. Views expressed belong to Mommy Kat and Kids and are not influenced in any way.
After giving birth to my baby Cormac almost a year and a half ago, I found that, for the first time in my life, I really struggled to get my body back into shape.
There were lots of reasons for that. I was in my mid-thirties instead of my mid-twenties. I ended up diagnosed with a thyroid deficiency, which had been sapping my energy without my realizing. And my extremely active little baby left me so exhausted that I just couldn't get motivated to get back in shape.
But in 2019, that all changes! When my older boys started school after the holidays, I knew the time had come to stop making excuses and start making changes! And if you're a busy mom struggling to find motivation too, these are my top 4 tips for helping a busy mom exercise more in the new year!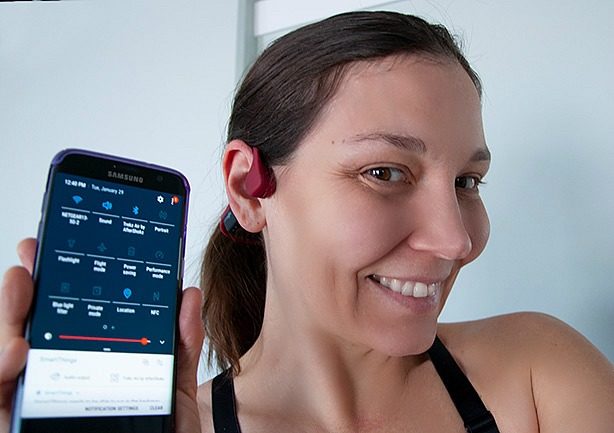 1) Set An Easy Routine
My plan to move more starts pretty simply, with just a thirty-minute walk each day. Because I don't like being out of breath, walking is a natural full-body exercise choice for me. And since we have a treadmill in the basement, I can enjoy a walk in even the coldest weather.
But most importantly, since a thirty-minute walk each day is fairly easy to accomplish, I'm able to quickly set a routine for myself that I can maintain no matter what. When I start to find my usual walk a little easy, I either increase my speed or add a weighted backpack to increase muscle-building.
To start, though, that simple daily walk helps me move more and get back into the habit of daily exercise.
2) Make Exercise Fun
My husband used to find it funny that I would walk for a full half-hour in complete silence. He loved putting on his favourite music when doing his own exercising and often encouraged me to do the same. But I found that dealing with keeping headphones in place during my exercise was more of a bother than an enjoyment.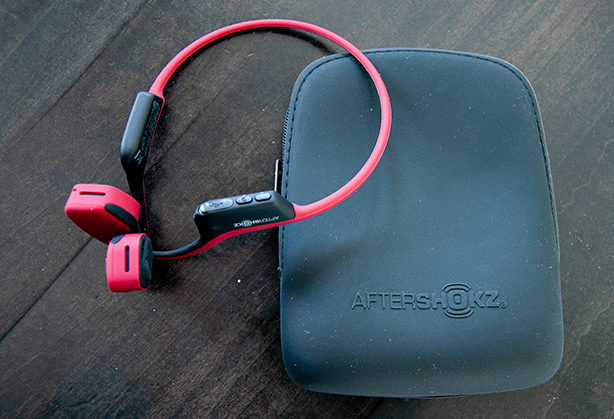 Then the AfterShokz Trekz Air headphones came into my life! These headphones are light, wireless and incredibly comfortable. I love the over-the-ear design that helps keep the headphones in place. And with sweat-repelling technology and up to six hours of sound with every charge, they let me listen longer and enjoy my workouts more.
Whether you love listening to music, putting on podcasts or even setting up a television in your exercise space so that you can catch up on your favourite show, making your workout more fun is a great way to help you stick with it!
3) Sneak In Workouts When You Can
One of my biggest obstacles to daily exercise as a busy mom is my adorable and rambunctious toddler. I can't exercise when he's awake, because he immediately tries to jump on the treadmill with me. That means sneaking in a quick walk either when he has his afternoon nap or when he falls asleep at night.
Unfortunately, he's often not a very sound sleeper, so I have to listen for sudden crying from upstairs. Once again, AfterShokz Trekz Air have been my salvation. They use bone conduction technology, which transmits sound through vibrations of the bones in the face, to bypass the outer and middle ear and send audio directly to the inner ear.
What does this mean for a busy parent? Put simply, I can listen to my favourite music or podcasts when I exercise, yet still hear the noises around me since the headphones don't actually cover my ear! So, on those days when my baby does wake up as I'm exercising, I can run upstairs right away and hopefully get him back to sleep.
4) Forgive Yourself When Life Happens
After two straight weeks of daily exercise, I left on a work trip to New York City. My hotel was about a fifteen-minute walk away from my conference center, so I'm confident I got my daily exercise while I was there.
But then I got home to a baby that had a stuffed up nose, a hacking cough and a fever. That, plus having not seen his mamma for three days, meant that I had one clingy little sweetie on my hands! The day after I got home, I didn't do my daily walk. The next day, I only managed 15 minutes.
But I kept reminding myself that missing a day or two didn't mean I wasn't going to start again. Instead, I'd pump myself up for the next day, thinking about how I couldn't wait to get walking again. That way, on the third day, I was ready to rush downstairs and get back into my routine!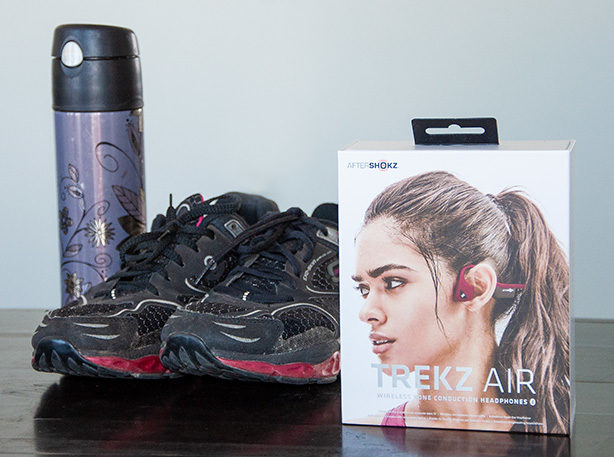 When it comes to sticking to my workouts, good equipment really does help a lot. My favourite running shoes, a bottle of water at the ready and my new AfterShokz Trekz Air headphones all help make my workout time better, so that I'm more likely to stick with it.
If you've been planning to make the new year one of better health, use these four tips to make your own daily busy mom exercise plan. As a friend recently told me, even ten minutes is better than nothing if that's all you can fit in!
And once you start, it's amazing how quickly you'll start looking forward to that daily dose of exercise!