This is a sponsored post written by me on behalf of the PC Insiders subscription service. All opinions are 100% mine.
After giving birth to Cormac, I was surprised by how long it took my body to recover. My energy level was very low and I couldn't seem to get rid of that last ten pounds of baby weight.
I didn't worry much about that sluggishness and extra weight for Cormac's first year, especially since I was breastfeeding. But after this last Christmas, I decided it was time to jump in and get healthy again!
Part of my new healthy lifestyle involves following a new, healthy meal plan. That means doing a weekly shop of all the food I need for each nutritious meal.
But as any mom knows, shopping with a toddler can be a challenge all on its own! That's one of the reasons I love my PC Insiders yearly subscription.
The PC Insiders program is a new subscription service from Loblaws that offers amazing money-saving benefits to members. From bonus points on select products and categories to free shipping, it's a great way to save when you're shopping for the items you need.
For me, the biggest appeal of the program is the free pickup offered when I use the PC Express online shopping service. Free pickup means that I can order the groceries I need for my healthy meal plan from the comfort of my home.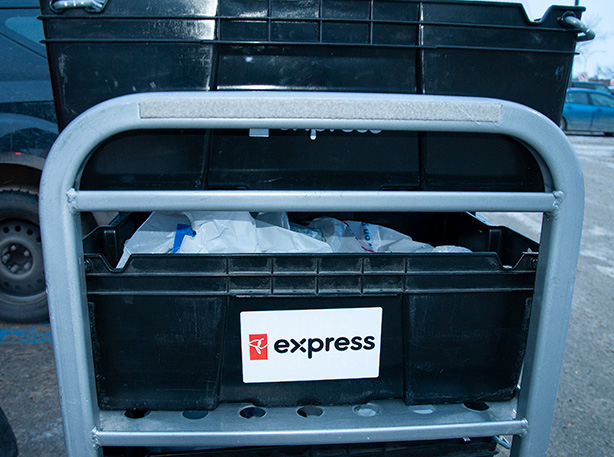 My routine is simple. On either Friday or Saturday night, I add everything I need for the week to my online cart and schedule pickup for Sunday afternoon. Then I just have to make a quick trip to my local Real Canadian Superstore to pick everything up.
It saves me so much time and hassle not having to spend an hour or more shopping with Cormac in tow. And I save up to $5 in pickup fees every time thanks to my PC Insiders subscription!
But while the free PC Express pickup is my personal favourite part of the program, it's just the start of the benefits! I also receive 20% back in PC Optimum points when I purchase PC Organics, PC Black Label Collection and Joe Fresh® branded products. Plus, I get 20% back in PC Optimum points on any brand of baby diaper and formula purchases from Loblaw banner stores!
And, once again saving me both time and money, I also get free shipping when I shop at joefresh.com and shoppersdrugmart.ca.
I'm pretty picky about the makeup I use, and Shopper's Drug Mart is the only place I've found that carries my very favourite tinted sunscreen and mineral foundation. Now I can order my two favourite beauty products from shoppersdrugmart.ca any time I need them, no trip to the store required!
For annual subscribers, the PC Insiders program rounds off its benefits with a $99 travel credit each year when I book a flight, a hotel room for at least three nights or vacation at pctravel.ca, and a surprise delivery box of fun products just for PC Insiders! We're planning a vacation for the May long weekend this year, so that travel credit is going to come in very handy.
A yearly PC Insiders subscription is $99 and if you want to see for yourself just how much value the program offers, I have an amazing deal that you won't want to miss! Enter the code KAT50 when signing up and you'll get your first year for 50% off the regular price*!
Since starting my healthy eating plan, I've already lost almost ten pounds with fairly minimal effort. Having all the groceries I need for the week ready and waiting makes following my meal plan so easy, and not having to battle crowds or deal with a mischievous toddler while shopping is an absolute blessing.
Perhaps the best thing about the PC Insiders program is that is has benefits for every type of shopper. Whether you adore Joe Fresh branded fashions, use a ton of diapers or, like me, can't get enough of the convenience of PC Express grocery pickup, a PC Insiders subscription has the potential to save you money!
Check out the full benefits of the PC Insiders subscription today, and don't forget to use my exclusive coupon code to try your first year for half off the regular price. It's a great way to see for yourself just how much you can save and earn as a PC Insiders member!
*Offer ends 4/30/19. See pcinsiders.ca for program details.