I've been a Playmobil fan since my middle son first bought himself a Playmobil horse stable with his birthday money. The sets are high quality, have tons of variety and feature amazing attention to detail.
And in its quest to inspire children's imaginations, Playmobil is always innovating! The company recently added four new themes to its collection and since my boys love their animals, the company sent me a few of its new Playmobil City Life animal-themed sets to check out for myself.
We received the impressive Playmobil City Life Tiny Paws Pet Hotel, the adorable Mobile Pet Groomer and the Small Animal Boarding playsets to review. My middle son had actually just lost his beloved guinea pig, Bear, to old age and was excited to have the Playmobil guinea pigs to remember him by.
Benjamin and I had a great time assembling the playsets together and then setting up the different animals in their homes. I loved the fact that the hampsters in the Small Animal Boarding set actually snapped onto the exercise wheel so that we could spin them around!
The Pet Hotel boasted a variety of fun and interactive features as well. My youngest loved watching the Playmobil dogs ride on the seesaw. And my middle son had a great time pretending to feed the dogs and put them in their houses!
With windows that really open, swinging pet doors, people to help the animals and tons of different dogs and parrots to care for, this set is ideal for any little animal lover. I adored how many accessories the set featured, from tiny bones and leashes for the dogs to garden tools and cookware for the people.
To let your little one enjoy some cuddly imaginary fun, Playmobil is very generously offering one lucky Mommy Kat and Kids reader a prize pack containing the new City Life Mobile Pet Groomer and Small Animal Boarding playsets, a $68 total value! To enter to win, just leave a blog comment about your child's favourite type of pet.
All three of these sets are perfect for kids that love animals and a great way of encouraging imaginative play. While my youngest is too young for Playmobil at the moment, I did let him claim one of the larger Playmobil dogs from the set so that he could carry it around and take care of it!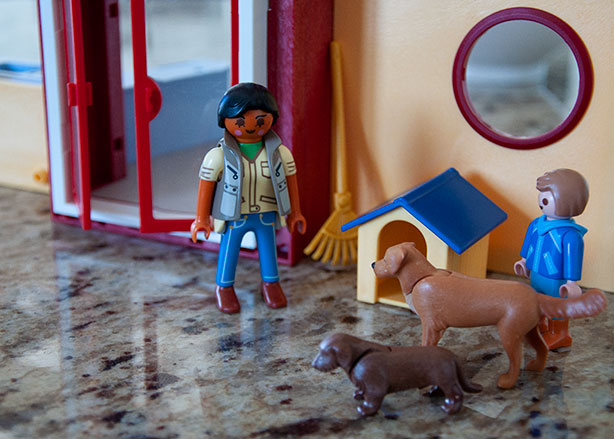 When it comes to keeping kids engaged and learning as they play, Playmobil really has things figured out. Check out all the new sets and get ready to watch your little one explore their own little world with these detailed and fun-filled playsets!