As somebody that deals with hormonal acne and is also reaching a time in my life where anti-aging products are a must, I've tried a lot of skincare regimens over the years.
Some have been good, some have been bad and I've gradually found some favourites. But they've all had one thing in common…they're all mass produced for thousands of different women.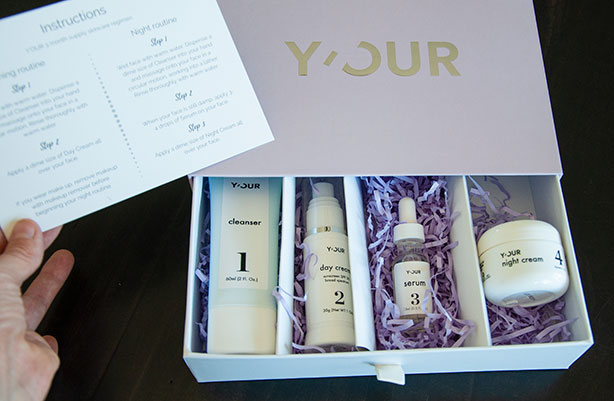 Y'OUR skin care wants to change all that, with custom-made products designed especially for the woman using them. And I was thrilled when they offered me the chance to test my own custom-designed skincare collection!
The process starts with a special skin care quiz. It covers topics including age, specific skin concerns and skin type. Then it gets more in-depth with questions about current wrinkles, patterns of acne breakouts and potential causes of dark spots and uneven skin tone.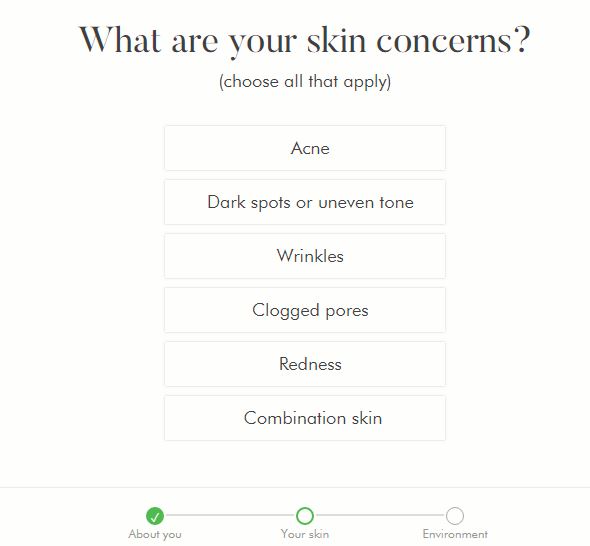 Finally, the skin care quiz covers topics about environmental factors such as climate, stress levels and amounts of sleep. When I'd completed my own quiz, I entered my email address to get my custom skincare recommendations!
The skin profile I received covered my basic concerns and linked me to a full skin report that included the active ingredients that would be incorporated into my skincare products.
Rosehip oil for brightening, aloe vera for minimizing acne and an anti-aging peptide complex were just a few of the ingredients included in my personal products.
The regimen itself is a three-step system consisting of four products: cleanser, serum, day cream and night cream. When the products arrived, I fell in love with the pretty packaging and couldn't wait to start using them. The cleanser had a light, fresh scent that I loved, and the serum felt so nourishing.
My biggest initial concern was using a night cream. My acne-prone skin hasn't responded well to thick creams before, and this night cream felt incredibly rich when I first applied it.
But to my surprise and delight, my acne didn't flare up at all using the night cream…and my skin felt much softer and healthier after my very first night using it!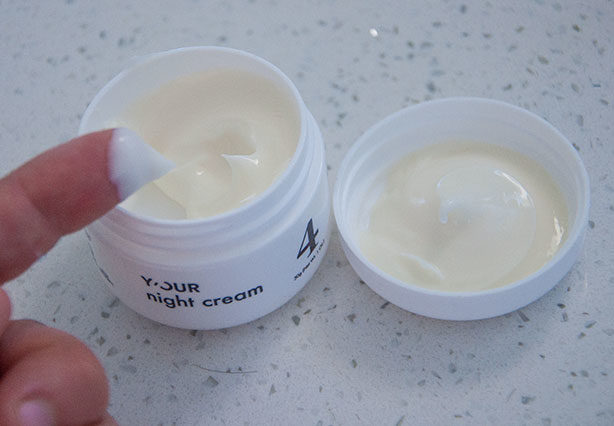 The serum quickly became my favourite product. Lightweight and quick absorbing, it seemed to act as a primer as well, giving me smoother results when applying makeup. And the cleanser always left my skin feeling perfectly clean, yet still hydrated.
Best of all, I only had one single pimple after starting my new regimen! Finally having a system that included an intensive night cream for wrinkles and anti-aging benefits, yet that didn't cause breakouts, was a dream come true!
I did have some issues with the day cream not dispensing and after reaching out to the company, they sent me a helpful video that helped me to tap the air bubbles out of my bottle and get the pump working properly.
I also learned that if a person happens to use too much of a single product before using the rest, the company has a refill program that allows the purchase of a single product to replace the one that's empty!
With a price tag of $60-$65 per month for the four products depending on the payment option chosen, Y'OUR skin care is a little pricier than basic generic products, but still far cheaper than most high-end skincare systems. And having used high-end products before, I can say that for my skin, Y'OUR products provided far better results than any $100 face cream I've tried!
If you've spent your own adult years hunting for the perfect skincare, do your face a favour and take the Y'OUR skin care quiz to create your own custom products.
Once you give them a try, you'll experience that special difference of using something made just for you, instead of something made for everyone. When it comes to your skin, Y'OUR skin care knows what you need!