Summer is here and for many parents, that means dealing with kids that are constantly complaining about being bored…or, even worse, struggling to get your kids away from spending the entire day with video games and television!
Board games are one of my favourite go-to activities when my kids are looking for something to do. And there are a few great ones that Mattel and Asmodee recently sent us to test out, from some of the best board games of all time to new board games sure to become classics!
Bounce Off has been a favourite of ours for a few years, because it's a little more action-packed than a traditional board game. A combination of luck and skill, players take turns bouncing balls onto a peg board to create the pattern on a randomly chosen card.
Of course, some bounces do go a little wild and there's occasionally a need to chase some of the balls around. But that's part of the fun!
Spot It! is a recent new find for most of our family, though my oldest son had played the game with friends. Basically, players use their observation skills in an attempt to be the first to spot the two matching symbols on any two cards. Each set of cards has only one matching symbol!
And for a more intense strategy board game, Azul is sure to satisfy! This fun and fascinating new board game lets players choose coloured tiles from suppliers and then use them to fill in spots on the board to build walls and earn points.
For some quick and classic fun, Uno and Pictionary have long been considered some of the best board games of all time! My two oldest boys are always happy to sit down to a quick game of UNO, while we tend to save Pictionary for the whole family. My art skills have always been pretty poor, which means lots of extra giggles when the boys see my drawings!
If you're in need of some screen-free summer entertainment for your family, I have amazing news! Mattel and Asmodee have teamed up to offer one lucky ready an ultimate prize pack of summer board games worth $190! To enter to win, just leave a blog comment about which of these games you're most excited to try.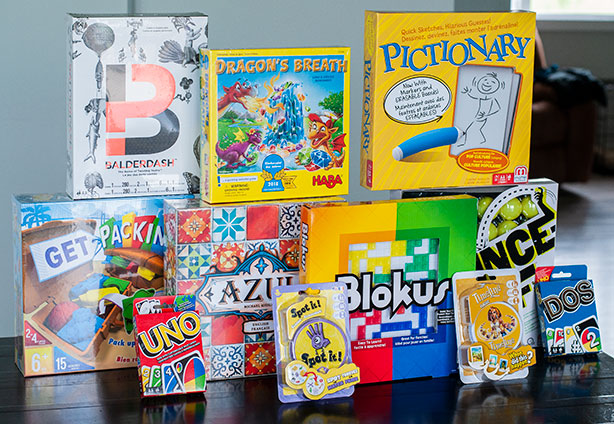 When it comes to keeping kids entertained during the summer break, I'll take all the help I can get! And these games are such a fun way to beat summer boredom and do a little family bonding at the same time. Grab a few for your next game night!