One of the hardest things about shopping for my boys in their tween and teen years is finding gifts that they'll actually use that don't involve sitting in front of the television. They both love their video games, but I don't want games to be the only gifts they receive!
Luckily, this year I've found the perfect gift that the entire family will be able to enjoy! The ArmoGear Laser Battle System is a complete laser tag set that contains four guns, four target vests and tons of fun features for the most epic laser tag battles ever…right at home!
My husband and I couldn't resist testing the laser tag equipment ourselves while the boys were at school, and we were soon inventing our own special challenges as we both tried to emerge from the battle victorious.
One of my favourite highlights of the ArmoGear Laser Tag set? The option to switch the guns to different weapons with different abilities! With the push of a button, we could cycle between Pistol, Shotgun, Machine Gun and Rocket.
Each weapon shoots a different number of times before needing to be reloaded, and each does a different amount of damage. Of course, with those options, we couldn't resist playing a few rounds of laser tag at home with "shotguns only" or "pistols and machine guns only" rules!
The blasters also allow players to set up different teams so that kids can play solo, duo or squad games. And for a different type of challenge, the guns have an optional receiver that can be turned on and used without the vests for a gun-only battle.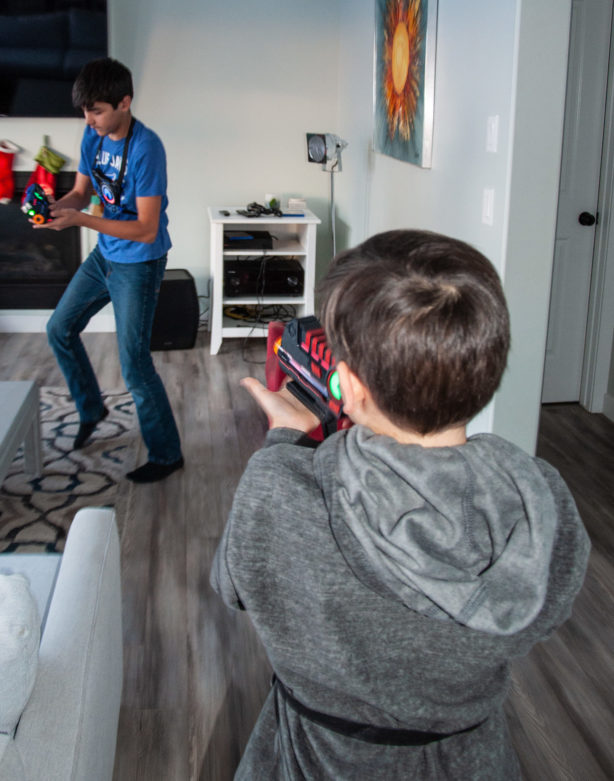 But with all those features, my favourite thing about these laser tag guns is the range! I've seen home laser tag sets in the past and most of them needed to be so close to one another that they were really only appropriate for small, close-range battles.
The ArmoGear Laser Tag Set, on the other hand, has a range of up to 200 feet, making it perfect for both epic outdoor adventures and indoor face-offs that encompass the whole house. My boys loved finding a high spot on the stairs and sniping shots at the people that went by!
For even more action, ArmoGear offers some great accessories that can be added to the guns and vests. Voice changing walkie-talkies make for added fun during team play. And night-vision goggles help kids keep the fun going after dark.
My personal favourite accessory is the Kids Action Camera. It snaps onto the Laser Tag guns to record action video, but can also be attached to bikes, helmets and ATVs for added adventure! And the durable, kid-friendly design helps ensure kids can spend years creating action-packed recordings of their favourite battles.
I can't wait to see how much fun my boys have both indoors and out with this laser tag set, and I'll definitely be bringing it to our extended family's annual holiday get-together so the cousins can give it a try too.
Complete with voice updates, sound effects, lights and even an invisibility mode, this laser tag system has all the features kids could ask for, and thanks to Amazon's super-fast shipping, there's still time to get it before the big day!
If you're the parent of a tween or teen and you're still on the hunt for a great Christmas gift, look no further than the ArmoGear Laser Battle system!