When I was in my early twenties, I spent a month in the late fall backpacking around South Africa and Swaziland. I fell in love with the country immediately and to this day, I dream of going back and showing my boys the beauty of the area.
It was while I was in South Africa that I first discovered Amarula, a cream liqueur that's flavoured with the fruit of the Marula tree. I hadn't even known that there was such a fruit and I fell in love with the liqueur's distinctive taste and delicious creaminess.
I later learned that the Marula trees are uncultivated and grow only in Africa, making this unique, somewhat nutty liqueur a true taste of Africa. They bear fruit just once a year and the scent of the ripe fruit attracts elephants from nearby areas that love to feast on the fruit. For that reason, elephant tusks are engraved into the bottle.
When I came back to Canada, I brought a bottle of Amarula Cream Liqueur with me. I loved treating myself with a splash in my coffee on a lazy Sunday morning or with a shot over ice as a nice dessert.
Of course, the bottle I brought home was soon finished, so I was thrilled to discover it my local liquor store right around Christmas that year! Since then, it's been a tradition of mine to buy a bottle each year at Christmas to share with friends and family over the holidays.
This year, though, I wanted to do something a little different with Amarula Cream Liqueur for Christmas. The world always needs more Amarula recipes and I wanted to do my part and create one myself. These fun and oh-so-slightly boozy Amarula Cupcakes were the result!
Filled with a White Chocolate Amarula Ganache and topped with Amarula-sweetened whipped cream, these cupcakes are pure bliss from start to finish. The ganache is definitely the star of the show, adding just the right richness to the moist cupcakes and whipped cream.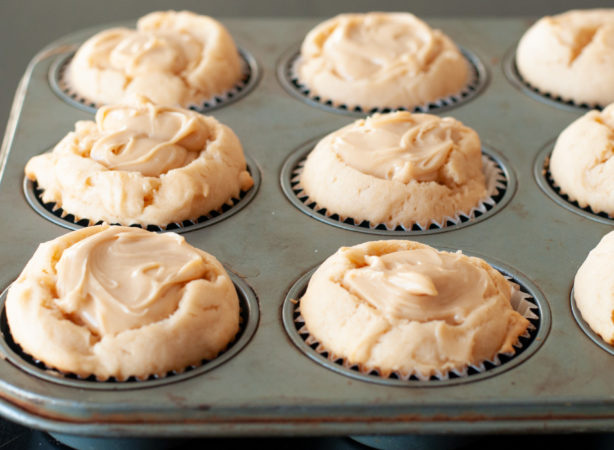 While the cupcakes take a bit of time from start to finish, they're actually very easy to make. The cake batter is a simple white cake recipe that uses Amarula Cream Liqueur in place of milk. And the ganache is made in minutes by stirring white chocolate into Amarula that's been brought to a simmer.
Of course, there's no better way to enjoy these cupcakes than with a shot of Amarula on the rocks! And as you're enjoying its rich caramel colour and unique flavour, you'll also be supporting the conservation of the elephants that feast on the fruit. In 2002, Amarula Cream Liqueur founded the Amarula Trust, an organization that works to ensure there will always be elephants underneath the Marula trees.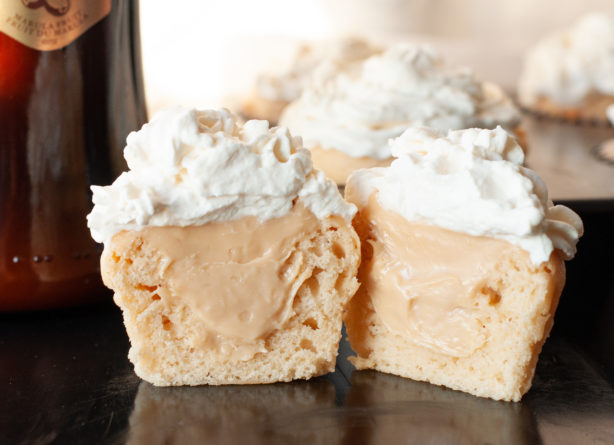 I recently hosted an early Christmas dinner for our extended family visiting from out of province, and these Amarula cupcakes made the perfect festive dessert. When it comes to Amarula recipes, this one is sure to be a hit!
Looking for other unique cupcake recipes? These Chai Cupcakes with Spiced Cream Cheese Frosting are a delicious holiday dessert as well!
Amarula Cream Liqueur is available at local liquor retailers across Canada and makes a great sweet treat during the holidays. Whether you drink it as it is, mix it into a classy winter cocktail or use it to make these amazing cupcakes, you're sure to love its sweet, fruity flavour!
Amarula Cupcakes with White Chocolate Amarula Ganache and Whipped Cream
Assembly Time:
10 minutes
Cupcakes flavoured with Amarula Cream Liqueur, filled with a white chocolate ganache and topped with lightly sweetened whipped cream.
Ingredients
Cake
1/2 cup butter, softened
1 cup granulated sugar
2 eggs
1/2 cup sour cream
1 2/3 cups all-purpose flour
2 tsp. baking powder
1/2 tsp. salt
1/2 cup Amarula cream liqueur
Ganache
1 cup white chocolate chips
1/2 cup Amarula cream liqueur
Whipped Cream
1 cup whipping cream
2 tbsp. icing sugar
2 tbsp. Amarula cream liqueur
Instructions
Cake
Preheat oven to 350 degrees. Line cupcake tin with paper or foil liners.
In large bowl, cream butter and sugar with electric mixer until light and fluffy.
Add eggs one at a time, beating after each addition until thoroughly blended.
Mix in sour cream until fully combined.
In small bowl, stir together flour, baking powder and salt until well mixed.
Add half of the flour mixture to wet ingredients and beat until combined.
Add Amarula Cream Liqueur and mix thoroughly until combined.
Add remaining flour and beat until batter is thick and even.
Spoon batter into cupcake tins and bake for 20-25 minutes, until a toothpick inserted into the center comes out clean.
Cool cupcakes completely.
Ganache
Pour Amarula into small saucepan and bring to a simmer over low heat.
Add white chocolate and whisk until chocolate is melted and mixture is smooth.
Cool ganache, stirring occasionally, until it's thick enough to scoop with a spoon.
Whipped Cream
In small mixing bowl, beat whipped cream at high speed until soft peaks form.
Add icing sugar and Amarula and beat until stiff peaks form.
Store in fridge until needed.
Assembly
Using small spoon, carefully cut out the center of each cupcake. Save centers for cake pops if desired.
Fill each hollowed cupcake with white chocolate ganache.
Top cupcakes with sweetened whipped cream.
Serve immediately or store in covered container in the fridge.





Recommended Products
As an Amazon Associate and member of other affiliate programs, I earn from qualifying purchases.
Nutrition Information:
Yield:

16
Serving Size:

1
Amount Per Serving:
Calories:

363
Total Fat:

23g
Saturated Fat:

14g
Trans Fat:

1g
Unsaturated Fat:

7g
Cholesterol:

81mg
Sodium:

209mg
Carbohydrates:

33g
Fiber:

0g
Sugar:

23g
Protein:

4g