Last summer my family had the chance to take a trip on one of the Wheatland Express train rides for children that the excursion train puts on each year. And while on our ride, we were entertained by the kids music of local musician Sylvia Chave.
My two older boys had lots of exposure to different children's artists, but since my toddler lives in a house with a tween and a teen, he's mostly only had the chance to listen to current top 40 hits. That is, until we took our train ride!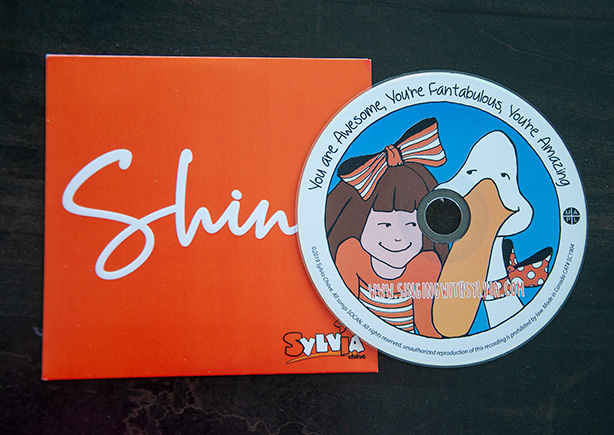 He fell in love with Sylvia's upbeat songs and fun lyrics, and I couldn't get enough of watching him bounce and dance along. So when she reached out to me about reviewing her new CD, I was happy to oblige!
Shine is the third solo children's CD from Sylvia and it is jam-packed with kid-friendly fun. One of my top requirements when choosing children's music is that it's fun for me to listen to as well. And Sylvia really has that mastered! My personal favourite song was Hey Mama, a sweet song about a family's love for each other. It instantly reminded me of my own little mama's boy!
Baby Cormac, on the other hand, had a few favourites that always got him moving. The first was It's Time to Party, an upbeat pop-style song perfect for dancing. As a big fan of Little Baby Bum videos, he also loved Nursery Rhyme Boogie, which featured some of his beloved nursery rhymes.
For those that live in the Saskatoon area, make sure to check out Sylvia's upcoming music shows at the Refinery on March 12! Cormac and I will be going to sing along to all our favourite songs, and I can't wait to watch him dancing along to the music once more!
Sylvia's new album is currently streaming on Apple Music, Spotify, Amazon Music and other top streaming services, so make sure to check out the kids' music with your little one. Or, visit the website to order a copy of the CD!
Featuring a baker's dozen of kid-friendly songs, Shine has become a favourite with the whole family in our household. It's upbeat, fun, silly and sweet…much like Sylvia herself! Visit the official website to learn how to order your copy and to learn more about Sylvia's music. Your little ones will be glad you did!