Since we've been stuck at home so much lately, our family decided to make the most of those extra hours and do something we'd been planning for quite some time…work on finishing our basement!
Containing two bedrooms for the older boys and a large rec room, we wanted the space to be vibrant and fun. And when Photowall contacted me about reviewing one of its wall murals, I knew I'd found the perfect way to make that happen!
Photowall specializes in beautiful custom and pre-designed wall murals ranging from fantasy and nature themes to patterns and children's prints. We decided to give our gaming area in the rec room a Skyrim-style look with the beautiful Foggy Forest mural wallpaper.
The mural arrived as a large wallpaper roll. Assembling the mural wallpaper involved cutting the roll into nine pre-marked sections and pasting them onto the wall in order. Wallpaper paste is also included.
We painted the other walls a rich red-brown colour, then got to work on the mural. With our eight-foot-high walls, putting up wallpaper of any sort was definitely a two-person job. But the Wallpaper Kit we'd received along with the mural made the process much easier.
The kit is offered for an extra $18 with each purchase and contains a brush for applying wallpaper paste, a seam roller for smoothing out seams, a paperhanging brush for smoothing the strips, a knife and cutting guide for trimming excess wallpaper, a bubble level, a pencil and a tape measure.
I was pretty nervous about getting the pieces properly in place, but with both my husband and I working together, the process was fairly easy. The paste allows adjustments to be made as pieces are put in place, and the seam roller let us smooth out the edges so they looked perfect.
We also ordered the Premium paper for our mural, and I definitely recommend that upgrade for anyone that isn't a wallpapering pro. Its extra durability meant we had more room for error and correction when putting up the mural, and the price difference is pretty minimal.
The end result of our mural was fantastic, and I can't wait to get the rest of the room set up so we can sit down on the couch and play a video game while enjoying the spectacular background. And I can't help but want to order some more murals for my boys' rooms, too!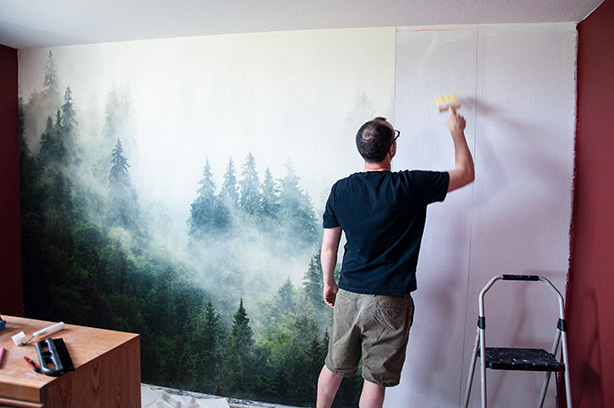 If you're taking on a home décor project as well, Photowall wants to help with an exclusive coupon code! Use code greatdiscount15 to save 15% on the purchase of any wall paper or mural on the website!
Whether you want to enjoy a stunning beach landscape while jogging in an exercise room or treat your future astronaut to an outer-space scene as they drift off to sleep, Photowall has amazing images that will completely transform your rooms. You can even upload your own image and turn it into a mural!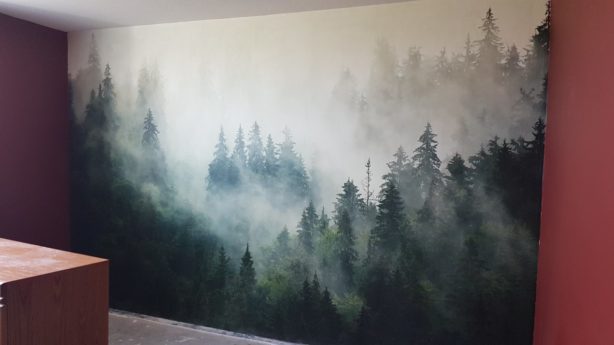 Our next step for the room will be putting in laminate flooring and finishing off a bit of electrical work. Then we'll be able to sit down in front of our mystical forest and enjoy the space. Talk about a kid-friendly home!
With free shipping around the world, tips and tricks for perfect installation and gorgeous images for any tastes, there's no better way to give a room new life than with Photowall. Check out the website and start planning your own perfect space!