With so many children stuck at home more than usual, and so many cancelled activities, it's no wonder the usual summer cries of "I'm bored!" are a little more frequent this year!
My own boys have managed to keep their days relatively productive thanks to online schoolwork. But recently that came to an end, and days of sitting at home with limited entertainment options will begin. Luckily, I'm ready with some great products and kids activities at home!
If you're in a similar situation, these five activity ideas are ones that you'll want to check out!
Get Scientific
One of the things my boys missed most about regular school classes was science class. And I'm sure they weren't alone! The Family Engagement Science Kits from Really Good Stuff are a perfect at-home way to let them enjoy some scientific learning once again.
We received a Rainbow Marble science kit and an Electricity science kit to try out, and both boys had a great time working through the experiments provided with each kit.
From learning how visible orbs could vanish in water to using body electricity to power a light, the kits provided days of entertainment and useful knowledge at the same time.
There are a variety of Family Engagement kits to choose from, and concepts range from math to colours to chemistry. Best of all, with a price of just $24.99 each, they're a great budget way to bring science into the home.
Any kid that loves science and technology is sure to enjoy these kits as much as a great game of Solitaire Spider dedicated to prominent women in technology!
Plan a Family Movie Night
Going to the movie theatre might not be an option for most right now, but that doesn't mean your family can't enjoy some big screen-style fun! Start by stocking up on classic movie goodies like popcorn, drinks and candy. Then, grab a family-friendly movie and cozy up on the couch!
My own boys couldn't wait to see Sonic the Hedgehog, so that was our choice for family movie night. Sonic the Hedgehog came out on Blu-ray and DVD on May 19, and is a great family-friendly choice that's also nostalgic fun for parents that played the original video games.
Churn Up Some Fun
With warmer weather finally here, what better way to celebrate the end of the school year than with homemade ice cream! The Hamilton Beach Ice Cream Maker is a fun and easy way to create gourmet ice cream in the comfort of your own home, and kids will love lending a hand making it!
The machine couldn't be simpler to use. Simply freeze the churning tub overnight, plug in the machine, mix up the ice cream ingredients and then pour them into the ice cream maker. Just one word of warning…it's a little loud!
We made our first batch of ice cream using a Williams Sonoma gourmet ice cream kit I'd had in the cupboard for over a year, and the results were absolutely sublime. After that, I used cream, sugar, mint flavouring and grated chocolate to make my own mint chip ice cream.
But our next mission is a little more ambitious…homemade sorbet! My oldest actually prefers sorbet to regular ice cream, and I can't wait to try making it at home for him to enjoy!
Practice Good Habits
When routines get disrupted, it's easy for bad habits to flourish. Whether your older kids are sleeping away every morning or your younger ones are avoiding cleaning up their messes, Goodtimer is an innovative new way to help reward good behavior and build better habits.
This clever new timer rewards kids with tokens for "good time," which can then be redeemed for agreed-upon rewards. If kids misbehave or break house rules, simply flip the timer upside down to pause it until amends are made. The simple system lets kids see a tangible reward for their good habits, and provides a stress-free way for parents to acknowledge and correct misbehavior.
For our family, the system has been perfect for our youngest son, who is turning three in a month. He has run a little wild with his brothers at home to indulge him all the time, so we've been using the Goodtimer to enforce some simple behavioral rules. He loves taking the tokens out of the machine, and we love the way it encourages him to stay in his own bed at night and use "please" and "thank you" more!
Build with Thomas & Friends
While the popular Thomas & Friends television show is geared towards younger children, kids of all ages will love putting together tracks for their battery-powered engines using the Thomas & Friends Track Master 6-in-1 Builder Set! The Track Master tracks can be put together in six different configurations, and expanded by adding additional sets.
For my boys, this was the perfect family activity, since my older boys had the fun of building the track in their desired design, and then my toddler got to enjoy watching Percy and Thomas travel around the track!
For fans of blind box collectibles, Thomas & Friends also has new MINIs Mystery Engines perfect for on-the-road playtime. The engines come in a variety of different characters and styles, and snap together to let kids create their own custom train.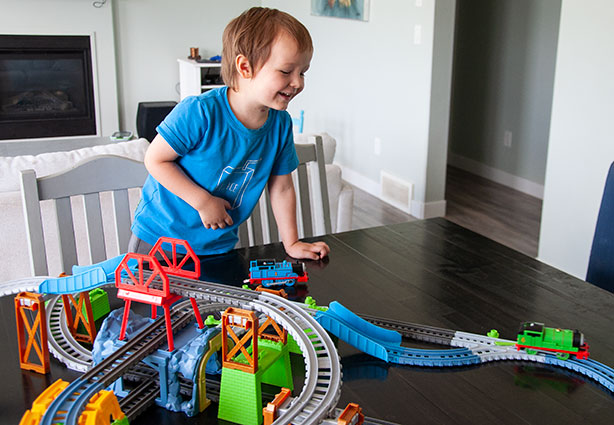 Looking for more inspiration for your at-home activities? Give one of these fun DIY projects for kids a try!
From learning about the world around us to whipping up tasty treats, there are all kinds of different activities to keep kids entertained at home. Try one of these ideas with your kids and enjoy creating some great at-home memories this summer!