Since my boys were just toddlers, they've loved all different kinds of jam. When I had a plum tree in the yard, my family almost lived on my homemade Plum Jam in the fall, but for the moment we depend on store-bought jam instead.
Thankfully, there are lots of great jams out there that are almost as good as homemade. And good thing, since it's a must for that classic PB&J that my boys love to have for weekend lunches!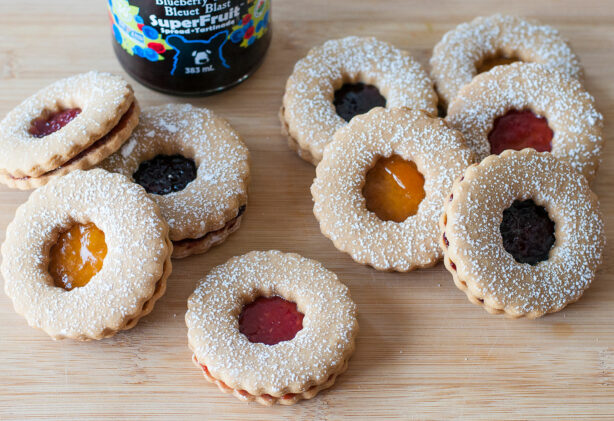 Recently, I received a sample pack of jam from one of my favourite brands, Crofter's Organic, and I decided that with Christmas fast approaching, I'd use it to whip up a special jam-filled cookie my husband loves: Jam Jams!
Full disclosure: these are not the molasses-flavoured Newfoundland-style Jam Jams that so many Canadians may remember from their childhood.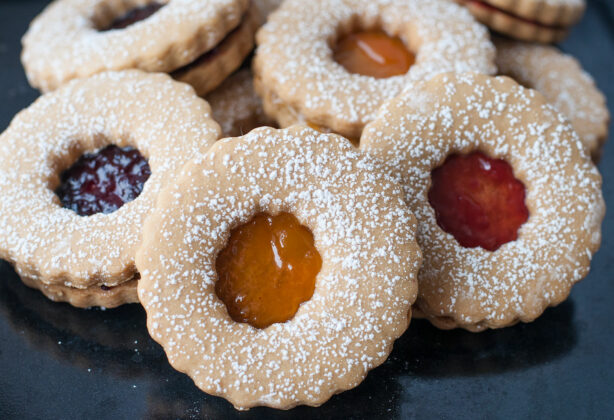 Instead, this is my husband's memere's recipe, beloved by her 11 children, 20 grandchildren and countless great-grandchildren. While it is a soft and slightly dark cookie because of the brown sugar, it doesn't have the distinctive molasses flavor of a Newfoundland Jam Jam.
The recipe in Memere's cookbook was pretty simplistic, so I had to use my own prior baking experience to refine it. It didn't list all the ingredients, didn't have complete instructions, and didn't even mention sandwiching the cookies together with jam!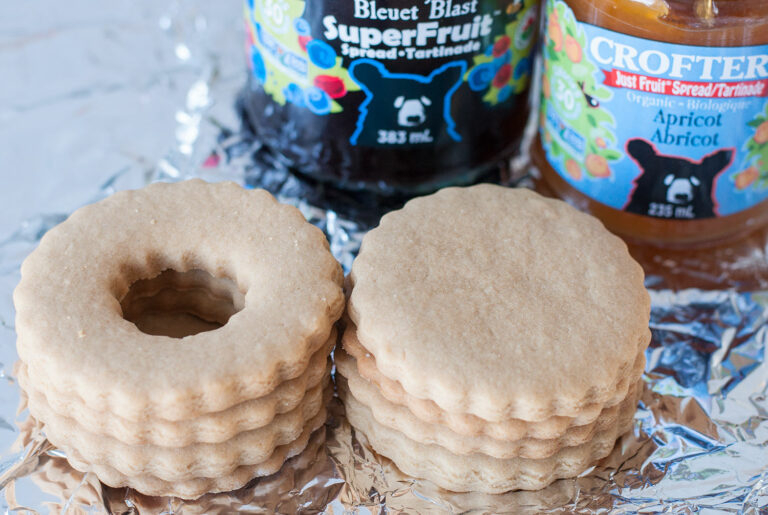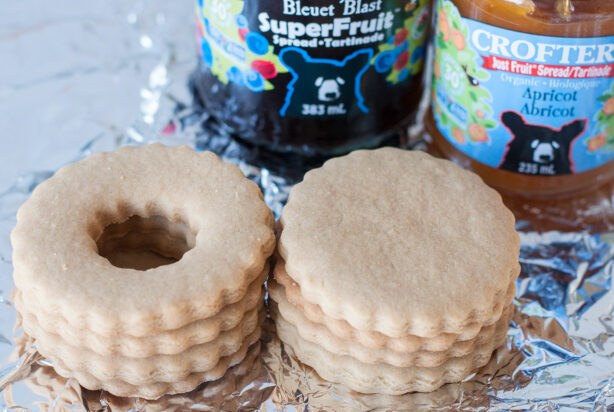 I started my tweaking by substituting butter for the lard that was listed in the original recipe. Memere lived on a dairy farm, and even in her later years, she would buy butter almost by the case and then freeze it for her cooking and baking. I had a feeling she would have used butter in this recipe as well.
The directions told me to cream together the lard and brown sugar, mix flour, baking soda and salt in a separate bowl and then mix both together along with eggs, vanilla, and corn syrup. I took a more ordered approach and beat the eggs, vanilla, and syrup into the sugar mixture one at a time, then mixed in the flour.
There were no instructions for actually making the cookies, but I knew Jam Jams were rolled cookies, and the dough was soft enough that I decided it should be chilled a little first. I chilled it for about half an hour, rolled it out and cut it into rounds.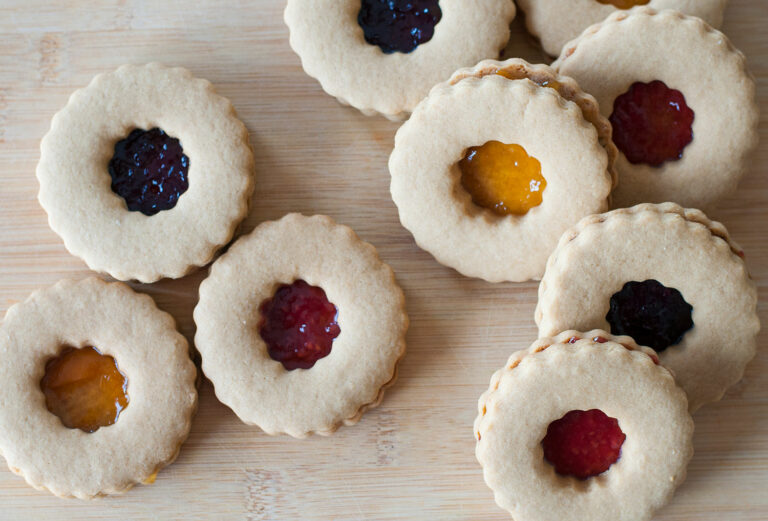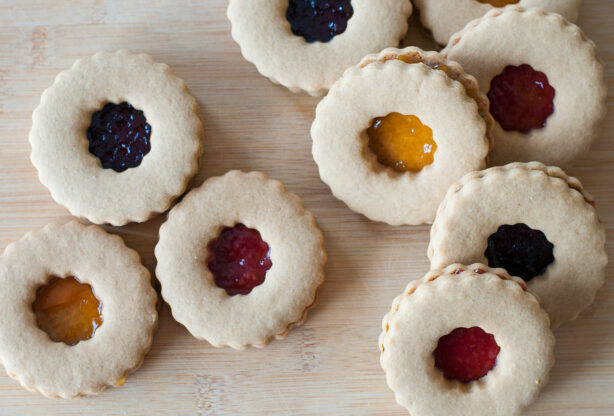 To make the cookies fancier, I cut the center out of half the cookies. Memere didn't bother with this step, my husband said, but I do love treats that look pretty!
Then I baked the cookies at 350 degrees for about ten minutes. Once they were cool, they were ready to be spread with jam and turned into sandwiches!
Crofter's Organic Fruit Spreads are the perfect choice for this recipe in my opinion, because they're sweetened naturally with either cane sugar or fruit juice, giving them an exceptionally authentic fruit flavour. In fact, both Crofter's Premium Fruit spreads and Just Fruit spreads have 33% less sugar than traditional jams!
I used three different flavours of Crofter's Organic spreads for these cookies, and they looked so pretty together on a serving plate. I added a sprinkle of icing sugar for a finishing touch and let my family dig in.
My boys declared the Jam Jams were one of the best cookies they'd ever tried, but the real victory for me with this recipe was when my husband bit into one and said, "Oh yeah, that's one of Memere's Jam Jams!"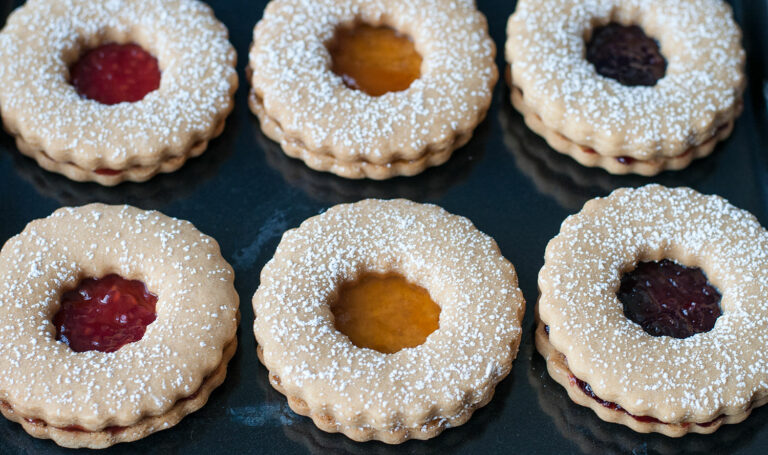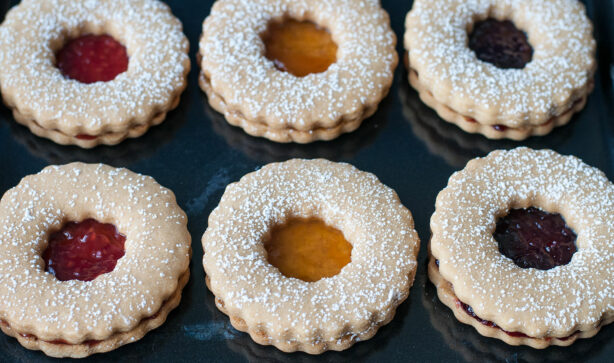 These cookies are a perfect addition to a tray of holiday treats, since they're so colourful and easy to customize depending on the flavor of jam you use. And they freeze great too, both filled and unfilled!
If you've never tried a Jam Jam cookie before, this recipe is a great one to use for your first time. Grab your favourite flavor of Crofter's Organic, whip up a batch and get ready to discover a new favourite cookie recipe!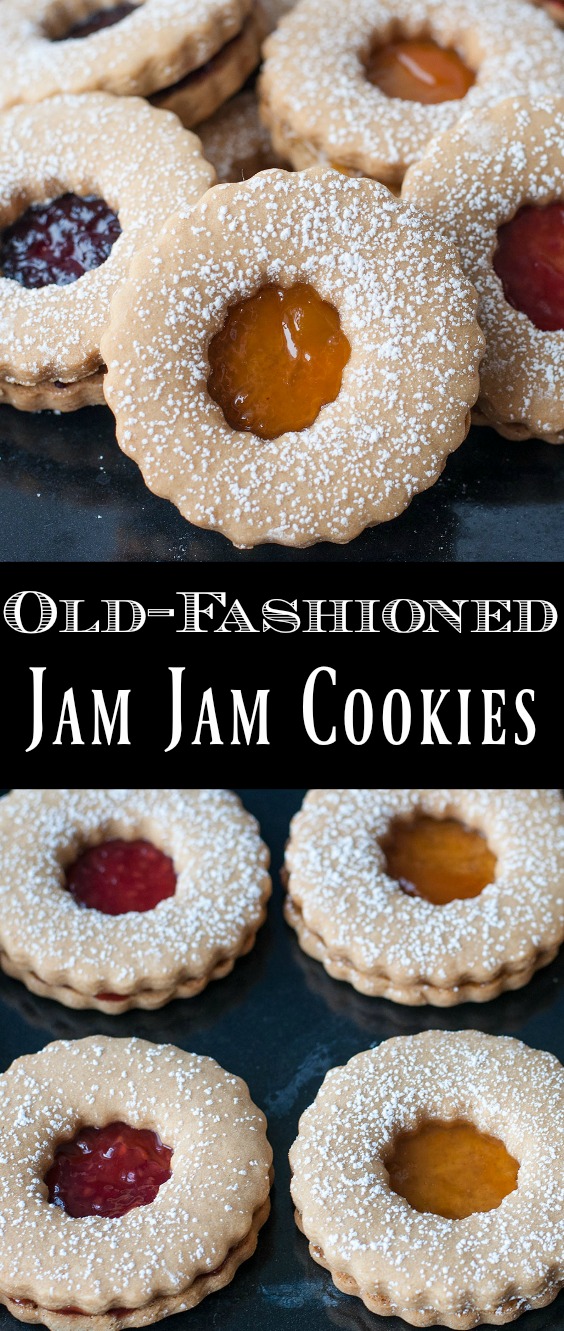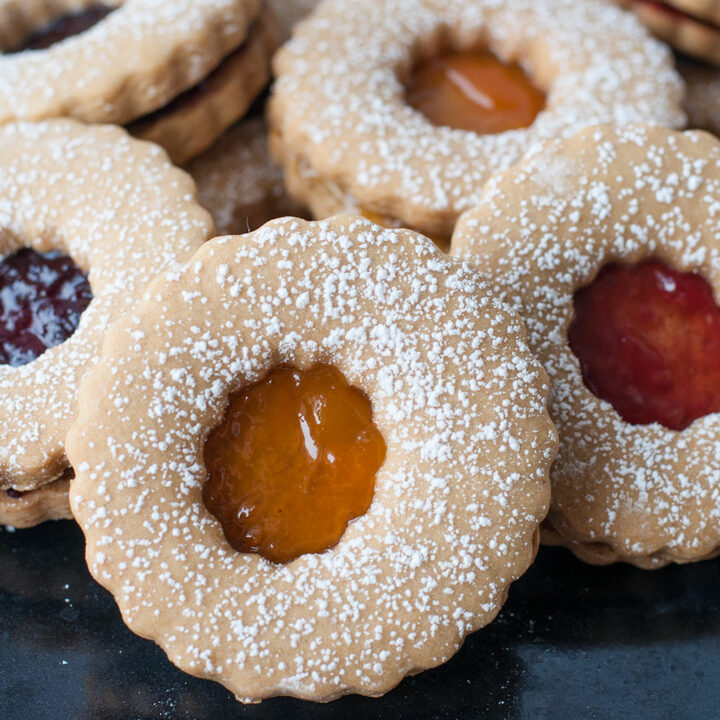 Memere's Jam Jams Cookies
Additional Time:
30 minutes
These old-fashioned Jam Jam cookies are a hit with families everywhere! Sandwich them with your favourite flavour of homemade or store-bought jam and serve with a cup of tea!
Ingredients
1 cup butter
1 cup brown sugar
2 eggs
3 tsp. vanilla
6 tsp. corn syrup
3 1/2 cups flour
1 tsp baking soda
1/4 tsp. salt
1/2 cup jam, desired flavour
Instructions
Cream butter and brown sugar together in large bowl.
Beat in eggs one at a time, then beat in vanilla and corn syrup.
In small bowl, mix flour, baking soda and salt until combined.
Add flour mixture to sugar mixture and stir until flour is fully incorporated.
Wrap dough in plastic wrap and chill for 30 minutes.
Preheat oven to 350 degrees.
Roll out dough on floured surface and cut into circles, flowers or stars.
If desired, cut centers out of half of the cookies with smaller cutter.
Bake for 10 minutes, or until cookies are lightly browned on bottom.
Let cookies cool completely, then spread half with jam and top with additional cookie.
Sprinkle with icing sugar, if desired.
Notes
Cookies freeze well for up to three months.
Recommended Products
As an Amazon Associate and member of other affiliate programs, I earn from qualifying purchases.
Nutrition Information:
Yield:

30
Serving Size:

1
Amount Per Serving:
Calories:

155
Total Fat:

7g
Saturated Fat:

4g
Trans Fat:

0g
Unsaturated Fat:

2g
Cholesterol:

29mg
Sodium:

119mg
Carbohydrates:

22g
Fiber:

0g
Sugar:

10g
Protein:

2g