Being stuck indoors so much can be a little tough, but it also gives families lots of opportunities to try new activities together! For many households, puzzles have been a newfound hit. And our house is no exception!
Part of the fun of a puzzle for us is finding one that has a great picture, is challenging without being overwhelming, and that will encourage lots of time spent together on assembly. That's why we've been loving the puzzles available from Pixels! If you're searching for your next family puzzles, here are a few you might want to check out:
Animal Puzzles
From kittens to baby elephants, an animal puzzle will have the whole family saying, "Awwwww!" And Pixels has both cartoon animals, animal art prints and animal photographs to choose from! As a fan of watercolors, I especially love the Elephant Family Watercolor puzzle by Melly Terpening; the rainbow hues are so beautiful! And choosing the 500-piece puzzle makes it the perfect challenge for my animal-loving middle son.
Landscape Puzzles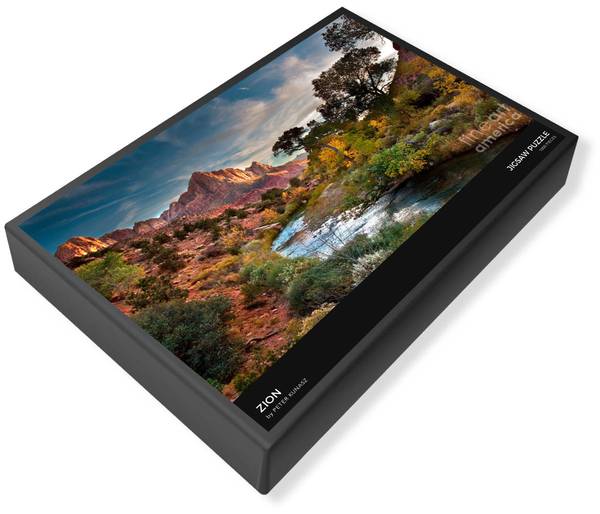 Since we're not currently able to explore the world, enjoy its beauty with a puzzle featuring one of the world's most beautiful landscapes! Personally, I love the vibrant colours of the Zion puzzle by Peter Kunasz. I chose the 1000-piece puzzle option, as I find that's a great choice for me and my older boys to build.
Abstract Puzzles
For those that love a challenge, an abstract puzzle in a minimal number of colours will provide hours of engagement. The bright blue and yellow tones of the Spa Abstract 2 puzzle by Debbie DeWit give this puzzle an especially great look, and the 1000-piece version of the puzzle will keep the family occupied for days on end.
Sports and Celebrity Puzzles
Indulge the fanboy or fangirl in your life with a puzzle of their favourite celebrity! Whether you have a child that idolizes the fabulous Marilyn Monroe, a Beatles fan that wants to recreate the famous Abbey Road album cover or a sports nut that wants a puzzle of their favourite star, Pixels likely has the perfect puzzle to put a smile on their face!
Custom Puzzles
Want to really wow your kids? Choose your favourite family photo and create a custom puzzle that you can all work on together! The Pixels website offers customers the option of uploading your own image and turning it into your very own puzzle memento! And not only is this a perfect option for family fun, a custom puzzle makes a great gift for extended family as well.
No matter which puzzle you choose, you'll love Pixel's worldwide delivery, high-quality products, and money-back satisfaction guarantee. And with so many beautiful puzzle images to choose from, you may just find you make puzzle night a weekly event!