If there's one challenge I've had from the very beginning with my preschooler, it's sleep. He's always been incredibly active, and at almost four, still almost never sleeps through the night.
Constantly being woken up in the middle of the night by my son obviously takes a toll on my own sleep, and after so many years of sleep interruptions, I was starting to feel a bit desperate about the problem.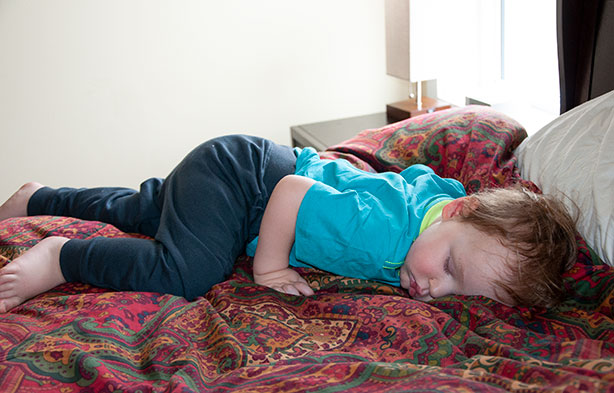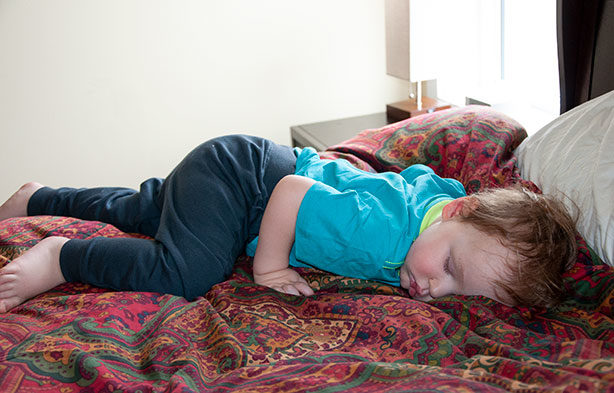 Luckily, that's when I learned about the Better Nights, Better Days eHealth program!
About the Program
Did you know that now, during the COVID-19 pandemic, more children and parents are having trouble sleeping?
But even though we know that better nights mean better days, few children actually have access to treatment for sleep problems!
The Better Nights, Better Days eHealth program provides an at-home sleep study option for parents of children who are struggling with their sleep.
We know the importance of sleep for children, and that when children get adequate sleep, their quality of life improves around the clock – better behavior, better mood, better performance at school and improved general health and well-being for the entire family!
With this knowledge, a team of psychologists, nurses and physicians, many of whom are parents themselves, developed the Better Nights, Better Days at-home sleep study program.
Better Nights, Better Days is an evidence-based online program to support parents of children ages 1-10 years old who experience sleeping problems including difficulties falling asleep, staying asleep, and waking too early. The program was then modified so that it could be used during the current COVID-19 pandemic.
Now, a national team of investigators is recruiting 1000 Canadian families of children who experience sleeping problems to test the effectiveness of Better Nights, Better Days during COVID-19, and evaluate the implementation of the program across Canada. Best of all, there is no cost for families to participate!
How It Works
The program starts with a brief pre-session about how COVID-19 has affected sleep, and is then broken into five sessions that deal with different aspects of sleep science and potential sleep problems.
Session 1: About Better Nights, Better Days
Session 2: Healthy Sleep Practices
Session 3: Settling to Sleep
Session 4: Night Waking, Napping, and Early Morning Awakenings
Session 5: Looking Back and Ahead
The first session is a little longer and is designed to teach parents about how sleep works, as well as how the program was developed.
Learning about how sleep works was crucial for me, because I realized that my son's issue of waking me up in the middle of the night was just a symptom of his actual sleep issue: not being able to self-soothe himself to sleep.
The following sessions then help parents to set goals for bedtime routines, move past potential roadblocks when building better sleep habits, and choose rewards to encourage children to continue better sleep habits.
Working through the sessions takes some time, so I have been setting a full evening aside to work through each new session.
Then, I spend at least a week putting the lessons into practice before moving on to the next session. There's been a night or two of tears, but I've seen some amazing progress, too!
Every participant also has access to tools and resources to help increase success, including a sleep diary, weekly activities and reviews, and charts to track progress.
Testimonials
So far, I'm very happy with my personal experience with the program.
I realized that staying with my son every night until he fell asleep was as much of a problem as his middle-of-the-night wakeups, and put a new routine in place to correct that.
Cormac has already become more comfortable with falling asleep on his own, and has even slept through the night a few times since I started Better Nights, Better Days.
And I'm not alone in being impressed with Better Nights, Better Days! Here are a few other testimonials from parents across Canada:
"I loved the program, the modules were easy to follow and kept us on track." – Saskatchewan, child 4 years old
"When following tips from Better Nights, Better days, our house runs more smoothly, people are all in better moods and the day goes along in a happier way." – New Brunswick, child 7 years old
"The best part was that it made a huge difference in improving the quality of sleep we are now getting as a family." – British Columbia, child 1 year old
If you're at your wit's end trying to solve your child's sleep issues, don't miss the opportunity to sign up for Better Nights, Better Days.
With no fee to pay, no traveling to and from appointments, and support from start to finish, there's nothing to lose and better sleep for the whole family to gain!