Kids often have a natural fascination with their family members, and love discovering fun facts about relatives. And learning about their heritage has a tremendous impact on a child's identity, too!
But how can you go beyond a fun story or two, and really get kids invested in learning about their past? Creating a DIY family tree may be the perfect solution!
A great family activity, creating a family tree lets you and your kids delve as deep into your past as you want, and then share the interesting things you learn in a beautiful way.
Follow these five steps to create a DIY family tree that may just become a family heirloom!
Step 1: Do Your Research
First of all, do a bit of exploration. You'll already know your closest relatives, but what about a few generations in?
To gather information, you might turn to your parents or grandparents, and let them tell you stories about their parents and grandparents.
If you want to dig even deeper, you may be able to find the data you need by trying out an online genealogy website like MyHeritage.
Step 2: Draft Your Tree
Once you have all the names and dates, start connecting everyone together. This is the step where you should decide just how far back in time you are going to go.
It's also a great time to sit down with your kids and decide what information on each relative you want to include. Will you just stick to names and birthdates, or also include an occupation or a fun fact?
Step 3: Prepare Your Photos
Now it's time to get all the materials ready. Including photos of past relatives can be a great addition to a family tree. Sadly, old pictures don't react well to age, rough handling, and improper storage, which means some (if not all) of the ones you find might be damaged.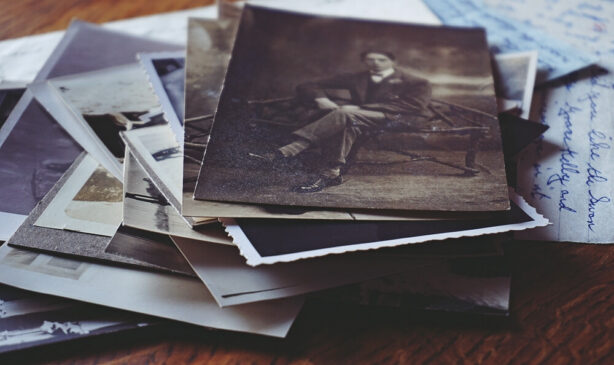 Fortunately, it's not an issue if you know how to fix old photos. Using smart photo restoration software like PhotoGlory can help make old photos look new.
Just scan your pictures and start the digital repair – remove cracks and stains, cut away torn corners, and boost faded colors. This photo restoration software is so easy that even your kids will master it in no time.
Step 4: Start Crafting
Start your family tree by choosing your background, whether that's a large piece of posterboard, a canvas, or just a simple piece of carboard.
Work with your kids to sketch out the tree. Use whatever style you find the most appealing, whether that's an actual watercolour painting of a tree, or just an interconnected series of lines.
Don't quite know what form your project should take? Check out these family tree ideas for some inspiration! Then get busy gluing images into place and adding information about each person. For extra flair, add scrapbook-style frames or fancy borders!
Making the tree is a great time to talk about your relatives with your children, and answer any questions they have. This is where you can really make history come alive for your little ones!
Step 5: Proudly Display Your Project
Once the family tree is complete, make sure to share it with other family members! They'll love seeing how you compiled the family history into a unique decor piece.
And if you really love the finished product, why not add it to your living room as a fun and meaningful piece of wall art? No matter how you show it off, your kids will love knowing they helped chronicle their own family history.
The best thing about making a DIY family tree with your kids is that the project can be as simple or as complex as you like. Keep it smaller with just two or three generations, or go back as far as possible.
Either way, you're sure to learn something new about your heritage, and bond with your children over your shared history at the same time!