Are you floundering for great gift ideas with a loved one's birthday approaching? Well, it may just be time to ditch the usual last-minute gift ideas and try something new!
Since we now live in a digital age (and are somewhat secluded recently), Happy Birthday video is becoming a hot new DIY trend.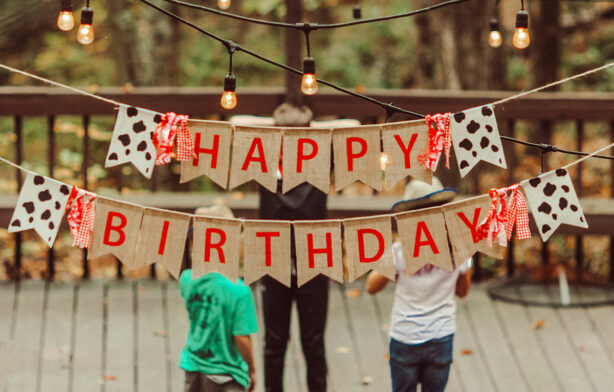 A birthday video can become a heartfelt and highly personalized gift for just about anyone. Make a touching video for a distant friend, your teenage kid (especially paired with one of these teenage birthday party ideas), or for the elderly grandparents you can't visit at the moment.
Creating a birthday video is an engaging and rewarding process that every member of your family will enjoy contributing to. But you might be wondering – what type of Happy Birthday video should you create?
To help you decide, consider one of these fun and original birthday video ideas!
Mockumentary Birthday Video – Create a video that treats the birthday boy or girl as a character in a documentary. Include elements like shaky camera work, mock confessionals, and deadpan birthday greetings.
Birthday Letter – Start by writing a letter to your loved one about how much they mean to you. Then, take some of the person's photos, turn them into a slideshow, and add the letter as animated text over the photos.
Funny Birthday Video – If the birthday boy or girl has a great sense of humor, then create a gift video of hilarious photos and funny stories about them.
Life Story Video – Chronicle the celebrant's life with a series of pictures spanning from their childhood to the present day, and including some of the most important moments of their life.
Scavenger Hunt Video – Bury tips on where to find a physical gift throughout your birthday video. Make the hints as cryptic as possible for more fun.
Interview Video – Have a little sit-down with all the people who are close to the birthday person, and let share their favourite story about the celebrant.
Top 10 List – Create a video that shares the 10 things you like the most about the birthday person. It could be their sense of humor or ability to never give up – anything you love the person for.
Settled on an idea that's fun and engaging? Then it's high time to realize it!
To create a great Happy Birthday video, you'll need some easy-to-use software. If you're new to creating videos, consider using SmartSHOW 3D.
This slideshow maker is filled to the brim with features, but still easy enough to use that a child could master it. Here's a step-by-step runthrough on how to make a Happy Birthday video with SmartSHOW 3D in under five minutes.
First, you need to add your photos and video clips to your project. You can add as many media files as you want.
Next, you need to animate those pictures. SmartSHOW 3D comes with an impressive library of 400+ animations, 3D collages, transitions, and nature effects.
All the effects are easy to apply – just drag and drop them into your project and watch as your pictures start to move.
The next step is to add a soundtrack to your Happy Birthday video. You can go with a track of your own choosing, or you can use the software's built-in library of royalty-free tracks. There are over 200 options, so you'll definitely find the perfect tune.
Then, make sure to add text to your video. This could be your own personal messages or motivational quotes. Words don't come easy? Consider using some of these best birthday wishes.
Finally, once your birthday video is done, save it. SmartSHOW 3D offers users 50+ export options. You can save your project as a video for TV or tablet, or burn it to a DVD to mail.
Alternatively, you can optimize your video for a social media platform like Facebook or YouTube. Want more ideas and a more thorough instruction? Here's some info on how to make birthday video with SmartSHOW 3D.
And there you go – you now have an awesome digital gift you can surprise a special friend or relative with.
It might not be a physical item, but it doesn't mean it won't tug at the birthday boy or girl's heartstrings and make them feel like a million bucks. After all, remembering special moments is often the best gift of all!