The clean, minimalistic look of Scandinavian decor has been popular for years now, and getting the look can be easier than you think!
The style is all about natural elements and clean colours, so for a true Scandinavian decor look, make sure to consider linen as one of your fabrics of choice for your 3 seater couches and sofas as well as curtains and chairs.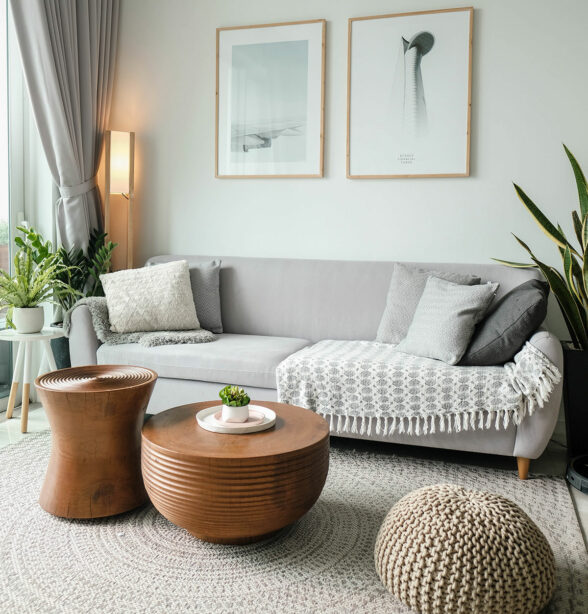 Historians actually believe that linen was first created more than 5000 years ago. While it's no longer hand-woven on a loom as it once was, the process of spinning the fibers from flax stems into fabric is essentially still the same.
Natural linen fabric has an amazing neutral colour that tends to range from a greyish-brown to a creamy off-white. While it can be dyed to match decor, dyed linen tends to look better in softer colours that blend beautifully with other natural design elements.
Of course, for a true Scandinavian space, other natural elements are also a must.
The living room is a great space to introduce the clean Scandinavian style, so try these five tips to help you turn your room into a fresh and natural sanctuary!
1. Start with Natural Wood Pieces
Wood is one of the highlights in Scandinavian interior design, as it adds natural warmth and life to a room.
If you're doing a large-scale renovation, you can go all-out when designing the living room, and incorporate wood in everything from furniture to wooden patterned floors.
But even if you're just giving your room a quick facelift, you can get the look by adding wooden decorations like clocks, or a single wooden accent piece like a coffee table.
Wood can be the main focus in a Scandinavian interior, or it can be balanced with other materials. Either way, it's a must in some form for a true Scandinavian look.
2. Focus On Neutral Colours
While bright, vibrant colours can add a lot of fun to a room, they shouldn't be the main focus of the room for a true Scandinavian look.
Instead, focus on using neutrals like bright white and light gray. Consider combining white walls with a light gray sofa for a clean and harmonious look.
Then, add a few soft accent colours in the form of throw pillows, rugs, or a coloured accent wall to pull the room together.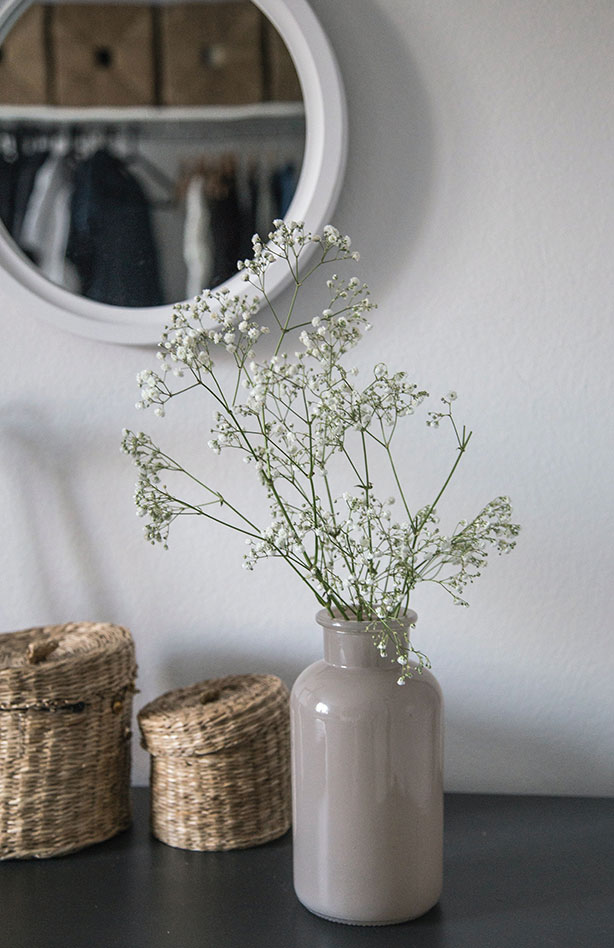 3. Bring Geometric Shapes into the Room
Simple geometric shapes are the perfect compliment to the minimalistic look of a Scandinavian living room. Start by looking for chairs, end tables, and tv consoles with clean, sharp lines.
Then, to finish off the look, add geometric wall decor like a set of round mirrors, or a gallery wall. Squares, triangles and circles will all help create the clean look you want.
4. Add Texture to Your Scandinavian Living Room
Different textures bring immediate interest to a room, and a Scandinavian living room is no different.
Try to find decor pieces made of different natural materials, like woven straw, rattan, cloth, and metal. A sofa made of linen fabric makes an incredible focal point for the room.
5. Refresh Scandinavian Interiors with a Touch of Nature
No Scandinavian living room would be complete without greenery. It's a key element in making the minimalist Scandinavian look feel warm and inviting.
Live plants are a great choice if you have the time and knowledge to keep them looking their best. But if not, there are many beautiful artificial plant choices as well!
In general, look for plants that add green to the space, rather than flowering plants. They'll add life to the room while still blending well with the overall clean aesthetic.
6. Finish With Linen Pillows
Finishing touches are what really make a Scandinavian living room special, and adding linen pillows to the room is an easy and beautiful way to do that.
Pillows are an economical design choice that have the capability to completely change the feel of a room, so try one of these options for incorporating them into your decor:
Contrast Your Theme – To create an impact in your space, consider contrasting your room's theme. While a colourful room can look great with neutral cushions, the minimalistic Scandinavian design contrasts well with brighter, more colourful pillows.
Texture – Linen cushions are fresh and stylish, but they can look even better when combined with pillows in other textures like velvet or silk. Mix them up to create visual interest in the room.
Try Different Shapes and Sizes – Having all your pillows look the same can create an overly formal feel. Combine different sizes and shapes of cushions for a comfortable and friendly look.
Colour – Accent the neutral shade in your room by choosing yellow or dark gray pillows to liven up the space. Shades of blue and green also work well with the greenery in a Scandinavian living room.
Pattern – Incorporate the Scandinavian concept of geometry into your space by choosing pillows with chevron patterns or other geometric shapes.
The outdoorsy feel of a Scandinavian living room is something that's sure to have you feeling calm and relaxed as soon as you sit down.
And with nothing more than some neutral colours and natural elements, it can be easy to bring that feel to your space!
So find a few pretty wooden decor pieces, add some wicker baskets, finish with linen accent furniture or cushions, and enjoy your fresh, inviting living room!