Activities | Toys | Books
A new season is always a great time to add some new fun to the house. And if you're looking for the best summer toys, books, and activities for your kids, look no further!
From books for the future scientist to construction vehicles for your little architect, there's something for every child in this roundup of fun new must-haves for kids!
Best Summer Kids Activities
As fun as they are beautiful, the new Brights series of puzzles from Goliath are perfect for a quiet afternoon of fun on a cloudy day.
The 300-piece puzzles are great for school-aged children right up to the adult ages, challenging without being overwhelming.
And the finished puzzles are sure to wow with designs and colours that will brighten the dingiest day!
ARV: $14.99
Wall décor becomes something more when you decorate a child's room with a Wall Stories set! These unique decals feature an interactive experience that brings stories to life for little ones!
Start by finding the perfect spot on the wall for the decals. Then, download the Wall Stories app to bring a story to life about the characters!
The app also lets kids play an educational game with three levels of difficulty, or add silly accessories to the characters on their wall in creative mode. It's a whole new twist on wall art that will keep kids entertained for hours.
ARV: $39.99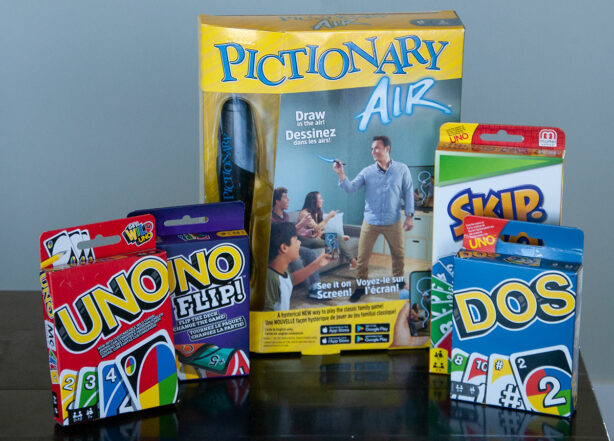 Looking for some new games to spice up your family game nights? Mattel has you covered with old favourites and new games kids and adults with both love.
First, try a new twist on Pictionary with Pictionary Air! Connect the Pictionary Air stylus to the app on your smartphone or tablet and get ready to draw in the air as players try to be the first to guess what you're drawing.
The only catch? You can't see what's appearing on the screen! For large-screen fun, cast the app onto your TV through a streaming device.
Then, enjoy a timeless round of cards with the whole family. Whether you choose UNO, DOS or Skip-Bo, the fast-paced card collecting and discarding will keep everyone entertained!
ARV: $6.93-$24.97
Best Summer Kids Toys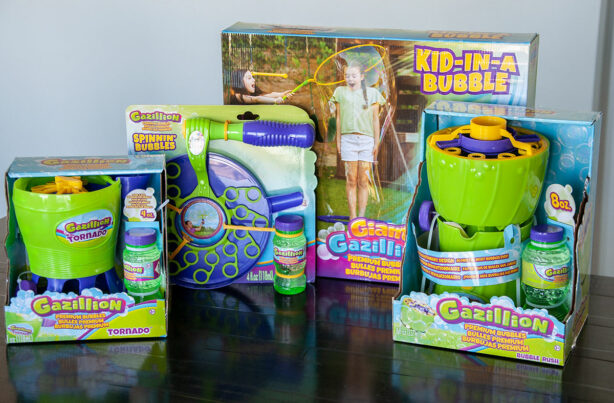 When it comes to summer toys for kids, there are few choices more popular than bubbles!
And any bubble-loving kid is sure to fall in love with the newest summer toys from Gazillion Bubbles, including the Bubble Tornado, Bubble Rush and Bubble Spinner.
My ow boys' personal favourite was the Giant Gazillion Kid-in-a-Bubble set! With a giant hoop and bubble wand, all three boys wanted the chance to be the "kid in a bubble."
And for an instant party atmosphere, there's just no beating the Gazillion Bubbles Bubble Rush. Kids will love dancing around the spinning bubble maker as it shoots outs hundreds of bubbles per minute!
The newest addition to the VIP Pets family, Glitter Twist pets are the perfect way to add some sparkle to your child's day.
The pets come in an adorable, oversized mousse bottle and feature fun "wash and reveal" hair that's a full 30 cm long. There are twelve possible Glitter Twist pets in total, all with gorgeous, glittering hair.
Every pet comes with nine different surprises, for hours of styling and accessorizing fun. They're sure to inspire any future stylist!
ARV: $17.97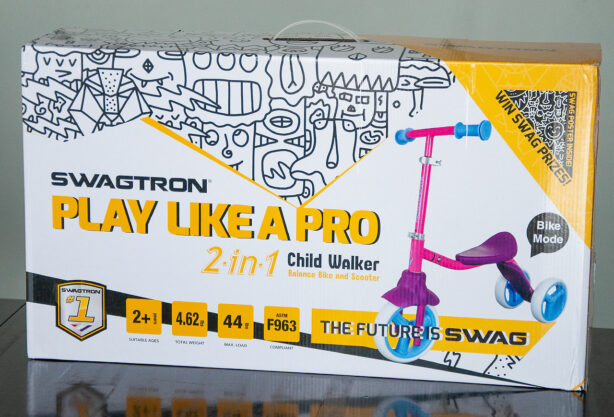 The perfect summer toy for your active toddler, the K2 Scooter/Balance Bike has a multifunctional design that ensures your little one will never get bored.
With the seat flipped up, the Swagtron K2 is a sturdy three-wheeled balance bike, perfect for getting kids started on the concept of riding a bicycle.
Then, with the push of a button, the seat flips down and becomes the foot base for a three-wheeled scooter for rolling around the yard! With a max weight of 44lbs, this scooter is sure to provide years of fun for your active child.
ARV: $39.99
If you have a child that believes in fairies, Bright Fairy Friends dolls are sure to be a hit!
The new Series 2 dolls are available now and kids can collect 12 different dolls that come with accessories and motion-activated fairy lights!
For even more magic, add a Queen Light Fairy to your child's collection, with a magic fairy home, a magic necklace and glowing wings!
ARV: $14.97-$24.97
Kids that love to get outside and get dirty will have hours of fun with the new CAT construction vehicles!
The Cat Steel Dump Truck is perfect for outdoor playtime in the garden or sandbox, while the Cat Power Haulers with lights and sound will encourage creative indoor play.
And for little builders, the Fix-it-Phillip truck, complete with hammer, screwdrivers and a saw, will keep kids working happily in the garage beside Mom and Dad.
ARV: $19.97-$29.97
A blast from the past, the officially licenced Volkswagen play sets from Playmobil are perfect summer toys for a rainy day indoors.
The classic Volkswagen Beetle play set features a family of three heading off for a vacation in the ultimate summer vehicle. Complete with luggage, a surf board, a sand castle, and a cooler with drinks, kids will love creating their own imaginary day at the beach.
The Volkswagen T1 Camping Bus play set offers a working fold-out bed and tons of camping accessories, along with two campers ready to head out on an adventure.
And for the ultimate fans, both sets are also available in a Special Edition version with limited edition colours and accessories! Find them at toy stores across North America or online.
ARV: $59.99-$79.99
Best Summer Books for Kids
If your kids love to ask questions, these two National Geographic Kids titles will provide hours of entertaining answers to their most pressing queries.
For kids aged 3 to 7, The Little Kids First Big Book of Why provides answers to little ones' most pressing questions including why planes fly and why they have to eat vegetables.
For older children aged 8 to 12, Why? Over 1,111 Answer to Everything provides information on everything from why we yawn to why sloths move so slowly.
ARV: $14.99-$19.99
When two brothers find an old letter in their great-grandmother's attic, they never suspect that it will start an adventure that can only be solved in the far North.
But thanks to their family's love of travelling the world, that's exactly what happens! And the adventures just keep coming!
These self-published books by author and mother Kimberly Thornton are designed for younger readers, and feature vibrant illustrations and a story that will have kids excited to follow along with the boys' adventure.
ARV: $15.00
Whether you're shopping for one special birthday present or want to stock up on summer toys and activities, you're sure to find at least one great choice for any child in this roundup. And for even more ideas, check out these new toys as well!