Planning a vacation? If you're finally taking to the skies again, make sure you're travelling in style with these 5 travel must-haves for the most luxurious vacation ever!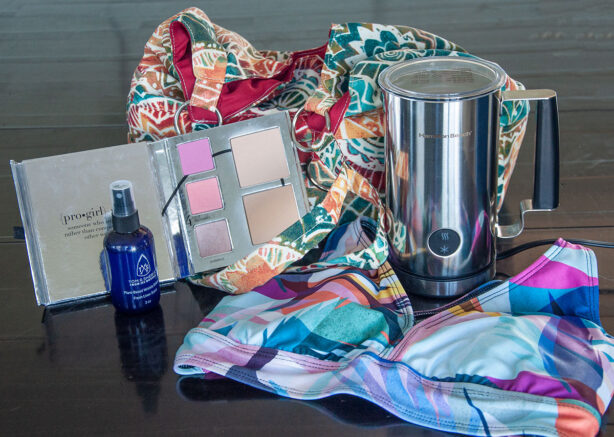 From travel makeup to wine bags, adding these items to your vacation packing list will help you make the most of every minute of your trip!
SwimSpot Swimsuit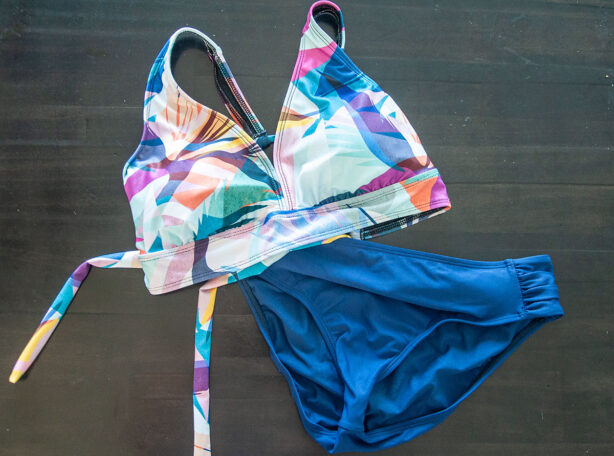 Whether you're planning to spend your vacation on the beach or in the hotel swimming pool, a great swimsuit is always a top travel must-have. So, grab a cute new suit from SwimSpot and hit the water in style!
It can be hard to find a swimsuit that combines style and function, especially for bigger-chested women like me. Luckily, SwimSpot knows how to create suits that look as good as they feel.
And if you need advice, SwimSpot offers a fitting room with details on specific swimsuit styles, live chat advice, and even 30-minute consultations with swim specialists to help you find the ideal suit.
My personal favourite? The adorable Core Restore Longline bikini top. With specific cup sizing and thick, adjustable back straps, it ensures a perfect secure fit, no matter how active you get.
Paired with the full-coverage Good Karma Chopra Bikini Bottom, it's the perfect suit for everything from lounging in the sun to playing an energetic game of beach volleyball!
Tom & Sheri's Iron in a Bottle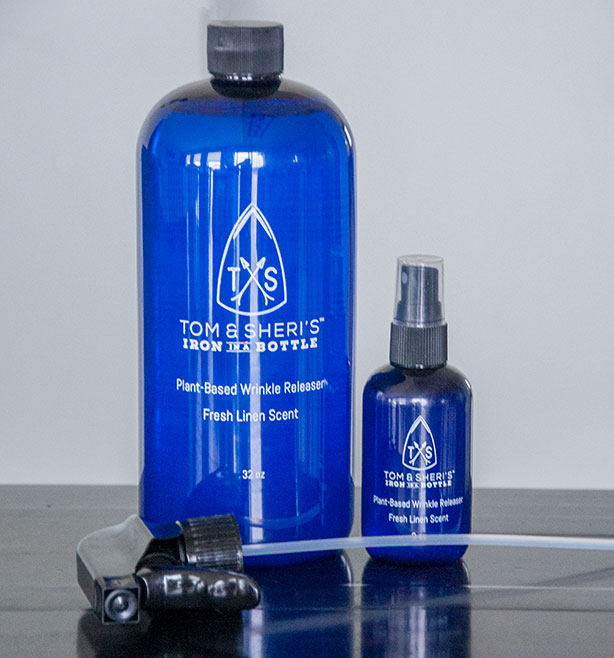 It can be hard to keep those fancy vacation outfits fresh and wrinkle-free after they've been packed into a suitcase. But nobody wants to spend their precious vacation time ironing!
That's where Tom & Sheri's Iron in a Bottle comes in. Spray it on, shake the outfit, smooth the wrinkles, and let it dry. Just like that, you've got wrinkle-free clothing without all the work!
And the formula isn't just effective. It's also all natural, eco-friendly, and cruelty-free! The active ingredient is a plant-based surfactant that provides great results in a gentle and non-toxic way.
Iron in a Bottle is great to have at home as well, so grab the company's Iron in a Bottle Duo (one full-sized and one travel-sized bottle) and you may just decide you can throw that iron away once and for all.
Use coupon code KATANDKIDS30 to save 30% on your purchase!
Portovino Swankey Wine Purse
If you've been dreaming of a way to bring your favourite beverage along on your adventures, you'll love the Swankey wine purse by Portovino!
This newest addition to Portovino's line of wine purses, backpacks, and messenger bags features a roomy design complete with an insulated bottom compartment that holds and dispenses up to 4 bottles of wine!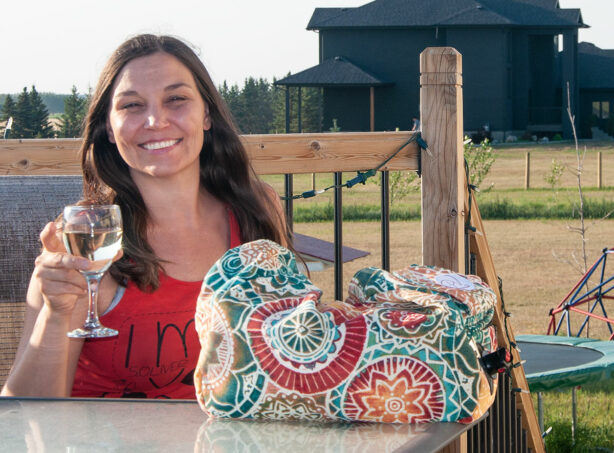 Made of cotton canvas and available in a variety of stylish prints, this bag is as fashionable as it is functional. And every purse sold also feeds a hungry child through the company's partnership with FMSC.
Perfect for having some relaxing drinks on the beach, or making sure the family stays hydrated during vacation activities, the Swankey is sure to be a hit during your vacation adventures.
Woosh Beauty Fold-Out-Face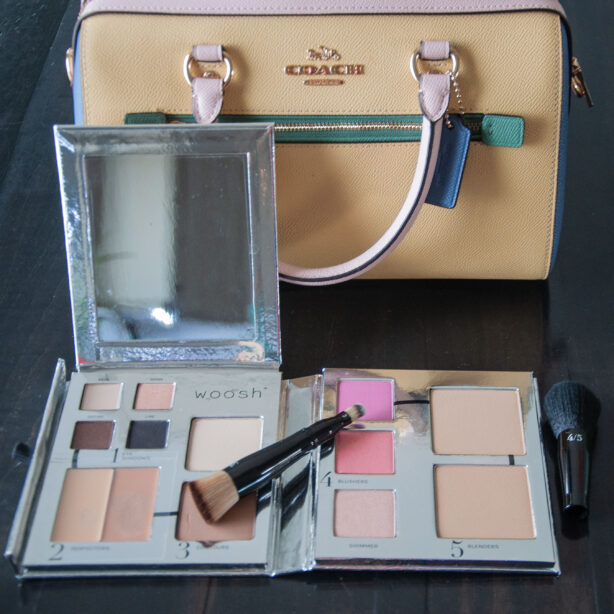 Are you tired of having your makeup take up all that space in your carry-on? Say hello to the Fold-Out-Face!
This all-in-one makeup kit contains four different eyeshadow colours, two perfectors, light and dark contours, two blushes, two blenders and a shimmer…all in a case that's small enough to tuck into your purse!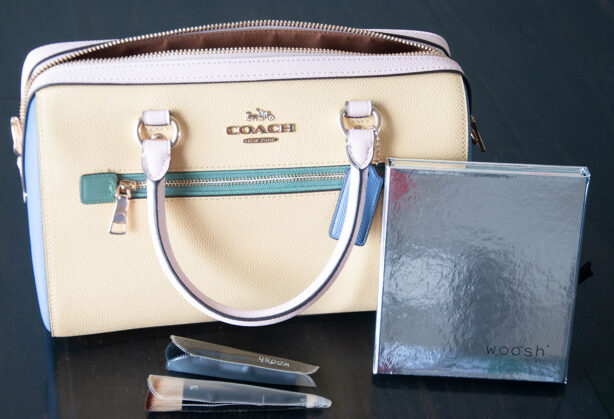 Complete with a large mirror and a mini brush set, the Fold-Out-Face has six different sets to suit different skin tones, and includes a step-by-step guide to creating the perfect face in a flash.
The tailored shades work so well on different skin tones, and make creating a flawless face on the go as easy as can be. Once you've tried this kit, you may never go back to individual products again!
Use coupon code MOMMYKATANDKIDS20 to save 20% on your purchase!
Hamilton Beach Milk Steamer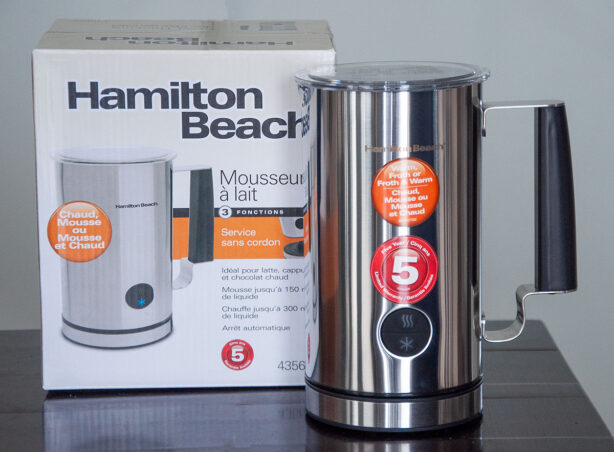 If you refuse to start your day without your morning latte, upgrade that hotel coffee experience with the Hamilton Beach Milk Steamer!
This compact little kitchen appliance creates hot or cold steamed milk in just minutes, letting you enjoy a perfectly-blended cappuccino or latte anytime and anywhere…no fancy coffee shop required!
And if iced coffee is more your style, the steamer's cold frothing feature ensures that you can whip up that perfect cool beverage instead.
Just stash a container of milk in your hotel fridge and you'll be ready to wake up to gourmet coffee without even having to leave your hotel room.
Whether you're discovering all the most romantic places to visit in France, or taking a family road trip to Deadwood with the kids, there's nothing quite like a vacation to recharge your body and soul.
And with these luxurious travel must-haves added to your vacation packing list, you'll be able to enjoy that getaway even more!