Floral wallpapers are always a classic way to add some fun, flair, and life to any room of your home or office.
They add an amazing touch of color, texture, and nature that you simply can't find in any other design out there.
If you want to make your room look bold and beautiful, consider these 5 dark floral wallpapers from everwallpaper to create your new look.
Watercolour Lotus
Watercolour Lotus is a beautiful floral print that makes for great wallpaper. The light purple flowers look soft and exotic, perfect for adding life to a hallway accent wall or creating a soothing wall behind your bed.
This particular wallpaper combines elegance and calm in perfect proportions, which means it's great both for upscaling an area that needs more style and for creating a peaceful space.
Consider Watercolor Lotus for spaces like the bedroom or living room to open up the area and add a positive vibe to the room.
Chloe Floral Wallpaper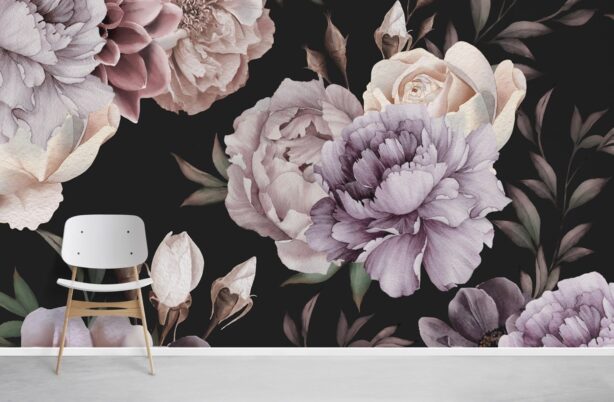 Create an elegant space in your house with this beautiful pink, purple, and black floral wallpaper mural.
This dark floral wallpaper can be used in any room in your home to give the space a vintage feel. And since the color tones are muted rather than vibrant, the wallpaper highlights a room without being overwhelming.
This charming floral design is perfect if you're looking for a dark accent wall but don't want it to completely take over the space.
Fantastic Florals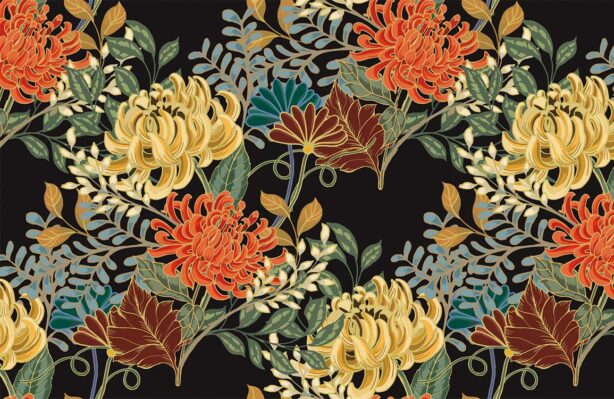 Looking for wallpaper that will make a statement? The Fantastic Florals Wallpaper is sure to impress with its vibrant floral pattern on a black background.
The blend of yellow, orange, light blue, burgundy, and dark green makes this wallpaper a bold choice that's perfect for adding style to a sitting room or dining space.
This wallpaper is especially striking because of its intricate floral pattern. The gold edging around the flowers gives added elegance, making Fantastic Florals ideal for adding a luxurious feel to your space.
Gothic Blossom
If you want a dark floral wallpaper that has a vintage feel, Gothic Blossom is a great choice for you. The darker tones and added natural elements make it a sophisticated choice for any room.
The roses and wildflowers in the pattern are combined with ferns, leaves, and butterflies, to bring the outdoors inside in a beautiful way.
Consider Gothic Blossom wallpaper to add a relaxing feel to a home office or bedroom. Pair it with clean, contemporary furniture for a stylish look that encourages serenity.
Camilla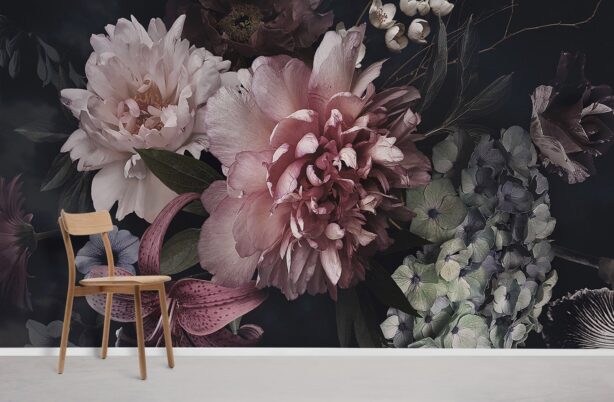 Want to create a bold and feminine look for your room? The Camilla floral wallpaper is a great option.
The larger pattern on this dark floral wallpaper makes it stand out in a stunning way. Consider it for an accent wall in the kitchen, bedroom, or entryway.
The blend of pink, green, white, and black tones in the wallpaper pair well with a variety of furniture choices in both vintage and modern styles.
Camilla is a dark floral wallpaper that's sure to impress, so don't be afraid to find a spot to show it off. No matter where it is, it's going to make a statement.
A dark floral wallpaper is a great way to add elegance to a room with minimal effort. Whether you choose a bold print or a more soothing pattern, the classy and natural elements of these wallpapers are sure to make you smile every time you look at them.