Even though I was a vegetarian for years, I never really managed to take the plunge and go fully vegan.
But that doesn't mean that I don't love experimenting with vegan meals now and again! In fact, discovering new ways to reduce my meat intake has helped me discover some amazing new recipes and products.
One of my most recent discoveries was Big Mountain Foods. The company reached out to me about taking part in a recipe contest using its products, and I couldn't resist putting my cooking skills to the test.
Big Mountain Foods offers a variety of plant-based meat alternatives made with simple, wholesome ingredients. And when I saw the Lion's Mane Mushroom Crumble, my mind went to Mexican immediately!
As much as my family loves classic tacos, I wanted to create something a little fancier. That's when I came up with this irresistible Vegan Taco Cups recipe with homemade vegan sour cream!
For the most part, using Big Mountain Foods Lion's Mane Mushroom Crumble was all that I needed to do to ensure this recipe was vegan.
The one ingredient that may need to be double-checked is the tortillas. The vast majority of store-bought tortillas are vegan, but a few select brands may contain lard instead of vegetable oil.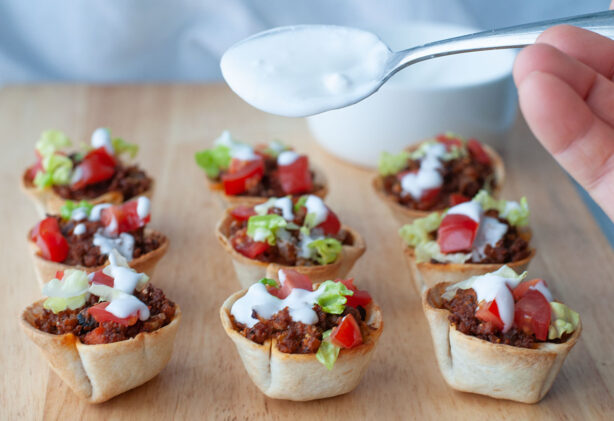 My own usual brand of tortillas was a vegan variety, so I moved on to deciding how to top the hearty little morsels.
Veggies were a must, of course. Since I'd filled the tortilla cups to the brim with the tasty taco filling, I kept it simple with just lettuce and tomato. Cilantro, avocado, and diced jalapeno would be delicious choices as well.
The veggies added great flavor, but I knew that these Vegan Taco Cups just wouldn't be the same without a creamy sauce. Luckily, I discovered just how easy it can be to whip up vegan sour cream!
Since I love Thai food, coconut cream is already a staple in our house. I was amazed at what a great sour cream substitute it became just by adding lemon juice and vinegar!
If you don't have canned coconut cream available to you, chilling a can of coconut milk will cause the coconut cream to rise to the top and solidify so that it can be scooped out.
Overall, these Vegan Taco Cups turned out just the way I hoped, with all my favourite taco flavors and no meat needed.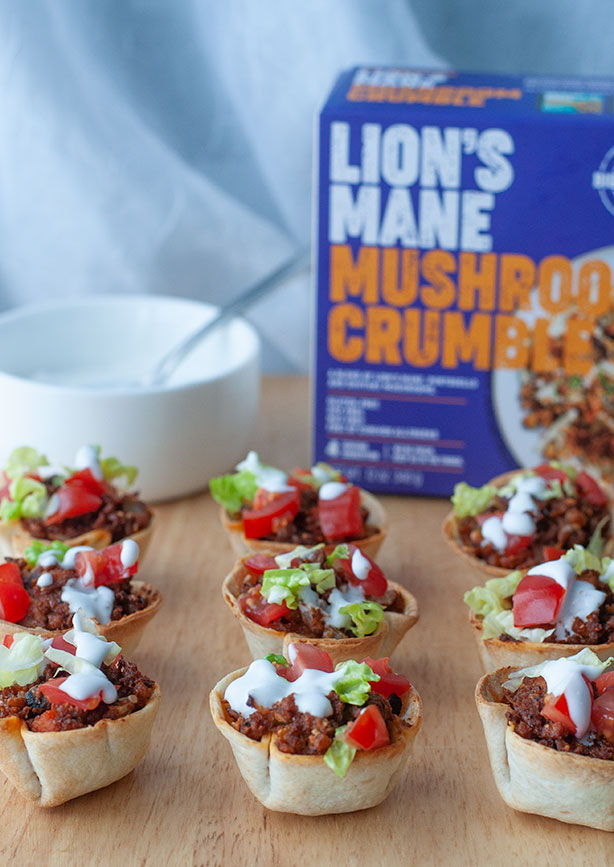 And it was a priceless moment when I told my meat-loving teenage sons that the taco cups they'd just devoured were completely vegan!
Looking for a refreshing dessert to finish off your vegan meal? This 3-ingredient non-dairy ice cream has you covered!
If you're looking into ways to add more plant-based foods to your diet, this Vegan Taco Cups recipe is a great place to start.
When you see how easy it can be to eat vegan, you may want to make a vegan meal a regular part of your weekly meal plan!
Vegan Taco Cups
These hearty mini taco cups make a great appetizer with their tasty vegan taco filling and homemade vegan sour cream!
Ingredients
Taco Cups
1 tbsp. olive oil
1/4 cup diced onion
1 pkg (12 oz) Big Mountain Foods Lion's Mane Mushroom Crumble
1 1/2 tsp. chili powder
1/2 tsp. cumin
1/2 tsp. paprika
1/4 tsp. garlic powder
1/4 tsp. onion powder
1/8 tsp. chipotle chili powder (optional)
3 10-inch flour tortillas
1/4 cup diced cherry tomatoes
1/4 cup finely chopped lettuce
Vegan Sour Cream
1/2 cup coconut cream
1 tsp. lemon juice
1/4 tsp. apple cider vinegar
1/8 tsp. salt
Instructions
Taco Cups
Using medium skillet, heat olive oil over medium-high heat.
Add onion and sauté until tender, about 3-5 minutes.
Add Lion's Mane Mushroom Crumble and spices, and mix well.
Sauté just until heated through, about 2 minutes, and remove from heat.
Using a 3-inch round cutter, cut circles out of flour tortillas.
Press circles into mini muffin tin. Fill each with a heaping teaspoon of taco mixture.
Bake for 10 minutes, until tortillas are golden brown.
Remove taco cups from muffin tin and top with lettuce, tomato, and vegan sour cream.
Serve immediately.
Vegan Sour Cream
Mix coconut cream, lemon juice, apple cider vinegar, and salt in small bowl.
Place in fridge until ready to use.



Notes
If desired, garnish taco cups with additional taco fixings (avocado, cilantro, vegan cheese, etc.).
Nutrition Information:
Yield:

6
Serving Size:

4 taco cups
Amount Per Serving:
Calories:

198
Total Fat:

8g
Saturated Fat:

5g
Trans Fat:

0g
Unsaturated Fat:

3g
Cholesterol:

0mg
Sodium:

195mg
Carbohydrates:

29g
Fiber:

2g
Sugar:

13g
Protein:

3g
Make sure to visit Big Mountain Foods on Facebook, Twitter, Instagram, and Pinterest for more vegan recipes!