An engagement party is a signature pre-wedding event, and is often the time relatives on both sides of the family get to meet for the very first time. Needless to say, it's a big deal for many couples!
Just like the wedding and reception, an engagement party will need some planning. But the planning process doesn't need to be stressful or expensive at all.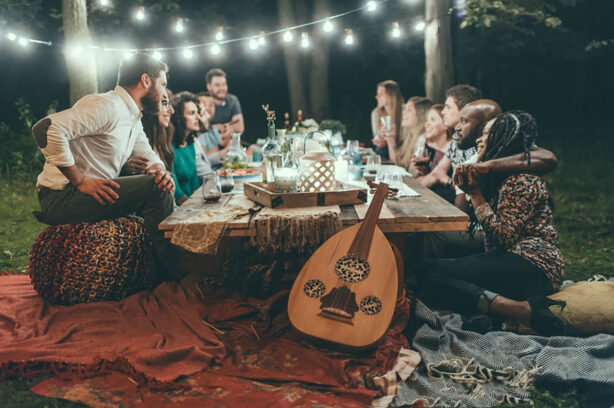 Here are some budget-friendly ways you can throw an amazing engagement party and have a blast with the ones you love the most.
Keep It Casual
Going too fancy with an engagement party can blow a budget quickly, and also put more stress on family members that are meeting for the first time.
An inexpensive picnic engagement party in your backyard or at the park is a fun and non-traditional way to celebrate.
The informal atmosphere will make it easier for people to relax and get to know one another. It's also a good option if the couple intends to include children in the party.
Planning a casual celebration tends to put people at ease and put the focus on having fun, so consider grabbing some BBQ supplies, stocking up on footballs and Frisbees, and letting everyone let loose outside as they meet each other!
Keep It Intimate
Large numbers of people mean more money spent on food, drinks, and party supplies. So, you may want to limit the number of guests and invite just a few people that matter most.
A smaller guest list may even mean that you're able to cook food for everyone yourself rather than arranging for catering. And the party itself can potentially take place in our own home, saving you from renting a private spot.
Consider asking out-of-town relatives to join your party virtually and be physically present on the big day.
Not only will it help you save money, but it will take the pressure off them to spend time and money making an additional trip.
Keep It Simple
The invitations, menu, decor, and photos for your engagement party don't need to be elaborate and expensive.
Instead of printed invitations, go digital. There are many apps and websites that will let you design your own invitations. Then, email them to guests and set up a free website where they can RSVP.
Set the party time when you are able to serve smaller meals. Mid-morning or mid-afternoon can be a great choice, since you can serve a simple lunch or some appetizers instead of a full dinner.
Even decorations can be both inexpensive and beautiful. Balloon arrangements are festive and cost next to nothing. String lights are also great for adding instant atmosphere.
And if you happen to have a garden, adding plants and flowers to your decor can be an easy way to add personality to the party.
If you want to record the engagement party with photos and videos, mention in your invitations that you are encouraging everyone to take photos and videos.
Set up a private online group so that guests can share their photos and videos with you and each other. Seeing your party from different people's point of view can be an extra-special experience!
No matter what type of gathering you decide on, the most important tip is to set a budget before you even plan the engagement party.
Knowing exactly how much you have to spend will help you focus on the elements you want most, and skip those that aren't important.
With a little effort, your engagement party on a budget will be an event that everyone remembers for years to come!