It's your special day, and you want every aspect to be perfect – but you also don't want to get yourself into debt. You've planned out all the costly aspects carefully – the dress budget, hiring a photographer and finding a venue that you can afford – but when it comes to organizing the wedding reception, costs can quickly escalate.
Although the ceremony is a hugely special part of your day, the reception is where you get a chance to celebrate and connect with all your loved ones, and it will certainly be one of the most memorable parts of your day. But all that eating, drinking and dancing doesn't come cheap, especially if you have a big family and plenty of friends who you don't want to miss out.
Luckily, the secret to a great wedding reception isn't spending lots of money you don't have – its all about keeping it personal to you and your other half. The touches that make it uniquely yours are what guests will really remember – and they don't have to be expensive. Personal touches make everyone smile and ensure your day is memorable long after the music has faded on the last dance.
Get The Seating Plan Right
A well-thought-out seating plan is one of those cheap wedding reception ideas that can truly make or break how much your guests enjoy themselves, and it doesn't cost a thing. Yes, your wedding seating plan really is that important. Get it right and everyone is guaranteed a good time. Get it wrong and people aren't going to have as much of a good time.
Placing guests with people they know and will get along well with is crucial to this. You may like the idea of the two sides of new families mingling and getting to know each other, but it's far better to allow this to happen naturally, on people's own terms, rather than trying to engineer it through where you place people. A typical wedding meal with multiple courses is a long affair, and if you're seating with a bunch of people you don't know, or you have to strain for conversation with, it's not going to be as relaxed and convivial.
Never try to use the seating plan to play matchmaker or to force guests to make friends. Let people sit with their own families and friends, and they're bound to enjoy the reception much more. Well thought out seating leads to great conversation and everyone enjoying themselves – so seat your little cousins all together, have a table for your college friends, and let any mingling happen organically.
Make Your Own Favours
Little costs like wedding favours can quickly add up, but if you make your own, you can give your guests something personal while not breaking the bank. Think about your skills – or those of your family or bridesmaids that you could call on. If you can cook well, try making some sweets – it's easy to find a recipe for chocolate truffles or make a big batch of peanut brittle that can be popped into little cellophane bags sealed with a cute sticker.
If you're crafty and you can make something, all the better. Or you could try growing some flowering plants, putting them in pretty ceramic pots, and giving those. Making the favours can become a fun activity for you and your bridesmaids as well and provide another happy wedding memory along the way.
Your Family Has Talent
If you're lucky enough to come from a musically gifted family, why look further for the entertainment at your wedding? If your cousin has a beautiful voice, or your sister plays violin, or your brother is in a band – ask them to provide the wedding entertainment first. Or you could get every guest to choose a song they love and pull together a wedding playlist to keep the dancefloor filled – no DJ required!
Not only does it make the reception much more personal, but it leaves you with more budget to spend on the extra finishing touches, like your wedding photo booth. Choose activities like this which leave you with a memento of the day and that can be shared with your guests afterwards as a thank you.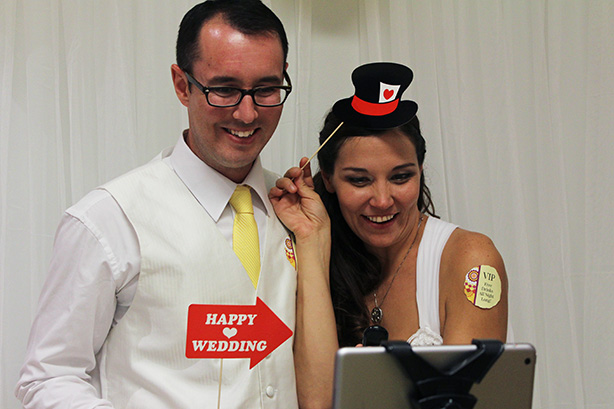 You could also have friends contribute to an online photo album or film short clips to be edited at home into a wedding video to save on the costs of a professional photographer – most smartphones have amazing quality cameras now that can do a great job. So, you could just hire a photographer to cover the ceremony and leave the reception photos to your friends!
With a little planning and some help from friends and family, there are all kinds of cheap wedding reception ideas that will let you throw a great party with minimal cost.