Decorating your child's bedroom is a great way to get creative, while also creating a nice, nurturing space for your little one to call home and relax in.
There's no shortage of articles about decorating a kid's room, but why not go beyond basic decor tips and try something especially fun and unique?
If you want your child's bedroom to really wow, consider one of these 4 easy and unique ideas for decorating a kids' room:
Make Cool Patterns with Blinds
Let's face it, blinds are often one of the least glamourous areas of interior decoration.
Most people just put up any blind that fits the window and the room's overall style, and call it a day. As long as it keep the sun out, no child is likely to really notice or complain.
But, if you have a vertical blind in your child's room, you can get a bit creative and make something cool and eye grabbing instead.
By buying some vertical blind replacement slats, you can create cool color combos for your little one's blinds that any child is sure to enjoy.
There are a lot of options for this, including mixing various colors to make a rainbow effect, using black and white slats to create a piano style look, or alternating the two colors of your child's favorite sports team.
Turn Bunk Beds Into A Cabin
Bunk beds are incredibly popular in children's bedrooms, since they provide an extra bed without sacrificing floor space. But why not turn that bunk bed into another play area as well?
It's surprisingly easy to give a bunk bed a cabin or treehouse look. Attach some simple wooden slats to the bedframe, and build them straight down, leaving space for a "window" and "door." The cabin can then be trimmed and painted as desired.
When paired with a nature-inspired design scheme, a cabin bunk bed will inspire creative play and double as a cozy lounging area for your little one.
Create a LEGO Fun Station
This is another quick project that will encourage independent play as well as being a decor piece all your child's friends will be jealous of.
Better yet, all this project needs is some superglue, some LEGO baseplates, and a small desk or table. Paint the furniture piece to match the room, if desired, then glue the baseplates together on the top.
Finish off the project by putting loose building blocks into some colorful bins that can be stored underneath the fun station. Having LEGO easily accessible like this is a great way to ensure your kids are using it more often.
And, as an added bonus, having a dedicated LEGO station means all those loose bricks will be less likely to end up in other parts of the house!
Coloring Wallpaper
Kids are creative by nature, and finding easy ways to nurture that creativity is always a plus for a busy parent.
That's where coloring wallpaper comes in! As the name suggests, the wallpaper is white with black outlines that encourage kids to color on the walls to their heart's content.
Whether you decide to use the wallpaper to create one full feature wall, or cut a few sheets to fit a large frame, coloring wallpaper is sure to be a hit with kids of all ages.
And, if you want to be able to replace the wallpaper later on, there are a large variety of removable peel-and-stick coloring wallpapers available.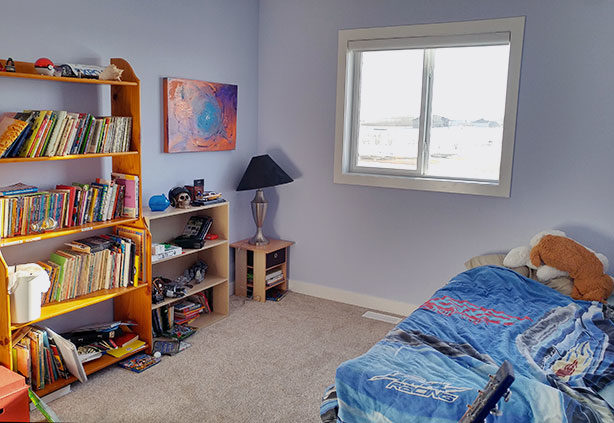 Creating a bedroom that's a haven for your child can be a surprisingly fun decorating experience, and you'll love seeing the happy smiles when you show off the results.
So, give one of these easy and unique projects a try, and upgrade your little one's room to help encourage them to play, create, stay organized, and learn in fun new ways!