While Easter is mostly known as being the Christian celebration of Jesus Christ's resurrection, families of all religions and nationalities in North America have come to enjoy it as well.
A time to celebrate spring and the rebirth of nature after a long winter, Easter is a great occasion for getting together with family and enjoying some time together.
If you're looking for ways to make Easter morning more memorable, consider one of these 3 ideas:
Commemorate the Year
It can be so much fun to see how much your children grow and change over the years, so consider commemorating the annual Easter egg hunt with a photo each year.
You can then put the photos into a special Easter display to enjoy each year during the next hunt. You and your child will both love reliving the memories from past Easters and seeing how much they've grown.
Surprise Your Teens
While some teenagers might still happily take part in an Easter egg hunt, others might prefer to spend a more relaxing Easter morning.
If your kids' interests have moved beyond the traditional egg hunt, consider surprising them with an Easter gift basket instead.
In addition to a few favorite chocolates, you can include other items you know they need or will enjoy. Think new cosmetics, fun socks, a good book, hair accessories, or a new video game.
Host an Easter Brunch
One of the most popular ways to celebrate on Easter morning is with a family brunch.
Whether you keep it to your immediate family or invite extended family and friends, Easter brunch great way to enjoy some time together celebrating Easter at home.
A great brunch has a variety of sweet and savory items, so pair bacon, eggs, and fried potatoes with choices like fruit salad, muffins, and coffee cake.
And don't forget to finish your brunch with a special dessert! Easter-themed mini cupcakes or gourmet Easter chocolate are both great choices.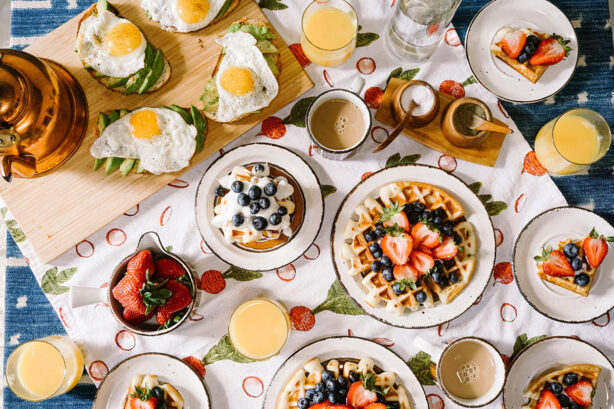 Spending time as a family on Easter morning is such a great way to celebrate the occasion, and no matter what ages your children are, there are fun ways to do that.
So, plan that egg hunt, put together an Easter gift basket, or cook up some tasty treats for an Easter brunch! Then, get ready to enjoy time spent together celebrating spring!