With Earth Day just having passed, you may be thinking about adding a few new eco-friendly products to your home.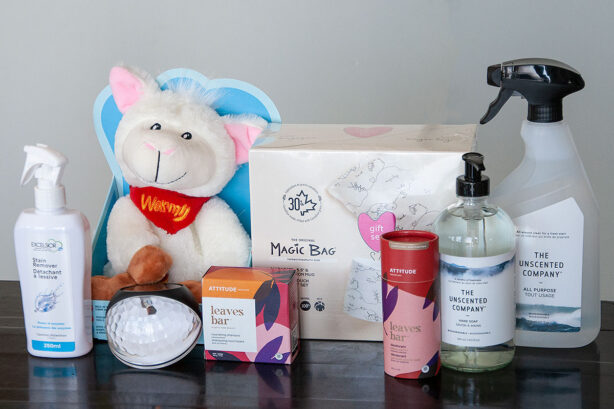 And these five must-haves are the perfect way to make your household a little more earth-conscious.
From travel-friendly body care to utility bill-friendly lighting , you're sure to find some new eco-friendly products for the home on this list:
Excelsior Laundry Detergent & Stain Remover
I'll be honest, I didn't think it was possible to get excited about laundry detergent. But that all changed when I discovered Excelsior!
This gentle and effective laundry detergent whitens, brightens, and softens without the need for additional laundry products.
Packaged in an eco-friendly cardboard box, it's super concentrated with an amazing scent. Just 1 tbsp. cleans an entire load of laundry!
Perfect for both standard and high-efficiency machines, Excelsior laundry soap really is something special. A single 5L box cleans up to 333 loads of clothing.
The premium kit also includes a 250ml enzyme-based stain remover. The enzymes in the spray work to break down organic matter, making it perfect for tough stains including blood, grease, pet urine, and more.
Both products are phosphate free, bleach-free, and biodegradable, so you can feel good knowing you're supporting the environment every time you do laundry.
Attitude leaves bar™ Beauty Bars
Attitude has offered nourishing, eco-friendly hair and body care products since 2005, and now they're taking their eco-friendly products to the next level with leaves bar™ beauty bars.
Featuring hand soap, body soap, shampoo, conditioner, lip balm, body scrub, body butter, and dry body oil, these bars offer a complete hair and body care package that's plastic-free and minimizes water waste.
As an avid traveler, I especially loved the fact that all the products can be taken through airport security with no issues, since they're all in a solid form.
The cardboard packaging is even made of an FSC-certified mix from responsible sources.
Like all Attitude products, these beauty bars are vegan, cruelty-free, and made of natural ingredients. They're the perfect way to take care of your body and the earth at the same time.
Quntis Solar Lights
To add a little light to those lazy summer nights on the back deck, consider these clever solar lights from Quntis.
A perfect way to save energy (and money), they mount easily onto deck or fence posts and turn on automatically when the sun goes down.
The unique rounded, beveled-glass design of the lights also creates a gorgeous display on the deck floor or ground, making them a great decor piece as well.
Best of all, they're incredibly reasonably priced, with a four-pack of the lights costing just $31.99. Use coupon code 9N33A6JS to save an additional 5%, too! (Code expires December 31, 2022.)
The perfect economical and eco-friendly way to light up your favourite outdoor areas, these lights are a must-have for anyone that loves spending time enjoying the outdoors after the sun goes down.
The Unscented Company Home and Body Care
Anyone that's ever had a reaction to a strongly-scented product will love the philosophy behind The Unscented Company.
This Canadian-based business focuses on all-natural, completely unscented home and body care products ranging from dish soap and all-purpose cleaner to hand soap and shampoo bars.
The Unscented Company also strives to reduce their eco footprint and eliminate single-use plastic by offering refills for all its products.
Customers can either purchase bulk boxes of home and body care products to refill their own bottles, or refill bottles right in a store.
Gentle, natural, and dedicated to creating a better world, The Unscented Company products make eco-friendly cleaning fun and easy. And the bulk refills are a great money-saver too!
Magic Bag Natural Pain Relief
Relieve sore muscles, stiff joints, and tension headaches naturally with a little help from the Magic Bag line of products.
Canadian-made and filled with organic grain, Magic Bag products can either be frozen for cool relief or microwaved for long-lasting warmth.
The new SPA collection is a perfect way to relieve stress, offering slippers and a sleep mask that feature special pouches for hot or cold Magic Bag compresses.
And the Warmy Magic Bag collection is sure to be a hit with kids. Warm up the pouch to help keep little ones warm in bed or to soothe a sore tummy. Use it cold as an adorable way to soothe bumps and bruises.
No matter which product you choose, being able to sooth common ailments naturally with a reusable product made of eco-friendly materials is sure to have you feeling good.
Spring is a great time to make an eco-friendly upgrade or two in your house, and any of these products are sure to do that.
So give them a try for yourself, and enjoy a cleaner, healthier, and more earth-friendly summer!