It's no secret that I love decadent desserts. My Red Velvet Cheesecake Cake recipe is the perfect example of that!
But since reaching the big 4-0 last year, I've also become more mindful about watching what I eat. And that's why "healthifying" some of my favorite desserts has become my newest hobby!
While I don't follow a strict keto diet, I do like the overall concept, especially since it focuses so much on minimizing sugar and simple carbohydrates.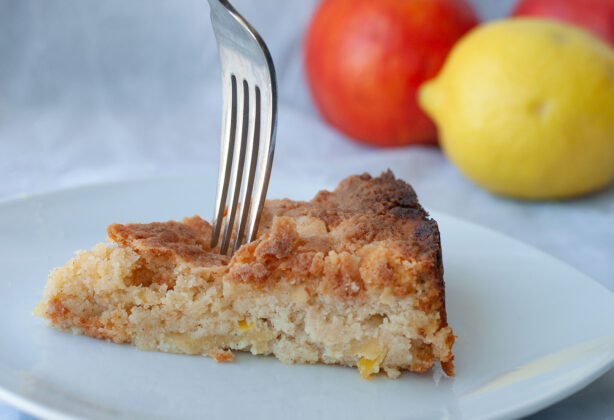 That's why I decided to see if I could create a keto-friendly version of a beloved Italian Apple Yogurt Cake I've made for years.
This cake was a great option for converting to a keto recipe, since it's already pretty low on sugar in its original form and contains keto-friendly ingredients like butter, eggs, and yogurt.
But I wanted to make it a true Keto Apple Cake, and by switching out a few ingredients and adding one crucial extra one, I was able to do just that!
As long-time keto followers will already know, the trickiest thing about making Keto Apple Cake is the apples themselves. Apples, as healthy as they are, are high in carbohydrates and do contain natural sugar.
But since this recipe contains just 1/4 of an apple per serving, it has the potential to still be a great keto recipe while keeping its delicious apple flavor.
In fact, after switching out the all-purpose flour for almond and coconut flours and the sugar for my favorite Erythritol and Monk Fruit sugar substitute, the only thing the recipe really needed was more protein.
And that issue was easily solved by adding a few scoops of Naked Collagen collagen peptides!
I've used collagen peptides for a couple of years now, and I've tried a few different brands in that time. I usually dissolve a scoop in my morning coffee, so I'm a little bit picky about quality.
Some brands tend to clump up in my drink, while others have a slight taste despite claiming to be flavorless.
Naked Collagen is hands-down the best brand I've tried so far, with absolutely no flavor and no issues with clumping.
I don't cook with collagen peptides too often, so I was excited to see what kind of results I would get adding it to the cake batter.
To my delight, mixing it with the dry ingredients and then baking it up worked perfectly!
I also cut back on the sugar topping on the cake a little, since I find that the Monk Fruit sugar blend I like is a touch sweeter than regular sugar.
The finished cake is a perfect indulgence, with a crispy, sugary top and great apple flavor. One serving contains 23g of fat, 12g of protein, and under 10g of carbohydrates!
Just like the original recipe, I love having this Keto Apple Cake for breakfast with a cappuccino as a weekend treat.
Overall, I was delighted with how the cake turned out, and my boys loved being able to eat it for breakfast!
Whether you're following a keto eating plan or just want to minimize the sugar and carbs in your diet, this easy Keto Apple Cake recipe is sure to impress.
Give it a try and see what you think!
Keto Apple Cake
Total Time:
1 hour
10 minutes
This easy Keto apple cake recipe uses Keto-friendly flours, monkfruit sugar, and collagen peptides to create a delicious, not-too-sweet cake perfect for breakfast or dessert.
Ingredients
1 cup almond flour
1/4 cup coconut flour
4 scoops collagen peptides
1/2 tsp. cinnamon
1/4 tsp. salt
7 oz. butter, melted
1/3 cup Monk Fruit sugar substitute (or your favorite zero-calorie sweetener)
2 eggs
1/2 cup plain yogurt
2 apples, peeled, cored, and thinly sliced
zest of 1 lemon
1/4 cup Monk Fruit sugar substitute, for topping
Instructions
Preheat oven to 300 degrees and grease an 8-inch round cake pan.
Mix almond flour, coconut flour, collagen peptides, cinnamon and salt in small bowl until fully combined.
In separate bowl, beat melted butter and first amount of sugar together until light and airy.
Beat in eggs one at a time, until fully combined.
Reduce beater speed to low and add 1/3 of the flour mixture. Blend until fully combined.
Add half the yogurt, and blend until mixed. Repeat, ending with the flour mixture.
Stir in the sliced apples and lemon zest.
Pour batter into cake pan and smooth top with a spatula.
Sprinkle the final amount of sugar evenly over the top of the cake.
Bake for about one hour, until a skewer poked into the cake comes out clean.
Cool and cut into 8-10 wedges.
Nutrition Information:
Yield:

8
Serving Size:

1
Amount Per Serving:
Calories:

291
Total Fat:

23.7g
Saturated Fat:

13.6g
Trans Fat:

1g
Unsaturated Fat:

13g
Cholesterol:

96mg
Sodium:

276mg
Carbohydrates:

9.6g
Fiber:

1.9g
Sugar:

6.9g
Protein:

12.1g