If there's one dessert that I can't get enough of, it's creamy, dreamy fudge. And I know I'm not alone!
In fact, my two-ingredient chocolate fudge is the most popular recipe on my site. But as much as I love the rich taste of chocolate, sometimes I want to switch things up.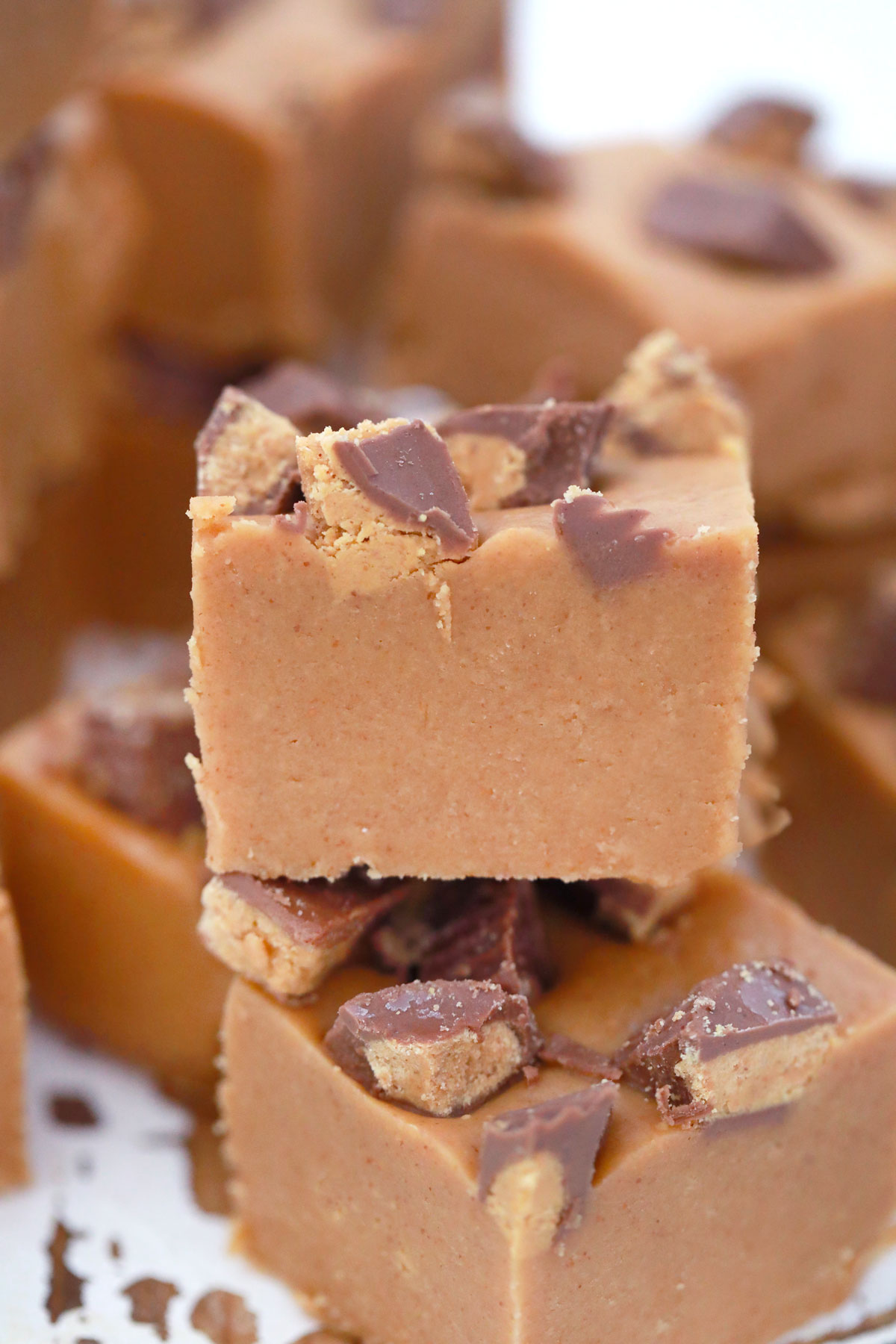 And that's where this easy Peanut Butter Fudge comes in!
This microwave peanut butter fudge recipe takes just minutes to mix up, and makes an addictive decadent dessert or sweet summertime treat.
Even better, it freezes perfectly, so you can always have squares of peanut butter goodness ready for snacking.
If you're new to making fudge, this recipe is a great place to start. While it's not cooked like a traditional fudge, it has all the creamy, melt-in-your-mouth flavor that makes fudge such a popular treat.
And, best of all, it is hands-down the easiest peanut butter fudge recipe you will ever find.
By using the microwave, you can whip up a batch of easy peanut butter fudge in a single bowl, no candy thermometer or sweetened condensed milk needed!
Peanut Butter Fudge Ingredients
With just four ingredients to this easy recipe, you probably already have everything you need for a batch of peanut butter fudge in your cupboard.
To make this tasty fudge, you will need:
Unsalted butter
Smooth peanut butter
Vanilla extract
Confectioners' sugar
Chocolate chips, peanut butter chips, or chopped peanut butter cups (optional)
How To Make Microwave Peanut Butter Fudge
Prepare the pan: First, grease an 8-inch square pan and line with parchment paper. Leave two sides hanging out for easier removal.
Melt the butter and peanut butter: Next, put the butter and peanut butter in a large microwave safe bowl and microwave for about 3 minutes at 75% power until they are melted, stopping every 30 seconds to stir. Then, whisk until fully combined.
Mix other ingredients. Next, mix in the vanilla extract with a wooden spoon before you add the confectioner's sugar and stir until no white streaks remain.
Press in the pan: Press the creamy peanut butter fudge mixture into the prepared pan and smooth it out with a spatula. If desired, top with peanut butter chips, chocolate chips or chopped peanut butter cups and press into fudge gently.
Chill and serve: Finally, let the fudge cool to room temperature and then cover with plastic wrap or aluminum foil and chill in the fridge for two to four hours or until set. Cut into squares and serve!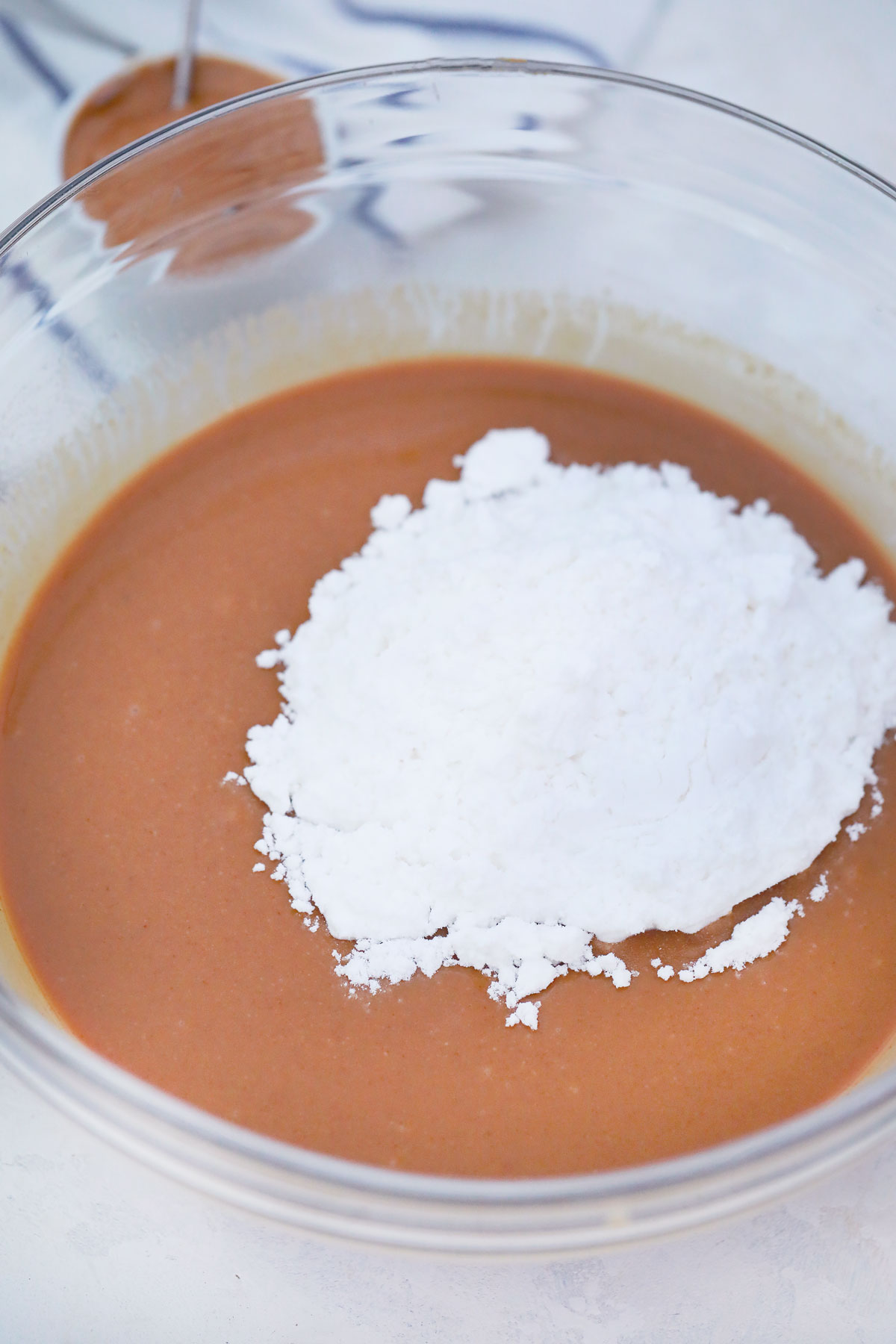 How To Make Peanut Butter Fudge On the Stovetop
Prep Your Pan: To begin, prepare an 8×8-inch pan with non-stick spray and parchment paper.
Melt Both Butters: Then, melt the butter and peanut butter in a heavy saucepan over medium heat, stirring constantly.
Add Other Ingredients: Once mixture is fully melted and combined, turn the heat to low and stir in the vanilla and powdered sugar. Mix until fully combined and then press into prepared pan.
Add Toppings: If desired, sprinkle peanut butter chips, chocolate chips, or chopped peanut butter cups on top of fudge, pressing into the surface slightly.
Chill It: Lastly, let it cool in the refrigerator until it is firm and set, two to four hours. Then cut and serve.
Recipe Variations
Want to add a twist to your peanut butter fudge? Try one of these fun variations:
Crunchy: For crunchy peanut butter fudge, use crunchy peanut butter instead of smooth, or add a cup of your own favorite chopped nuts.
Marshmallow: Let fudge mixture cool slightly and mix in a cup of mini marshmallows before pressing into pan.
Extra Toppings: To make your fudge extra fancy, top it with your favorite chocolate chips or candy! Think butterscotch chips, toffee bits, Reese's Pieces, or any other topping you love.
Ways To Serve Peanut Butter Fudge
Peanut butter fudge is so tasty simply cut into squares that you may not want to eat it any other way. But, if you're looking for other fun ways to serve it, try one of these ideas:
Crumble bits of this fudge over vanilla or chocolate ice cream for a delectable treat.
Make your fudge extra fancy by dipping squares into melted chocolate and letting it harden before serving.
This easy fudge recipe goes great with strawberry or raspberry jam for a PB&J combination. Just add a small spoonful to the top of each square before serving.
Frequently Asked Questions
Can I use natural peanut butter for this recipe?
Natural peanut butter is tasty in lots of recipes, but in general it should not be used in candy recipes like this one.
The lack of added sugar and oilier texture means that the fudge is less likely to set properly, potentially leaving you with a gooey mess.
Can I use foil instead of parchment paper for lining the pan?
Lining a pan with foil can work just as well as parchment paper, and because this recipe contains melted butter, you likely won't need to grease the foil after lining the pan.
Most of the time when making candy, however, you should grease your foil to ensure your fudge or candy won't stick.
How To Store Leftovers
Store: Wrap your leftovers in plastic wrap and keep the squares in an airtight container. Peanut butter fudge will last about three days at room temperature and up to two weeks in the fridge.
Freeze: Feel free to freeze what you cannot finish in a few days. Just wrap it and put it in a freezer bag. It can stay frozen for up to three months.
Thaw: Thaw candy overnight in the fridge for best flavor and texture.
Recipe Tips
Wax paper works great as a substitute for parchment paper for lining the pan.
Be sure to let your fudge set for at least two hours, but four is even better for the best texture.
Spray your measuring cup with non-stick cooking spray before measuring peanut butter for easier removal.
In the mood for just a little fudge? A half-batch of this recipe fits perfectly into a loaf pan.
Looking for more easy dessert recipes? Learn how to make churros so you can enjoy another great summertime treat!
And if you're in the mood for other peanut butter treats, you can't go wrong with these easy Confetti Squares!
But first, try this simple microwave peanut butter fudge for yourself. Your family will be happy you did!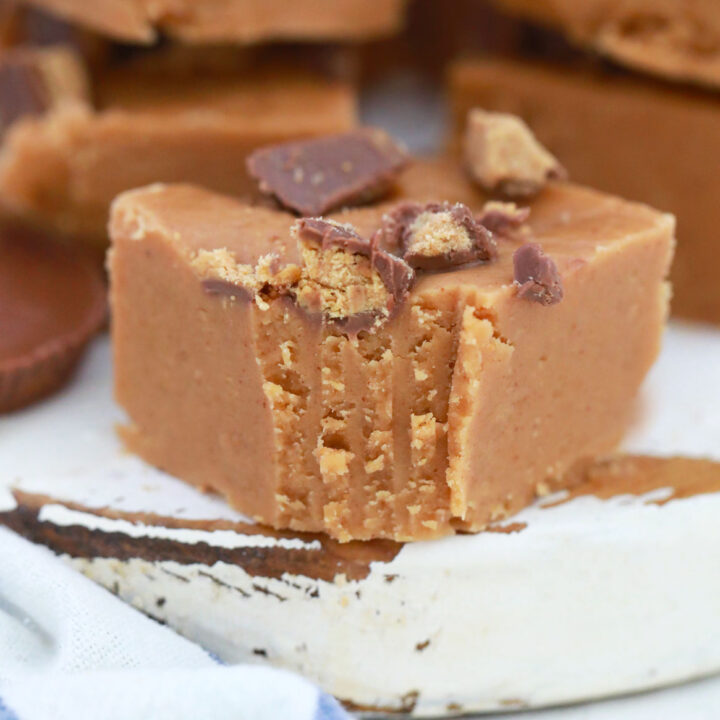 Microwave Peanut Butter Fudge
Total Time:
2 hours
5 minutes
This easy microwave fudge whips up in just minutes! Customize it by topping it with your favorite chips or candy!
Ingredients
1 cup unsalted butter
1 1/4 cups peanut butter
1 teaspoon vanilla extract
4 cups sifted confectioners' sugar
1 cup peanut butter chips, chocolate chips, or chopped peanut butter cups (optional)
Instructions
Lightly butter or spray with cooking spray a 8-inch square baking pan. Line it with parchment paper so in overhangs on two sides that face each other, for easy removal.
Add butter and peanut butter to a large microwave safe bowl and microwave at 75% power for about 2-3 minutes, stirring every 30 seconds, until both are melted. Whisk until thoroughly combined.
Stir in the vanilla extract.
Add the powdered sugar a cup at a time and stir until fully combined.
Press the fudge into the prepared pan and smooth the top with a spatula. If desired, lightly press peanut butter chips, chocolate chips, or chopped peanut butter cups on top.
Let fudge cool to room temperature, then cover it and refrigerate for 2 to 4 hours, or until set and firm.
Remove fudge from pan, slice into squares and serve.
Notes
This fudge freezes well! Package in an airtight container and freeze for up to three months.
Recommended Products
As an Amazon Associate and member of other affiliate programs, I earn from qualifying purchases.
Nutrition Information:
Yield:

36
Serving Size:

1
Amount Per Serving:
Calories:

146
Total Fat:

10g
Saturated Fat:

4g
Trans Fat:

0g
Unsaturated Fat:

5g
Cholesterol:

14mg
Sodium:

44mg
Carbohydrates:

14g
Fiber:

1g
Sugar:

13g
Protein:

2g