Teaching kids about the importance of giving back is a key part of helping them become caring and compassionate adults.
And a great way to do that is by helping your kids organize a fundraiser for a cause or charity that's important to them.
Learning how to organize a fundraiser can take quite a bit of work, but it also helps kids learn valuable life skills including teamwork, project planning, and marketing.
To help your kids raise money for charity with a fundraising event, start your planning by following these seven steps:
Brainstorm Ideas Together
Deciding how to raise money for charity starts with deciding what type of event or fundraiser you want to organize.
This can be especially fun for kids, since they get the chance to let their creativity run wild as they consider potential ideas.
Some popular fundraising events include bake sales, car washes, and parties. If you're struggling to come up with ideas, research some fun fundraising ideas for middle schools and see if any might work for you.
If you want to keep the planning to a minimum, you could also consider a sales-style fundraiser that involves selling a product and receiving a portion of the proceeds towards your cause.
Create a Step-By-Step Plan
Once you have your fundraising idea finalized, it's time to create a plan that contains all the steps you'll need to complete for a successful event.
For example, if you've decided to raise money for charity with a bake sale, you'll need to decide where the sale will be held, how much each participating family will need to bake, and how you'll advertise the event.
The biggest part of figuring out how to organize a fundraiser can be in the details, so really take your time to make sure you've thought of everything.
Many different events, for instance, will involve taking payments. And that means ensuring you're stocked up on change for those that need it.
Once you have your plan created, divide the work among everyone participating, to make sure all the different jobs are covered.
Let Your Kids Take the Lead
It goes without saying that you'll definitely want to make sure you're offering any assistance and support your kids need once you've decided how to raise money for charity with your event.
But, that being said, letting your kids take the lead in organizing the fundraiser will help them feel much more involved and committed.
Kids can build a lot of confidence and leadership skills by taking the reins on planning a fundraiser, so don't be too quick to step in unless there's a real crisis.
You may find yourself amazed by what a thorough and successful job your kids do at planning, organizing, and hosting the event!
Promote the Event
No fundraiser will be successful if people don't know about it, so make sure every family involved in the event, parents and kids alike, are involved in promoting it!
Post the details of your fundraiser on local Facebook pages and social media, hand out flyers to those in the area, and put up posters at local businesses.
The more people that know about your event, the more successful it will be.
And make sure to add contact information when you're spreading the word! Not only will it let people reach out if they have any questions, you may even hear from other people that want to help out and get involved!
Be a Good Role Model
While organizing a fundraiser can be stressful at times, overall it should be a fun and uplifting experience for everyone involved.
Make sure that you're setting a good example for your kids by staying positive and energetic throughout the process.
Teach them that supporting the cause you've chosen is what's really important, even if little things go wrong along the way.
When your kids see you being enthusiastic and willing to work to make the event a success, you'll be encouraging them to join in with the same positive attitude.
Look For Sponsors
Depending on what type of fundraiser you've decided to organize, lining up sponsors for the event can be incredibly helpful.
Even a bake sale needs a venue, so checking in with churches or community halls to see if they'll donate the space to your event can be helpful.
For a concert, dinner, or silent auction, you'll want to reach out to local businesses and organizations to see if they're willing to provide financial support, goods, or services to the event.
Just remember to decide in advance what type of support your event needs, and how potential sponsors will be recognized.
Be There for Support
Whether your event ends up being big or small, whether it goes off without a hitch or runs into problems, simply being there for support is one of the most important things you can do.
The goal of raising money for charity with your kids is to inspire them to help others, so make sure you're understanding, patient, and supportive of the work they do.
Ideally, your fundraising event will be a huge success that exceeds any goals you had set.
But even if that's not the case, the fact that your kids got involved, planned the event, and organized the details needed to host it is worthy of praise.
Make sure your kids know that you're proud of their efforts and their compassion for supporting a cause they care about.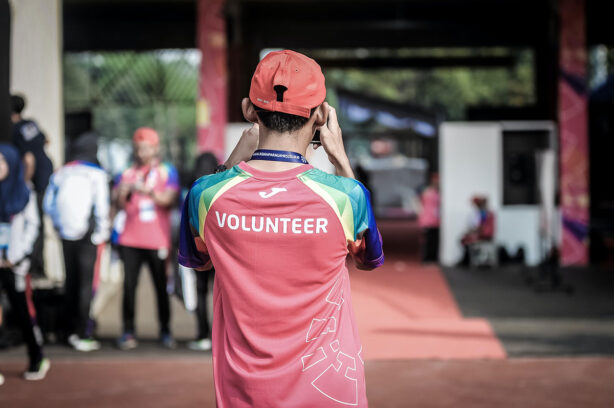 It's not easy to organize a fundraising event, no matter what age you are. But it is a great way of teaching kids some useful life skills while also helping encourage them to make a difference in their community.
Whether you decide to plan a smaller fundraiser with just a couple of families involved, or something that involves the entire community, making sure you follow these steps will help increase your chances of a successful event.
And when you see how proud your children are of their successful efforts, you may just want to turn your charity fundraiser into an annual event!