If you're making your first trip to Punta Cana in the Dominican Republic, you're in for a treat!
The country boasts gorgeous year-round weather, pristine beaches, and a variety of amazing resort and restaurant options.
Punta Cana is packed with things to see and do, so start your planning by deciding what type of activities are a must for you on your vacation.
And keep these tips for visiting Punta Cana in mind as you plan your trip to the area:
Consider an All-Inclusive Resort
If you're craving the ultimate luxury vacation, you're in luck! Punta Cana has many all-inclusive resorts perfect for those in search of a relaxing vacation with family.
These resorts often feature a private beach area, and may offer spa treatments and other amenities. Some all-inclusive Punta Cana resorts also boast free tennis courts, snorkeling, and boating.
If you're not sure which resort to choose, start by browsing the all-inclusive Punta Cana resorts by Iberostar. These five-star resorts have something for everyone, and offer both adults-only and family-friendly properties.
The most important consideration when deciding on an all-inclusive Punta Cana resort, no matter which one you choose, is what activities the resorts offer that will best suit your group.
Parents in need of some down-time, for example, may want to choose a resort with babysitting or a kid's club available.
Currency Exchange Rates
Currency exchange rates in Punta Cana vary depending on the region you are in.
The Dominican Peso is the official currency, and 100 pesos are currently worth around 1.85 USD, 1.62 EUR, and 0.95 GBP.
Keep in mind that while many places in Punta Cana do accept United States currency, you'll pay a better price if you convert your money to pesos instead.
Money can be exchanged at local banks or exchange offices. Alternatively, depending on your credit or debit card, you may be able to withdraw Dominican currency at an ATM.
Places To Visit In Punta Cana
While lounging at your resort can be hard to beat, it's worthwhile to get out and explore some of the unique and exotic destinations in the area.
Here are six potential must-see spots to add to your itinerary when visiting Punta Cana:
Samana Bay
Samana Bay is a natural wonderland and one of the most beautiful places in the Dominican Republic.
The peninsula is home to the world-famous Bacardi Island, lush tropical green forests, and stunning waterfalls. It's located about 70 miles from Punta Cana.
From here, you can take a boat tour to see some of the most beautiful sights in the country. You can also go whale watching to view the majestic mammals in their natural habitat.
Macao Beach
Macao Beach is 35 minutes from the Punta Cana airport, and stretches over 3 miles of sandy shoreline.
Some local restaurants set tables on the beach, and the environment is much less touristy than most other Punta Cana beaches.
This beach is great for water sports, such as parasailing, windsurfing, and surfing. Check the water and surf safety before getting wet – the waves are high, and there are no lifeguards.
If you prefer to visit the area in a more adventurous way, consider booking a dune buggy ride!
The excursion includes round-trip transportation from your hotel, and takes visitors to plantations, hidden caves, and freshwater pools in addition to visiting the beach itself.
Santo Domingo
Santo Domingo is a great vacation spot with plenty of activities and things to do.
This coastal town is home to the Malecon de Santo Domingo, a 14-kilometer seafront promenade. Visiting lets you escape the city's hustle and bustle and enjoy the fresh Caribbean breeze and breathtaking views while walking along it.
The Malecon is also often the site of special events, including the annual Merengue Festival.
The beaches are pristine and white, and this resort is perfect for family vacations. Santa Domingo has an exciting adventure park for children and three separate areas for adults.
The area also offers a wide selection of local and foreign discos and elegant wine bars. Spend evenings dancing at various nightclubs or enjoying a romantic beach dinner.
Reserva Ecologica Ojos Indigenas
Reserva Ecologica Ojos Indigenous is a 1,500-acre reserve owned by the Grupo PuntaCana Foundation. It is located in Punta Cana and is home to countless species of plants, birds, and iguanas.
Visitors can learn about the rainforest and its local wildlife, as well as taking advantage of the park's many hiking trails.
The park also features an iguana habitat, petting zoo, and horseback rides. The Grupo Punta Cana Foundation Center teaches tourists how to grow fresh vegetables in a dry climate.
The center's gardens uses resort waste to create organic fertilizer. It also produces 2,000 gallons of honey annually and pollen from local bee colonies.
Altos De Chavon
Altos de Chavon is a Dominican Republic enclave with a unique architectural style that resembles a 16th-century Italian village.
The town is home to shops, cafes, bars, and restaurants. It also boasts a 5,000-seat theater. It is a must-see destination for tourists traveling to the Dominican Republic.
A visit to the Altos de Chavon is a cultural experience. It will transport you back to the 16th century while offering many natural attractions.
Laguna Bavaro
The protected natural lagoon at Laguna Bavaro is the perfect place for ecotourists.
This three-square-kilometer reserve is home to numerous species of birds, reptiles, amphibians, fish, and plants. Many of these species are endemic to the Dominican Republic.
Ecotourists will also love the kayaking opportunities available in the area.
There are a variety of all-inclusive resorts near the Laguna Bavaro area, so you may want to consider one if you're passionate about nature.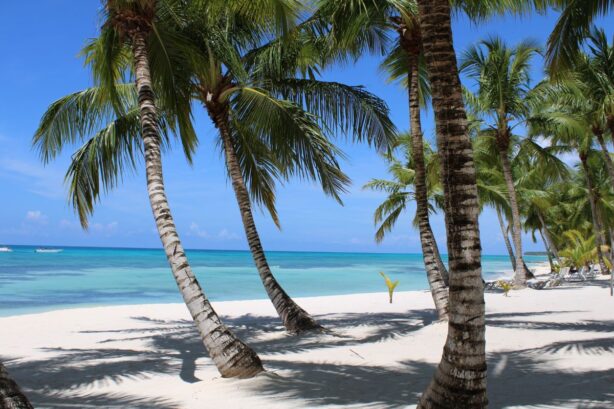 There's no shortage of things to see and do when visiting Punta Cana, whether you want to explore the area's natural wildlife, cultural history, or delicious cuisine.
Just make sure to plan your activities and transportation in advance, and have local currency ready for shopping.
Once you get out and see how much Punta Cana has to offer, you'll be sure to want to come back again to explore even more.