Spring is a great time to upgrade your yard, and there's no shortage of ideas when it comes to fun additions to your outdoor space.
From firepits and outdoor kitchens to vegetable gardens and sandboxes, there are an endless number of upgrades that can make your family's time in the yard more enjoyable.
And if you have children in the house, adding a swing set to your yard is definitely something you should consider!
There are all kinds of reasons to buy a swing set for your family, and a variety of different ones to choose from. Here are just a few of the benefits of adding a swing set to your yard:
Advantages of Adding a Swing Set To Your Yard
Swing sets are a fun and fantastic way to keep your kids entertained and active. And make no mistake, you may find that you have as much fun with it as your children do!
Here are some of the top benefits of adding a swing set to your yard:
1. Gets Kids Outside
Looking for ways to keep your kids busy and get them outdoors? A swing set is a great way to do both!
Spending time outdoors is an essential part of a child's overall health. In fact, children that play outdoors tend to have better coordination, improved muscle strength, and even better eyesight!
So, keep the kids busy with a swing set and let them reap the benefits that come along with regular outside play!
2. Helps Kids Stay Active
Kids tend to need a larger amount of daily physical activity than adults.
Preschoolers should be active throughout the day as much as possible, and school-aged children need a minimum of one hour of physical activity daily.
With a swing set in your yard, getting that physical activity becomes much easier. There's no need to find a public playground or force your kids to exercise.
Playing on a swing uses multiple muscle groups, including legs, arms, and core muscles. It also improves coordination and balance.
And, best of all, it's so much fun that you won't have to pressure your kids to get moving!
3. Great Way to Bond With Your Children
While you might mostly be thinking of your kids when you buy a swing set, using it can be just as much fun for adults. And that means using a swing set is a great chance for some family bonding!
Younger children will love having Mom and Dad push them on the swings and teach them how to pump their legs themselves.
Once your kids are older, head outside to play along with them, and use the opportunity to chat and get to know them better.
An added benefit is that you'll also be getting some exercise while you spend quality time with your little ones!
How To Choose the Right Swing Set for Your Family?
When it comes to choosing the right swing set for your family, there are several factors you'll want to consider, including available space, your budget, and safety features.
Here are some things to consider before you buy a swing set for your kids:
1. Age of Your Children
One of the most important factors to consider when choosing a swing set for your family is the age of your children.
Younger children will need a smaller swing set, and you may want to find one that incorporates other elements, like a slide or climbing wall.
Older children will need a larger structure with higher swings. You may want to consider a stand-alone swing set in this case.
2. Size of Your Yard
While there are lots of big, beautiful swing sets and play structures available, remember to choose one that fits your outdoor space.
If you have the room, a large swing set with multiple swings will let you get the most out of your purchase. Look for something that can grow with your child in this case.
But don't let a small yard deter you from adding a swing set. Even if your space is limited, your children can still have a great time on a small set with just a single swing!
3. Your Budget
Swing sets and play structures can cover a huge price range, so set a budget before you start shopping.
A basic swing set might be less than $200, while larger structures can easily run into the thousands. That's why knowing how much you're willing to spend is essential.
If you don't have a large budget, consider buying a second-hand swing set or even building your own!
4. The Material
Swing sets can be made from metal, plastic, wood, or a combination of the three. And the different materials all have various advantages and disadvantages.
Think about how much your swing set will be used, what safety features you want it to have, and how weather-resistant it needs to be in your region's climate.
Then, look into the durability, maintenance requirements, and cost of swing sets made with various materials and decide which one best suits your needs.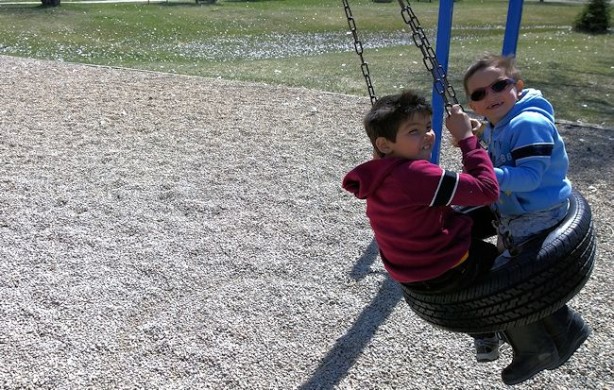 Introducing a swing set for your family is a great way to help keep your kids busy and enjoy quality time together.
Combine it with a few other DIY backyard projects and some inexpensive decor, and your outdoor space is sure to be an area the whole family is excited to use all summer long!