The best thing about the arrival of warmer weather for many homeowners is the chance to head outdoors to enjoy the back yard.
And once the usual weeding, washing, and spring maintenance is done, it's time to think about ways to make your outdoor area even more appealing!
If you've been wanting to take your yard to the next level this summer, consider adding one of these 7 must-haves that will help turn your space into a backyard oasis you can enjoy all season:
Deck
A deck is a simple way to begin transforming your back yard into your ideal outdoor living space, if your yard doesn't already have one.
The nice thing about planning and building your own deck is that you can ensure it's designed just the way you want it.
Whether you decide on a simple ground-level platform or a multi-tiered deck with built-in seating, adding a deck bring instant usefulness to your space while helping to give your yard a more finished look.
And since houses with decks are more desirable for homeowners, building one will also make your home more desirable if you plan on selling your property in the future.
Depending on what type of deck you're building, the finished project will take some time, effort, and careful preparation. But, learning how to build a deck is actually a fairly accessible DIY job for most people.
Just make sure to check your area's bylaws so that you're aware of any required permits or building restrictions before you start!
Water Feature
The soothing sound of running water has an instant ability to instill a feeling of peace, and it is particularly effective when enjoyed outdoors.
Some exciting outdoor water features can make a wonderful addition to any backyard, whether you have a few feet or many acres to spare.
There are a wide range of cement ponds, plastic pond liners, fountains, and waterfalls available to suit the style of the backyard retreat you're planning.
With a bit of planning, you can make a water feature as basic or as complicated as you wish; the only limit is your creativity.
Keep in mind that some water features may require professional installation, so calculate those costs into your budget when making your plans.
Flowers
To add color and vitality to your backyard oasis, you can't go wrong by adding some bright and beautiful new flowers!
Dress up outdoor seating areas by arranging decorative containers full of flowering and fragrant plants in a symmetrical pattern.
And, if you have more space, consider adding some flowering trees and bushes to currently unused areas of your yard. Try to choose a variety of annuals and perennials in different colors for an eye-catching display.
Finally, if you have some extra growing space, consider planting a cutting garden! These eye-catching gardens are planted with flowers that you can cut throughout the summer to fill vases indoors.
Outdoor Lighting
While your yard may be an appealing family retreat by day, having appropriate outdoor lighting can make a world of difference when it comes to enjoying the space at night.
Outdoor kitchens, for example, will benefit from proper lighting above the grill and workspaces. Outdoor dining areas can be enhanced with string lights, while lounge areas will be even more relaxing with the addition of LED candles and solar lamps.
And don't forget about illuminating walkways and stairs! Simple solar posts are an easy and inexpensive way to ensure pathways are illuminated and your family can move about safely.
When it comes to outdoor lighting, a variety of different styles will make your back yard feel more luxurious and appealing, so don't be afraid to go all out!
Entertainment
If you really want to take your back yard to the next level, then adding some entertainment options is a must!
The best part about finding ways to bring entertainment outdoors is that you can tailor your choices to suit your family's ages and interests.
Younger kids will love additions like a playhouse or swing set, while older kids will appreciate things like a badminton net, a cornhole game, or a croquet set.
And don't forget something for the adults! A Tiki bar or a cozy daybed reading nook could be great options for increasing the grown-up appeal of your outdoor space.
Hot Tub
There's a reason the backyard hot tub is considered a backyard oasis must-have for so many. There's simply nothing better than a soothing soak in the great outdoors at the end of a long day.
Keep in mind that while hot tubs are popular, they are expensive to maintain. So, before you take the plunge, get some estimates on what you can expect to pay for chemicals, water, and extra power each year.
If you do decide that a hot tub is a must for your household, then take some time to plan its final location in your yard as well. Do you want it in a private nook, or a more open area? Would you prefer it be in a sunny area, or a shady one?
Once you've decided on the perfect spot, you can look into finding the right hot tub for your space and getting it hooked up and ready to use.
Outdoor Speakers
Installing outdoor speakers is a simple way to make your back yard a more appealing place for the whole family to spend time in.
Available in both wireless and wired versions, outdoor speakers are designed to be resistant to water and dirt, with some even being able to be left outside year-round.
Decide what you'll mostly want your outdoor speakers for, and where the best places for them would likely be, then narrow down the styles that will work best for you from there.
From blasting hits at a party to listening to that big sports game, you'll be amazed by how much enjoyable your time outdoors becomes once the speakers are installed.
Fire Pit
For many families, summer just isn't summer without time spent talking and laughing around a fire. And adding a fire pit or ring to your yard is a great way to make those moments happen.
For smaller spaces, consider buying a pre-made metal fire ring. You can even get ones customized with cutouts to suit your family's interests!
Or, if you have more room to spare, you may want to go all-out and build a full fire pit. In both cases, this is one of the more economical additions you can make to your yard.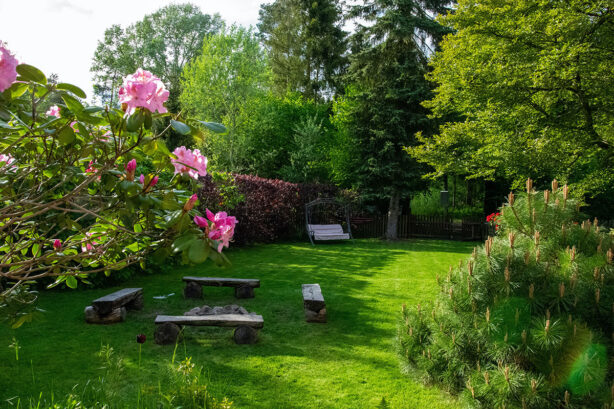 When it comes to creating the perfect backyard oasis, the sky (and your imagination) really is the limit.
So, think about the elements that are most appealing to you, and prioritize them first. Then, if time and money allows, you can add other features to your space in the coming weeks.
By the time you're done, you'll have a yard that the whole family will want to spend time enjoying as long as they can!