My toddler has loved spending time outside since he first learned to walk. And in what feels like no time, he's gone from wobbling unsteadily across the yard to climbing, jumping, sliding and running!
I want to make sure that Cormac continues to enjoy his time outside, so I'm always on the lookout for fun new outdoor toys he might enjoy. And recently, Little Tikes helped me out by sending me its adorable Cape Cottage Playhouse to review!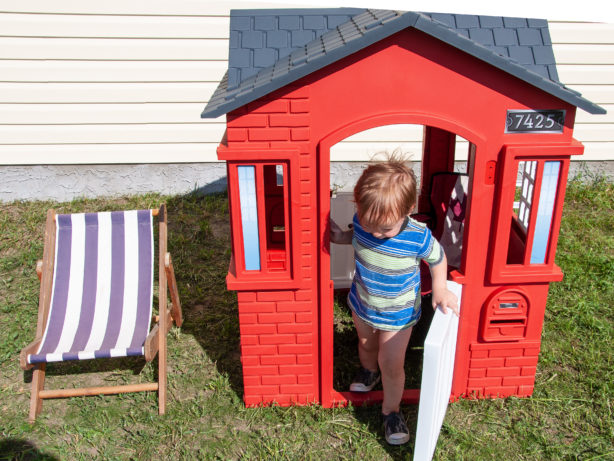 Cormac has always been a natural mimic. He's helped me cook in the kitchen since he was old enough to stand on a chair beside me, he loves putting on his dad's hat and carrying his keys to go to "work," and he's always excited to grab the mop and broom out of the pantry to do some cleaning.
So of course, a little playhouse that he could enjoy was a natural fit for him! This playhouse doesn't come with any interior features, so I put a toddler camping chair inside. I put the playhouse in the back yard and brought Cormac outside to take a look.
As expected, he loved it! The playhouse features two working doors and two windows with working shutters. Cormac especially liked opening and shutting the windows, as well as peeking through them to see who was outside.
He also liked knocking on the door before going into the house, and having me do the same when he was inside. Having his own little space was such a treat for him, and I couldn't help but grin as I saw him carefully sitting down in his little chair inside the house.
The Little Tikes Cape Cottage Playhouse also features a mail slot and a flag holder for extra preteund fun. I'm excited to see what Cormac thinks of the mail slot and as soon as I get some junk mail, I'll be using it to drop off some letters for him to open!
The Little Tikes Cape Cottage Playhouse has a suggested retail price of just $130 and is sure to provide hours of indoor and outdoor fun for little ones. Since the house is fairly compact, I'll easily be able to find a spot for it in the house once winter arrives. And that kind of multi-purpose design means more fun for my little one!
If you have a child that loves playing pretend and spending time outside, this Little Tikes playhouse is a great choice. Find it at toy stores across Canada and help your little one enjoy the last warm days before winter even more!