I'm a late adopter of the avocado, but now that I have welcomed it into my life, I can't get enough! What makes the avocado rank so high in my books? It's tasty, good for you, makes you feel full and it's an amazing portable baby and toddler food.
Health Benefits of Avocados
There are so many health benefits to eating avocados. I'm not a nutritionist or scientist, so you can read this article if you'd like a more in-depth description of what this amazing fruit can do for you. But here are the basics.
Avocados are full of fibre which helps to keep your "plumbing" running smoothly and keep you feeling full longer. They are also a source of lutein, a carotenoid, which is good for your eyes.
I'm sure you've heard that taking a Folic Acid (or folate) supplement is a must when you're pregnant or trying to conceive. Well move over horse pills, avocado has you covered by containing about a quarter of your recommended daily intake of folate.
But wait a minute, aren't avocados high in fat? Yes, they are, but it is good fat – the monounsaturated kind. This kind of fat helps to lower your LDL cholesterol levels (the bad cholesterol) and increase your HDL levels (the good cholesterol).
If all of this information isn't making you run to the market for an avocado, how about the fact that they taste good and have so many uses? My all-time favourite avocado chicken salad recipe is at the end of the post, but here are some tips on choosing avocados first.
How To Pick an Avocado
When choosing the fruit at the market, go for one that is neither hard nor soft. I know, that's not very specific, but the more you buy avocados, the better you'll get at learning how to pick an avocado. The skin should yield slightly when pushed.
Another trick I have learned is to pick off the 'stem' on the end. If it's green underneath, the avocado will be green inside. If it's brown, put it down.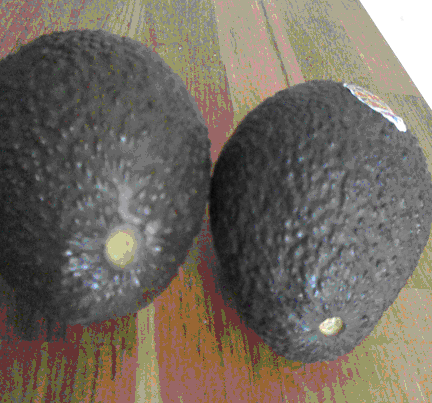 Slicing Avocados
To slice open an avocado, take a knife and cut all the way around the skin, lengthwise. The, you should be able to just twist the avocado open (if it isn't ripe enough, this may be difficult).
To remove the seed, tap your knife into it and lift it out. I always slice the avocado halves while they are still in the skin by cutting lengthwise and then width-wise (making a grid) in the avocado, then I scoop out the flesh with a spoon.
If you are only using half the avocado, use the half without the seed first. Leave the seed in the other half; it will keep longer that way.
Aside from my amazing avocado chicken salad recipe below, avocados are amazing in this Simple Guacamole Recipe or sprinkled on top of this Slow Cooker Taco Casserole.
Now, on to the recipe!
Avocado Chicken Salad
This has quickly become my new favourite lunch and is also something my toddler absolutely loves. I have eaten it in a sandwich, but it can prove to be extremely filling. Open-faced sandwiches are less filling or pile some up on top of crisp bread like Ryvita or Melba Toast. This is a recipe that is prepared to taste, not with specific quantities. Experiment with it until you get it the way you like it.
Ingredients
Cooked chicken breast, chopped
Juice of ½ a lime
Fresh chopped cilantro (leaves only)
Avocado
Salt and Pepper
Green onion (optional)
A dollop of mayonnaise
Instructions
Mix all ingredients together in a bowl.
Taste and adjust lime, salt, pepper and mayonnaise as desired.
Serve immediately or chill for up to one day.
Nutrition Information:
Yield:

2
Serving Size:

1
Amount Per Serving:
Calories:

379
Total Fat:

22g
Saturated Fat:

4g
Trans Fat:

0g
Unsaturated Fat:

17g
Cholesterol:

54mg
Sodium:

318mg
Carbohydrates:

27g
Fiber:

8g
Sugar:

16g
Protein:

21g