A few years ago, my boys were introduced to the mess-free magic of Glow Crazy. Involving a fun light pen that is used to draw on a large mat or small portable board, kids can create glow-in-the-dark pictures that fade in a few minutes leaving a blank canvas for more glowing projects. So when we were recently given the chance to review the Glow Crazy Doodle Dome, a fun tent with a Glow Crazy canvas on the inner wall, I knew my boys would be thrilled to test out this new way to create glowing pictures!
The advantage of the Glow Crazy Doodle Dome is that it doesn't require a dark room in order for kids to create glowing pictures. While Zackary loved his original Glow Crazy Distance Doodler set, he did need to be in a dark room for the pictures to show up at their best, which meant using his Glow Crazy light pen and wall mat was generally only a nighttime activity for him. But with the Glow Crazy Doodle Dome, kids can create glowing pictures at any time of day!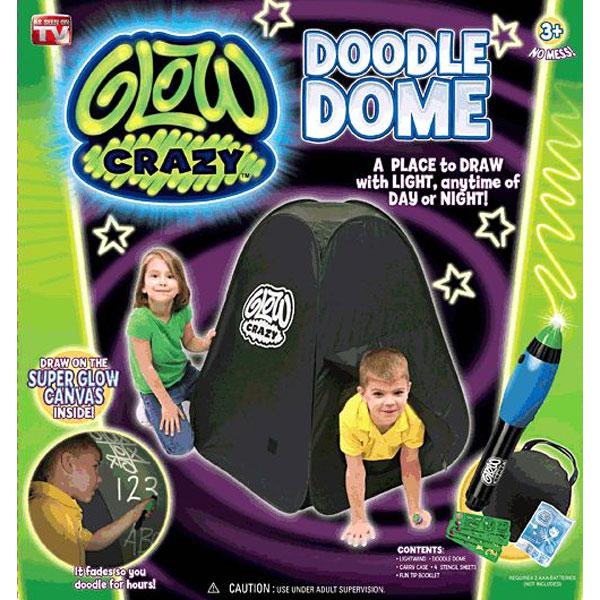 I have to admit, I was the one that was the most hesitant about testing out the Glow Crazy Doodle Dome since I was worried about the time it would take me to assemble and disassemble the structure each time the boys used it. But when I pulled it out, I saw that the designers of the structure were already one step ahead of me. The Glow Crazy Doodle Dome is made in the same manner as a pop-up tent so that all I had to do was pull it out of the included carrying case, give it a shake and set it down ready to use! Putting it away was almost as easy; the tent folded up into a small circle that slipped right back into the case. As a busy mom trying to keep the house organized, this was a huge plus for me!
Of course, while the boys loved using the Glow Crazy Doodle Dome as a fun getaway spot, the best part of the tent for both of them was closing it up and using the Light Pen to doodle on the canvas inside the structure. The black walls did a great job of blocking out the light so that my boys could create bright, glowing pictures even in the middle of the day. They both had so much fun escaping into the dark tent to create a masterpiece!
Whether you've used Glow Crazy products in the past or this is your first experience with them, the Glow Crazy Doodle Dome is a great investment since it allows kids to enjoy Glow Crazy creations at any time of day. Find it at London Drugs, Canadian Tire and Sears and let your child's imagination run wild as they create glowing art in their own private studio!