Ever since I was a child, I've loved cooking and baking. And perfecting new techniques when it comes to creating delicious dishes is always a fun experience. A few years ago I broke away from traditional iced birthday cakes and tried my hand at creating a fondant masterpiece for my son's Super Mario Bros. birthday party. And I went from sloppily iced cupcakes to more intricate creations like spring cupcakes with "grass" frosting.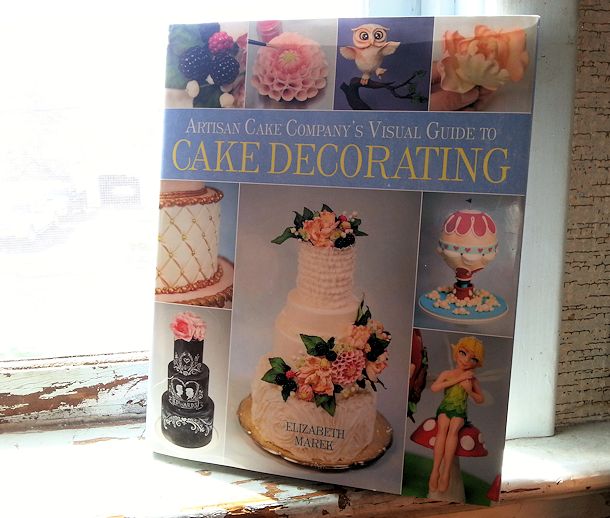 But my cake techniques still have a long way to go, and so I couldn't resist the chance to check out the book Artisan Cake Company's Visual Guide to Cake Decorating by Elizabeth Marek. This beautiful book isn't just packed with decorating ideas. It also features useful recipes, lists of essential tools and step-by-step tutorials!
I've learned quite a bit from blogs and online videos when it comes to things like covering a cake with fondant, but this book goes above and beyond to teach different techniques needed for decorating. I learned tricks for icing square cakes, covering cakes in fondant using an upside-down application and balancing cake elements for an appealing design.
One of my favourite tips, and one that I can't wait to try, was how to make smoother homemade fondant by incorporating a bit of store-bought fondant into the mixture. I use a homemade marshmallow buttercream fondant that's delicious and easy to work with. But it does get very fragile when it's rolled too thin and occasionally gets the wrinkled, elephant skin look. Correcting that with commercial fondant is such a simple solution!
I'm also looking forward to trying some of the decorating techniques using buttercream icing. While I'm fairly proud of my progress decorating with fondant so far, my skills working with a regular icing still leave a lot to be desired. The next cake I make will be getting a gorgeous swirled design with help from this book!
If you'd like to create a few edible masterpieces, this giveaway is just for you! One lucky Mommy Kat and Kids reader is going to win their own copy of Artisan Cake Company's Visual Guide to Cake Decorating by Elizabeth Marek, a $30 value! To enter to win, just leave a blog comment about your favourite flavour of cake.
From simple cake recipes to complex cake designs perfect for a special birthday or wedding, this book is both an instruction manual and a source of inspiration for anyone that wants to learn to create beautiful and delicious cakes for their loved ones. Find it at your local bookstore to take your homemade cakes to a whole new level!