When it comes to holiday entertaining, having a dessert table that impresses is a must for me!
I love baking up tasty cookies, candy and cakes and I tend to go a little overboard when it comes to making Christmas goodies.
I have a long list of must-make treats for the holidays, and something I always include on a tray of desserts is cheesecake! Not only is it a delicious and versatile crowd-pleaser, it's also my very favourite dessert!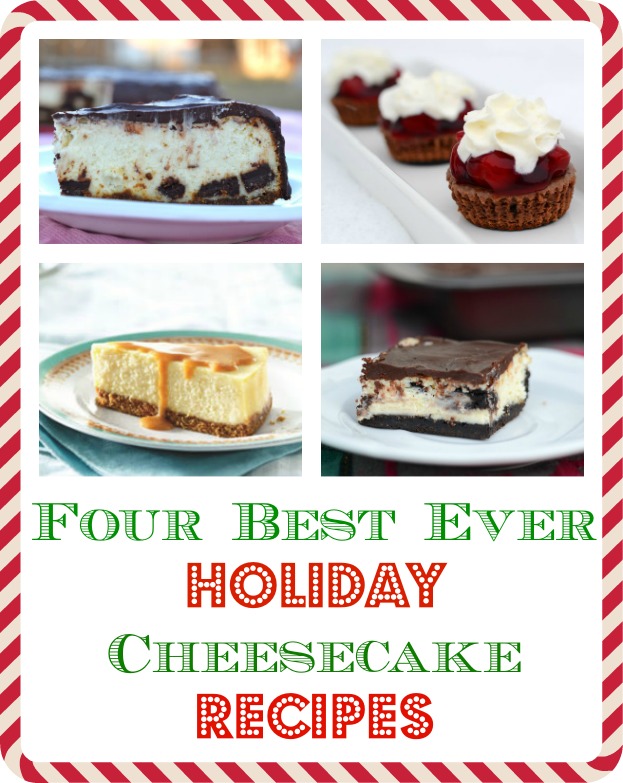 If you're looking for the perfect cheesecake recipe for your dessert table, look no further! These four scrumptious cheesecakes are sure to be a hit with your guests no matter what their tastes.
Pick up some Philadelphia Cream Cheese, choose your favourite and cook up something tasty for your upcoming holiday party!
Ginger Dark Chocolate Chunk Cheesecake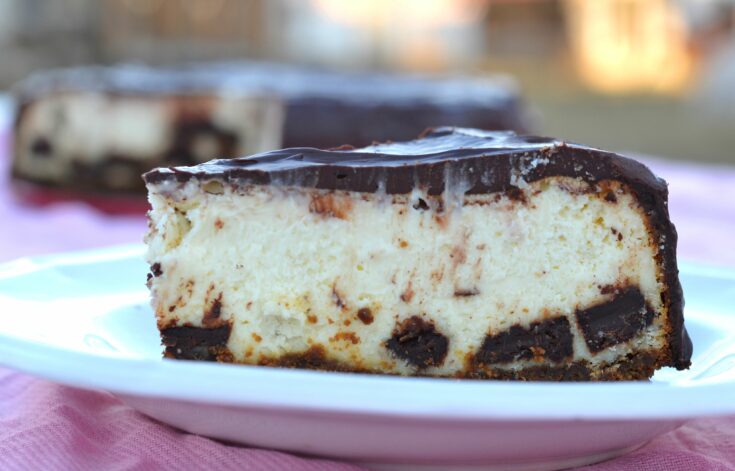 Blending chunks of dark chocolate and candied ginger results in a cheesecake with a distinctly festive flavour.
But to kick it up an extra notch for holiday feasting, the crunchy gingersnap crust is a must! Topped with a dark chocolate glaze, this cheesecake is one that guests won't be able to resist!
Black Forest Oreo Mini Cheesecakes
These bite-sized cheesecakes are ideal for a dessert tray with a variety of different delicacies, but they're also a great dessert all on their own.
An Oreo cookie on the bottom of each cheesecake is topped with chocolate filling, cherries and whipped cream for an explosion of flavour in every little dessert.
These are quick and easy to put together with the help of cherry pie filling and Cool Whip topping!
Dulce de Leche Cheesecake
Can't get enough caramel? This is the cheesecake for you! A simple homemade dulce de leche sauce made using sweetened condensed milk gives this cake big caramel flavour without a lot of fuss.
Best of all, the sauce is both mixed into the cheesecake itself and poured over the top for a show-shopping dessert that's simply irresistible!
Cookies & Cream Cheesecake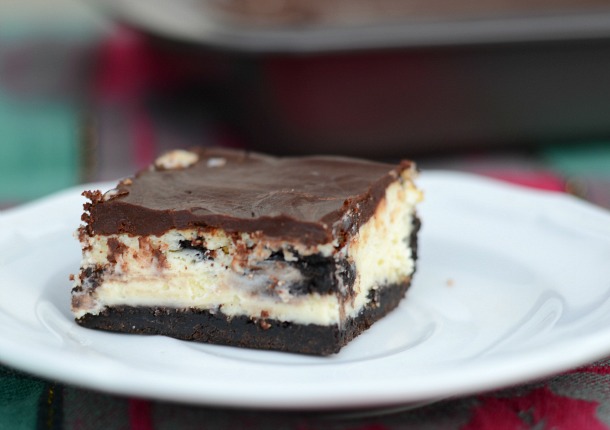 This party-sized cheesecake cuts into enough squares to serve a crowd, so it's a great choice for a potluck or a large gathering.
And nobody can resist the combination of chocolate crumb crust, Oreo cookies, creamy cheesecake filling and chocolate topping!
This cheesecake freezes like a dream, so it's a great dessert to make ahead and pull out for unexpected guests too.
No matter which cheesecake recipe you decide to add to your holiday baking list, using Philadelphia Brick Cream Cheese is a must for great results.
The smooth and creamy texture results in a cheesecake that's perfect every time. And the flavour just can't be beat!
After all, if ever two things were meant to go together, it's cheesecake and Christmas!