One of the great things about the Orlando area is that it's in such a prime location for day trips to nearby cities, beaches and other locations. Once you've tried all the Orlando activities on your schedule, there are new amazing destinations just a quick drive away.
And recently, I had the chance to make a day trip to a place I'd been wanting to visit for some time: The Kennedy Space Center.
This family-friendly complex on Merritt Island is only about an hour's drive from Orlando…but there's enough fun and learning once there to keep a person busy all day!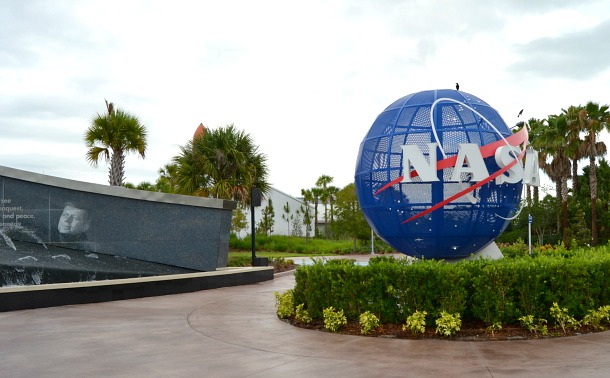 The main grounds of the Kennedy Space Center feature a variety of attractions about outer space, ranging from 3D IMAX movies to the Rocket Garden of replica space ships. The brand new Space Shuttle Atlantis Exhibit is a must-visit. In addition to tons of interactive exhibits that let visitors train like an astronaut, the building is home to the retired Atlantis Space Shuttle.
The shuttle program was a revolutionary development in space travel since it created the first ships able to be reused for multiple trips. In fact, it was because of these shuttles that the International Space Station was able to be built!
Actually seeing a ship that had been in space up close gave me chills, and seeing the Canadarms from my own home country was a special treat.
For those that have dreamed of blasting off into space themselves, the Kennedy Space Center Shuttle Launch Experience simulates an actual launch into space. Astronauts claim the simulation is one of the most realistic they have experienced, yet it's appropriate for anyone that's over 44 inches tall.
Personally, I was amazed by how rough the simulator ride was. I couldn't stop my head from bouncing against the headrest as we took our virtual trip into space. It was a thrilling experience and in my opinion, it's a must for anyone visiting the center.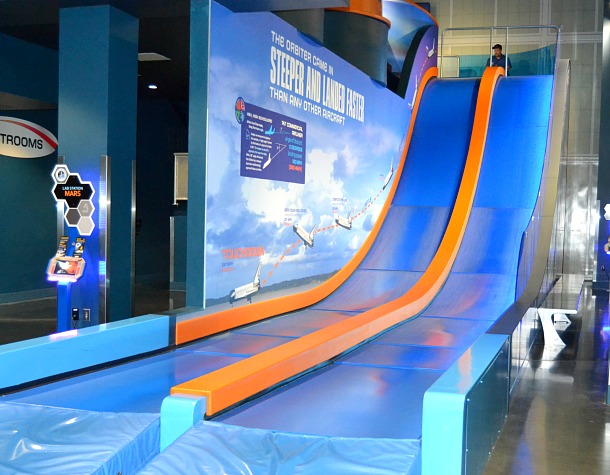 The Space Shuttle Atlantis Exhibit at Kennedy Space Center also contains plenty of fun activities for younger kids, from a slide that simulates the speed of a shuttle landing to a fun play structure where kids can pretend to be astronauts in a ship.
The astronaut training simulations are essentially video games come to life, and older kids will be sure to enjoy completing the various virtual missions to become honorary astronauts.
Once I was done in the Space Shuttle Atlantis Exhibit, I decided to take the Kennedy Space Center Bus Tour to the Apollo/Saturn V Exhibit. One of the great things about going to the Kennedy Space Center is that movies, bus tours and astronaut encounters are all included with admission, so visitors can spend all day exploring, learning and playing at the center for one low price. I hopped on the bus and got ready to see some of NASA's work up close!
The bus tour is a must for anyone that wants to move out of history and get a glimpse at the future. The drivers are full of knowledge about the current work NASA is doing and the bus tour itself takes visitors to actual launch pads, where NASA itself and two private companies are planning new journeys into space.
It was pretty amazing to hear that NASA is predicting sending a manned mission to Mars by 2030, a mission that's meant not just building a whole new style of ship, but also a whole new style of launching system for that ship. While the visitor's center is amazing, I found it even better being out where NASA's team is working right now to make its most monumental voyage yet.
The bus tour ends at the Apollo/Saturn V Exhibit, home of the Saturn V rocket that's sister to the rocket that journeyed all the way to the moon. The experience starts with a short film about the development of the Apollo program, then with a simulation of the successful launch of Apollo 8, right below the actual control consoles used by the NASA team when the launch took place. Then visitors are left to explore the home of largest rocket ever flown and the only place on earth where a person is free to touch a moon rock!
In typical Kathryn fashion, when I first entered the main room of the complex, I didn't even realize that I was walking right under the Saturn V rocket. When I looked up and realized that the massive ship was right above me, I had a moment of pure awe as I marveled at just how big it was…similar to the reaction of the fellow visitor I captured in my photo!
I walked the length of the rocket, which was divided into different sections that were utilized during different phases of the mission, and the amount of time it took to get from one end to the other had me in awe once again.
The center also contains an amazing array of NASA memorabilia in the Apollo/Saturn V Treasure Gallery, including the original space suit of Alan Shepard, the second man and first United States astronaut in space. Seeing the battered and worn suit on display had me feeling like I was back in those first exciting days when space travel was brand new and every accomplishment made was a first.
Of course, I couldn't leave the center without touching the moon rock on display, too. It was black and incredibly smooth, though I'm sure that was at least partly due to the endless number of visitors that have touched it over the years!
After exploring the Apollo/Saturn V Center, I hopped on a bus back to the Kennedy Space Center and did a bit of souvenir shopping in the gift shop. I couldn't resist the chance to snap a picture with the center's Spaceperson!
I was also excited to hear that astronauts often hold autograph signings for fans at specific times each day. And for those that want to get the ultimate outer space experience, special events including Lunch with an Astronaut and Up-Close Bus Tours are available at the Kennedy Space Center for an additional fee.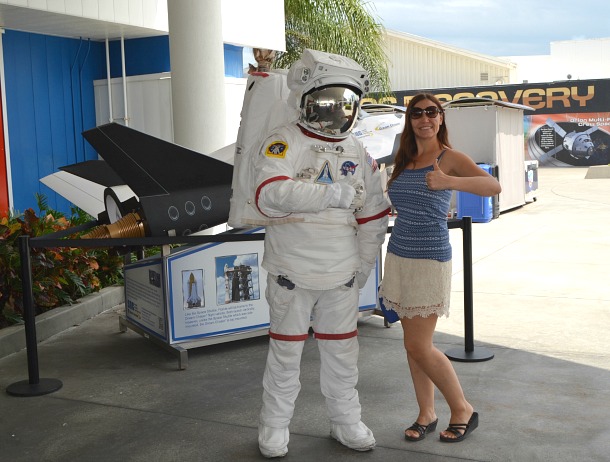 The Kennedy Space Center is such a great example of the many unique experiences that Florida has to offer. If you're planning a trip to the Sunshine State, make sure to visit www.visitflorida.com for fun ideas, tips and advice on some of the must-visit attractions that Florida has to offer. You'll be amazed by how much there is to see and do!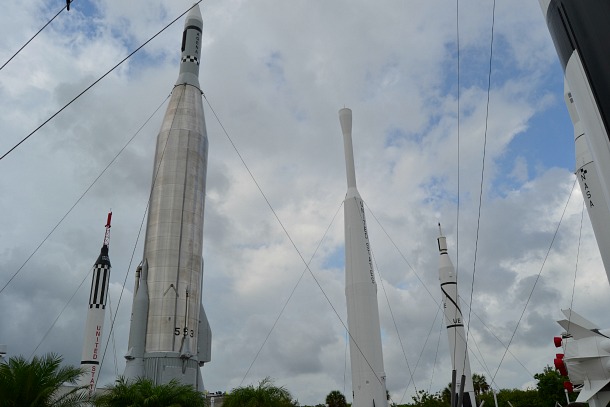 I have to admit that I was more impressed by the Kennedy Space Center than I expected to be. As someone with no more than a casual interest in NASA and space travel, I didn't expect to get as caught up in the magic of outer space as I did. The center does an amazing job of making visitors feel like they're part of the events that took place, and I came away inspired by the past and excited for the future.
I was also impressed by how many kid-friendly activities were included. It really is an ideal family outing for everyone from toddlers to teens. If you're in Orlando and looking for a fun getaway for the day, this Cape Canaveral trip is a great choice. It's fun, engaging and will have everyone dreaming about shooting to the stars!