One of the common thoughts about being a mom of all boys is that we must miss being able to shop for all the fun, frilly and adorable outfits that parents love to pick out for their daughters.
But as a woman that loves fashion, I spend plenty of time choosing just the right clothes for my three boys!
As a result, my oldest two sons both love to dress up in their favourite styles. And with all the adorable outfits we already have for our new baby, I'm sure Cormac will be the same way!
So, when Endanzoo, one of the eco-friendly brands sold by BabyJoy.ca, offered to send Cormac a free organic baby clothing outfit to review, I couldn't have been happier.
Endanzoo is a Canadian clothing company that offers adorable baby outfits that help support endangered animals. Every piece is made of buttery-soft organic cotton, a fabric I especially love for baby clothes since it has such a luxurious feel.
We received the blue and gray Long-Sleeved Onesie, Footed Pants and Beanie in the 3-6 month size to review. It's still a little big for Cormac, but I had to let him try it on right away anyways.
The rich blue colour of the organic baby clothing trimmed with grey is such a subtly sweet look for a little one. I loved that the onesie had long sleeves so that it would be comfortable for Cormac in the crisp fall weather. And the hat added the perfect finishing touch to his look!
Because the clothing is made from organic cotton, I can be confident that my son's delicate skin isn't being exposed to any of the pesticides usually used when growing cotton.
And not only is Endanzoo organic baby clothing eco-friendly, it's ethical as well! Pieces are made with care in India using fair trade practices, and 10% of the net proceeds of sales are donated to organizations that support endangered animals.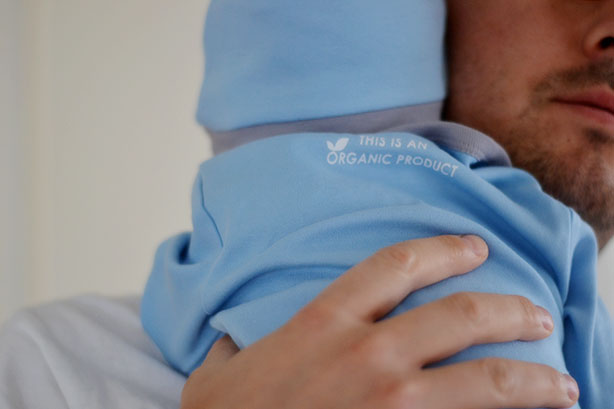 From the thick, comfortable feel of this organic baby clothing to its soft and rich colour, Cormac's new outfit from Endanzoo is one I know I'll be choosing for him often.
And I love that it's also fair trade and supports such a great cause! Find the clothing (including the adorable Endanzoo Art Collection) on the Endanzoo website or at BabyJoy.ca and dress your little one up in style.