Disclaimer: This post was sponsored by AfterShokz and PTPA. Views expressed belong to Mommy Kat and Kids and are not influenced in any way.
For the last two months, I've been getting back into a regular workout routine, and I've been using the AfterShokz Trekz Air headphones while I do!
My Trekz Air headphones have been so useful for helping me stay entertained as I'm working out and after over a month using them, I thought I'd share my thoughts on some of the standout features these headphones offer.
In the market for the best bone conduction headphones? Here's why you should consider AfterShokz Trekz Air!
Awareness of Surroundings
As a mom of three, being aware of what's happening around me is essential. Whether I'm listening for my older children's calls or waiting for my baby to wake up from a nap, I need to be able to hear what's going on in my house.
AfterShokz Trekz Air headphones use bone conduction technology, which uses vibration of the bones in the face to send sound directly to the inner ear. That means while listening to my favourite music or podcast, I can also be listening for my kids.
For those that prefer exercising outside, like my husband, the Trekz Air headphones are just as useful! Whether on country roads, park trails or busy streets, the headphones let users still be aware of the sounds around them.
Hearing cars or people approaching is important for both safety and overall awareness, and the headphones let my husband do that without interrupting his tunes!
Wireless Design
There's nothing more irritating than dealing with trailing cords when trying to exercise. Whether I'm walking on the treadmill or doing my favourite yoga routine, I want to have the freedom to move as I need to.
The AfterShokz Trekz Air headphones sync to my phone with Bluetooth, no wires required. The headphones last up to six hours between charges, which means I generally only need to charge them about once a week. And because of their unique over-the-ear design, they stay in place no matter how much I move!
My husband especially loved this feature of the Trekz Air headphones. He's a runner and has always had issues with previous headphones slipping off or falling out when he exercised. Now, he's able to focus on his music and his workout without fiddling with headphones that don't stay in place.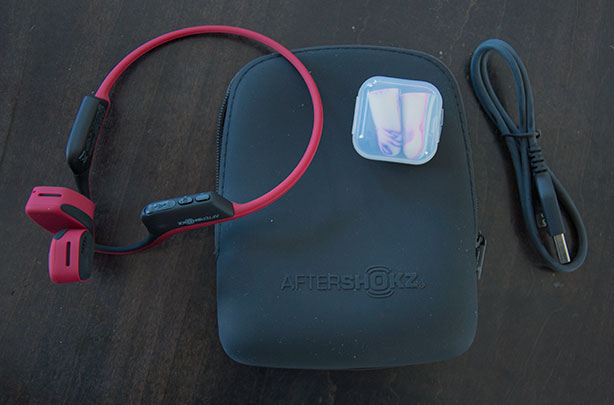 Perfect for Travel
While the AfterShokz Trekz Air are specifically designed to let me remain aware of my surroundings, they also work great as noise-cancelling headphones for travel, with the simple addition of a pair of earplugs.
Because of their use of bone conduction technology, the Trekz Air don't actually cover my ears in any way. So, to block outside noises and still enjoy music or a movie, I just turn on my Trekz and put in earplugs! It's actually a little bit magical to me that I can listen to music with my ears blocked like this!
For me, the best thing about this feature of the headphones is that it lets me quickly and easily switch from awareness of my surroundings to blocking out ambient noise. If I want to take a nap on the plane, I use the earplugs. When I want to listen to a flight attendant's instructions or answer questions, I take them out. But the entire time, I can listen to what I want on my connected device!
Comfortable Fit
One of my biggest issues with any type of headphones or earbuds is finding a comfortable fit. Earbuds tend to make my ears ache after less than an hour or so of use. Headphones often either don't fit around my head securely or get caught in my longer hair.
AfterShokz Trekz Air headphones eliminate all those issues. Since they wrap around the ear, the fit is always comfortable. And they feature a behind-the-head design rather than one that goes over the head. That means they stay out of my hair and don't put any pressure on my head at all!
They also feature a sweat-resistant design that's a must for workout headphones. Even after one of my more intense workouts, the headphones are as good as new after a quick wipe with a dry cloth. In fact, they're even able to withstand rain and snow!
Easy To Use
The AfterShokz Trekz Air couldn't be easier to connect and use when I want them. And since I'm usually squeezing in a workout while my toddler naps, that's a must for me! Connecting them is as simple as turning on the headphones, pressing the connection button and then selecting the headphones in the Bluetooth settings on my phone.
Once they've been connected for the first time, they reconnect automatically every time I turn them on. I can then control the volume either with the volume button on my phone or with the volume controls on the headphones themselves.
Of course, as an added bonus, I don't risk missing a phone call or text message while I'm exercising, since I hear the notifications coming through!
The AfterShokz Trekz Air top off all their workout-friendly features with a stylish look that has me excited to show them off when I get the chance. They're available in four different colours and they come with included earplugs and a compact carrying case.
Whether I'm out and about or working out at home, the AfterShokz Trekz Air are a must-have accessory for me and simply the best bone conduction headphones I've ever used. Make sure to take a look at all their features and see if they're the right new headphones for you!