When my husband and I first started the search for our dream house, we were confident that we would find the perfect one before long. We were pre-approved for our mortgage and shopping in a buyer's market.
But while we did look at many great homes and even had an offer on a house at one point, nothing was quite right. Neither of us knew anything about building as opposed to buying, but after months of house hunting we learned that a large lot in our dream location was for sale at a discount price.
Suddenly, building just seemed to make sense! We purchased the lot, started hunting for a Saskatoon home builder and eventually discovered KCB Developments.
The owner, Kurt, quickly found a house plan that we fell in love with. And after a few tweaks to the plans, we signed the papers and got ready to build!
Just over a year later, I've started to think back on some of the things I learned throughout the experience. If you're considering building, these are some tips you might want to keep in mind!
Research Your Builder and Trust Your Gut
Like almost everyone else, my husband and I had heard horror stories about choosing the wrong home builder, so we made sure to do plenty of investigating of builders in Saskatoon.
Finding the ones that had poor reputations wasn't hard. People, after all, generally share negative experiences more than positive ones. But after weeding out the builders we wanted to avoid, we still needed to find a builder we could trust.
We asked for opinions from friends, coworkers and even local online forums. Eventually we had a handful of builders we wanted to meet with in person.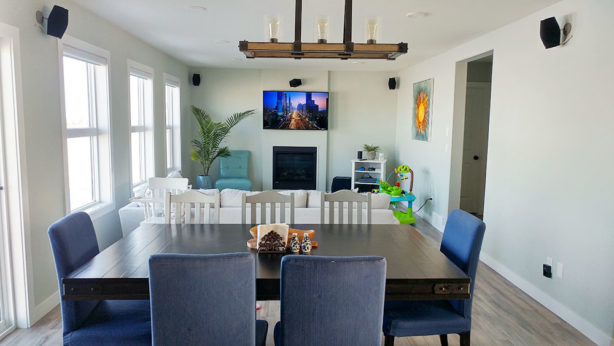 Since my husband works irregular hours, I was the one that made most of the phone calls and did most of the in-person meetings. I liked and trusted Kurt from KCB Developments from the moment I met him. And when he sent me plans for a house that had everything we'd wanted, I decided it was time to jump in and get started.
When it came down to making that final decision on a builder, I'm happy we put so much time and effort into our research. But I'm just as happy that for that final decision, I went with my intuition and chose KCB!
Ask Everyone for Opinions on Everything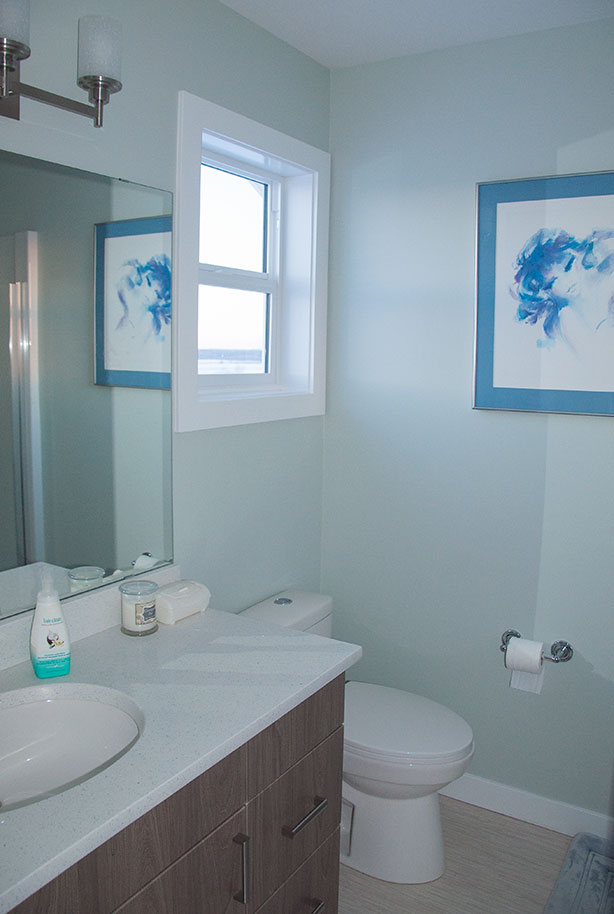 We heard from many people that building a house is something people tend to do three or four times in their lives "because it takes that many tries to get it right!"
After waiting so long for our forever house, the last thing we wanted was to regret anything about it. So, we got opinions on every aspect of our build whenever we possibly could.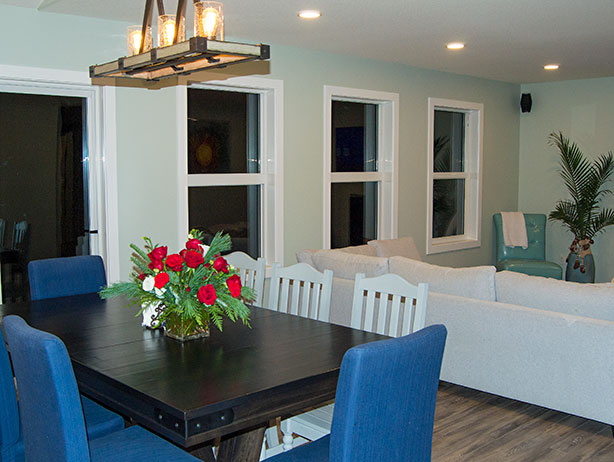 Luckily for us, my husband's parents had built their house previously and had plenty of information to give. My stepfather had also done many home renovation projects and had suggestions about everything from closet design to storage space.
The tips and suggestions we received were invaluable and led to things like a wider front doorway, windows in our garage doors for more light and natural gas lines for our stove and BBQ.
Set Priorities and Budget for Luxuries
Our flat build rate had designated amounts for the kitchen, flooring, lighting and paint. We knew from the start that we'd be paying for some upgrades and we knew that we wanted to pay for them right away, rather than adding them on to our final build price and mortgage.
One of the reasons I loved working with KCB Developments so much was because the owners, Kurt and Cindy, were always willing to work with us to get us the upgrades we wanted at the best price.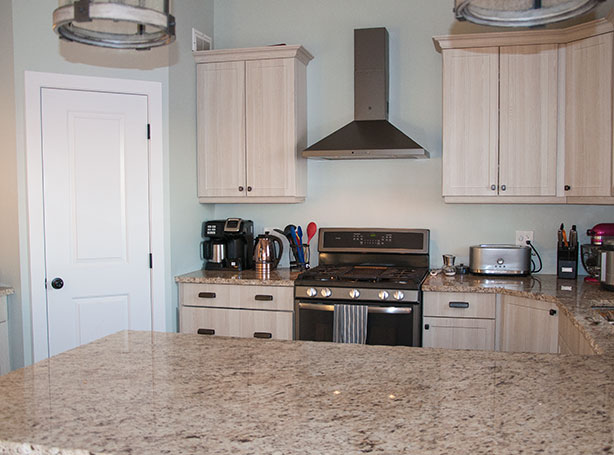 Stone countertops were a must for us since we love cooking and since we wanted undermount sinks in the bathroom. We hadn't been especially impressed with our builder's usual countertop supplier when we went in to browse the selection, and weren't crazy about the high price they quoted either.
When we brought this up, Cindy mentioned that the company had been chatting with an alternative supplier and would be happy to get a quote from the other company as well. We ended up saving thousands of dollars and getting the granite and quartz countertops of our dreams.
We made a handful of other upgrades that we decided were a priority, including additional paint colours, central air conditioning, windows in our garage doors and some fancier lighting fixtures.
But every upgrade we made was one that we discussed in detail and decided was a priority. There hasn't been one I regretted spending money on, and having builders that were willing to help us find great prices on all our upgrades made the whole process even better!
Be Prepared For a Few Minor Regrets
Having put so much time and effort into our house really did make me fall in love with it. More than a year later, I still adore almost everything about our family's home.
But even after being as thorough and well-researched as we were, there are a few small changes that we wish we could make.
One is our kitchen sink. We have gorgeous slate appliances and oil-rubbed bronze fixtures in our kitchen. The stainless-steel sink looks woefully out of place and is so hard to keep looking clean.
We already bought a replacement sink and will hopefully be installing it soon. But I wish I had thought to upgrade right away, rather than having to spend extra time and money a year later.
The other regret is not adding more storage. There are places in our en suite bathroom and our mudroom that would be perfect for adding some shelves and cupboards. Once again, these will be relatively easy upgrades to make. But doing them during the actual build would have been so much easier!
Still, thanks to all our research and our amazing Saskatoon home builder, we have very few regrets about our house. While the odd small overlooked detail is inevitable, I'm so happy that everything else is just the way we wanted it.
Plan for Future Expenses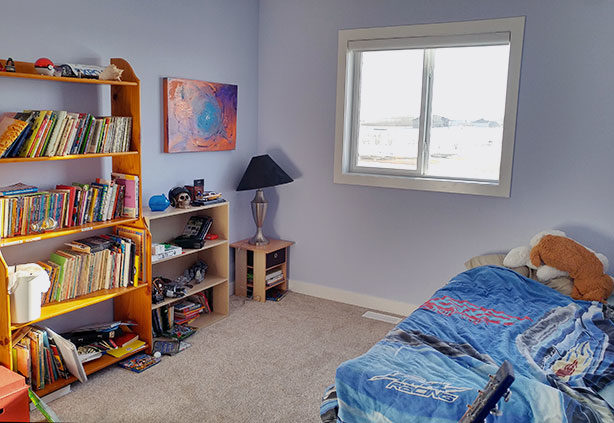 Even though building a brand-new house means that we won't have much to repair or replace for many years, there's still money we'll have to spend in the next few years before we have our house exactly as we want it.
For example, we're now in the process of finishing our basement and will soon have basement bedrooms for both boys, an office for me and a huge game room added on to our already amazing home.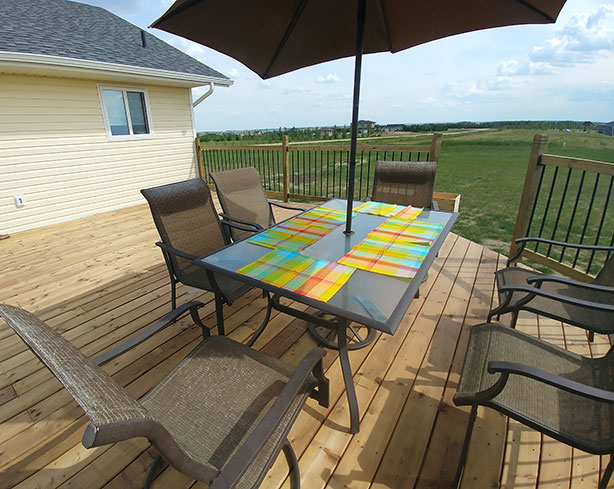 We've also already spent money landscaping, and will be spending even more this coming spring. We planted trees and built a back deck last year. This year, the focus will be on planting a proper lawn (no small job on six acres)!
But even though there's still money to spend and work to do, having a house that's complete and perfect means that we can take our time and work away bit by bit while still living in comfort and style. Making home and yard improvements may take some extra money, but it also couldn't be more fun!
Having gone through the home-building process, I have to admit that I understand exactly why it's so popular. Instead of a house that's almost what we wanted, we got a house that was exactly what we wanted…for the same price we would have paid anyways!
But having a Saskatoon home builder that we could trust throughout the process really did make all the difference. KCB Developments was a big enough company that we were confident they knew what they were doing, but small enough that we felt they cared about us personally.
Instead of talking to an employee of a large corporation if we had questions or concerns, we talked to the owners. Kurt wasn't just the general contractor throughout the process, he was our framer and gas fitter as well. He cared about our house as much as we did, and added so many little extras to make it look as good as possible.
I think it's only natural to be a little intimidated about deciding to build a home. It's a big job and a big purchase. But with a lot of research, a lot of prioritizing and the right builder, it can be a dream come true!
If you're looking for a Saskatoon home builder, I really can't recommend KCB Developments enough. But no matter where you're building, taking your time and thinking through every aspect of your build is a must for a house you'll be proud to call your home.