Disclaimer: This post was sponsored by AfterShokz and PTPA. Views expressed belong to Mommy Kat and Kids and are not influenced in any way.
After an unusually harsh winter (including the coldest February Saskatchewan has had in 80 years), spring has come early to the prairies. And I couldn't be happier about it!
Being able to spend more time outside is an instant mood booster. And since I've been following a new exercise plan, I decided that spring meant it was time to get off the treadmill and head outdoors instead!
Outdoor fitness is a ton of fun, but it's even better with the right equipment. For example, I never leave the house without my AfterShokz Trekz Air Headphones to keep me grooving when I work out. When I head outside, these are the seven items I like to make sure I have with me:
Layered Clothing
Exercising outside can sometimes mean starting out a little chilly and then gradually warming up. Proper layers help keep me comfortable while I walk, bike or jog around the neighbourhood. One of my favourite layers is a foldable rain jacket. Since it folds up into a small pouch, it's easy to carry when I'm not using it, but comes in handy on chilly mornings or during an unexpected shower.
Smartphone Armband
I keep my smartphone with me when I exercise not just to stay connected, but also to enjoy my favourite music and podcasts as I exercise! An inexpensive smartphone armband lets me keep my phone secure when I'm being more active, yet still easily accessible. Most even have a place for an emergency credit card or cash!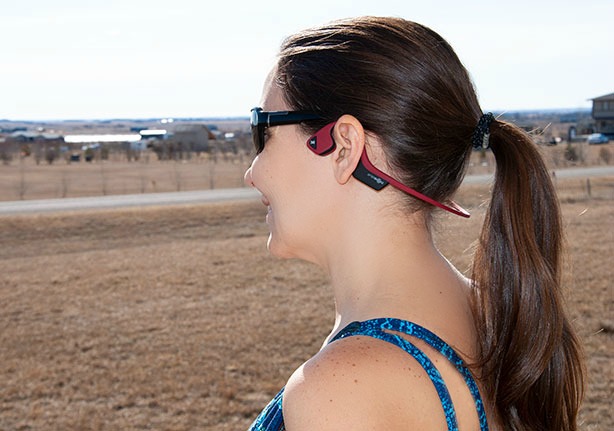 AfterShokz Trekz Air Headphones
To keep my outdoor workout fun, I always make sure I have my AfterShokz Trekz Air Headphones with me. They connect wirelessly to my smartphone so that there are no cords in my way as I'm exercising. And they use bone conduction technology, so that I can still hear my surroundings while I'm listening to music. Being able to hear people, cars or anything else approaching makes these headphones a must for safe exercising outdoors!
Sunglasses
I have a hard time being outside without sunglasses, but my usual fashion shades aren't the best choice when I'm exercising! Instead, I have a separate pair of exercise sunglasses that feature the UV protection I need along with better traction grip, so they don't slide around on my face when I get sweaty.
Lightweight Water Bottle
A reusable water bottle is a must for exercising, indoors and out. But when heading outdoors, I want a water bottle that's lightweight and easy to carry. Personally, I favour a simple plastic bottle that easily packs into a running belt and doesn't add weight once it's empty. But there are also water bottles shaped to fit the hand, bottles with built in belt straps and even water backpacks for more intense outdoor fitness workouts!
Sunscreen
Of course, applying sunscreen before heading outdoors to exercise is essential. But a sweaty workout means that sunscreen will wear off quicker, so I also bring sunscreen with me to help keep my skin protected. To minimize bulk, I use a simple sunscreen stick that's quick and easy to reapply and doesn't take up too much space.
Arm/Wrist Weights
When I exercise, I want to make sure I'm building muscle as well as getting my heart rate up. Arm and wrist weights are an easy way to do that outdoors. Every other day, I walk, run or bike using the weights to add more intensity to my workout. There are also weighted vests available or, for the most economical weighted workout, just slip some weights into an ergonomic backpack!
While the snow is almost completely gone here in Saskatchewan, the temperature still only reaches single digits most days, which means outdoor fitness can still be a little chilly. But with the right gear and my favourite songs playing on my Trekz Air Headphones, exercising outdoors is fun and energizing!
If you exercise outdoors and don't have a pair of AfterShokz Trekz Air bone conduction headphones, they're a purchase that you should definitely consider making! Whether you exercise in an urban or rural area, being able to hear what's happening around you is essential for both safety and comfort. Visit the AfterShokz website to learn more and then gear up for outdoor fitness fun!