Did you know October 11 is World Egg Day? While I personally think that any day is a great day to celebrate the perfectly balanced food that is the egg, World Egg Day is an additional reason for me to do some cooking with one of my all-time favourite ingredients!
The humble egg may not be a food that's often celebrated. But in my opinion, it should be! Eggs are one of the most inexpensive sources of protein available and are incredibly versatile! From a tasty and hearty Potato Frittata to tempting Tuna Salad Deviled Eggs, there are so many ways to cook with eggs.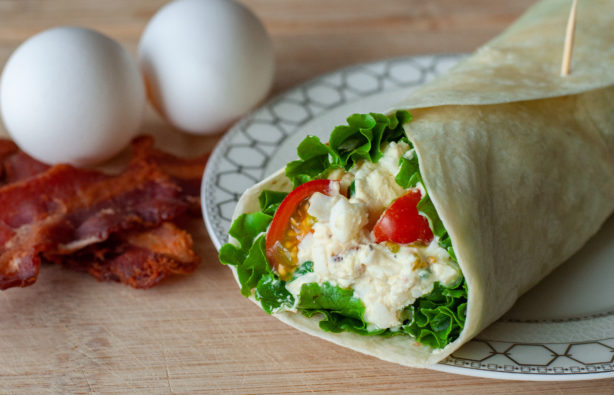 But that's not the only reason eggs are so great! Here are some fun facts about eggs you may not have known:
There are over 1000 egg farming families that provide Canadians with high-quality eggs for their households.
Canadians love their eggs! Last year egg farmers produced 752 million packages of one dozen eggs.
Egg protein has just the right mix of essential amino acids needed by humans to build tissues. It's actually the protein by which all others are measured!
One large egg contains only 70 calories and 5 grams of fat.
Contrary to popular belief, raw eggs aren't the health food they're thought to be! The human body can digest only half the protein from a raw egg, as opposed to 90% of the protein from a cooked egg.
Want to meet some of the farmers that help keep eggs in Canadian kitchens? Chef Lynn Crawford has teamed up with Egg Farmers of Canada to create a video showcasing some of these hard-working farmers and their daily lives!
Of course, somebody that loves eggs as much as I do couldn't resist creating a tasty recipe to celebrate World Egg Day. So I decided to put a twist on a traditional favourite recipe with a Bacon Egg Salad Wrap that's quick to make and perfect for lunch!
I've always been a sucker for classic egg salad. I order it at restaurants, I make it myself, and I pile it on everything from croissants to lettuce leaves.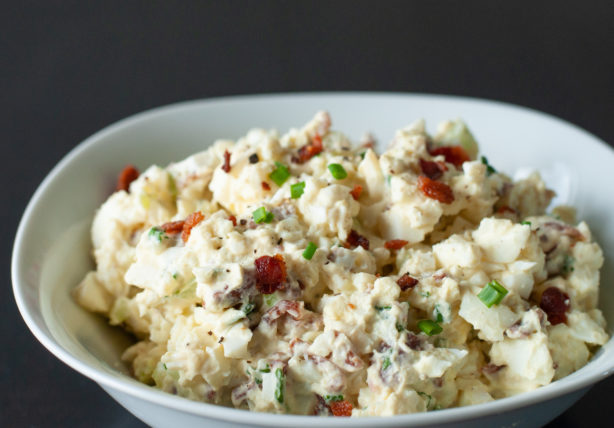 But I wanted something that was a step up from traditional egg salad, and so my Bacon Egg Salad Wrap was born! Egg salad is even more delicious when it has the added flavor and crunch of crumbled bacon added. And with crisp lettuce and fresh tomatoes on a warm flour tortilla, it's the perfect way to celebrate eggs on World Egg Day!
Because I wanted the flavor of the bacon to come through, I kept the seasoning in the egg salad fairly simple. Mayo, Dijon mustard, lemon juice, diced celery, salt and pepper were blended with the eggs to create the classic egg salad I love so much. After that, I crumbled up the bacon and folded it into the egg salad.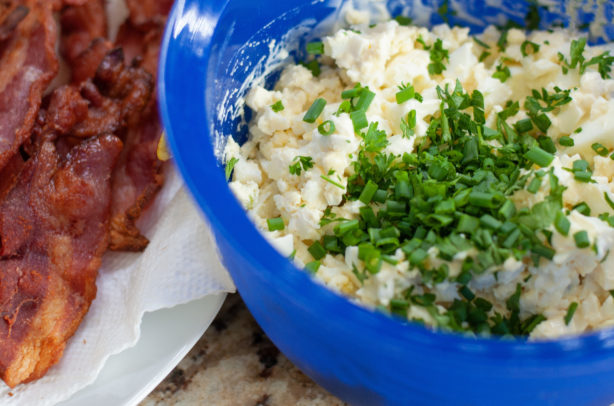 Finally, I added some freshly chopped parsley and chives to brighten up the flavor of the egg salad. Then I used our indoor grill to warm the flour tortillas slightly before filling them with lettuce, tomato and plenty of Bacon Egg Salad filling. Just like that, lunch was served!
This egg salad is addictive and the bacon adds such a great flavor. Bacon and eggs aren't just for breakfast anymore! For a Keto or low-carb alternative, substitute lettuce leaves for the flour tortilla for a lunch that's packed with protein and so satisfying!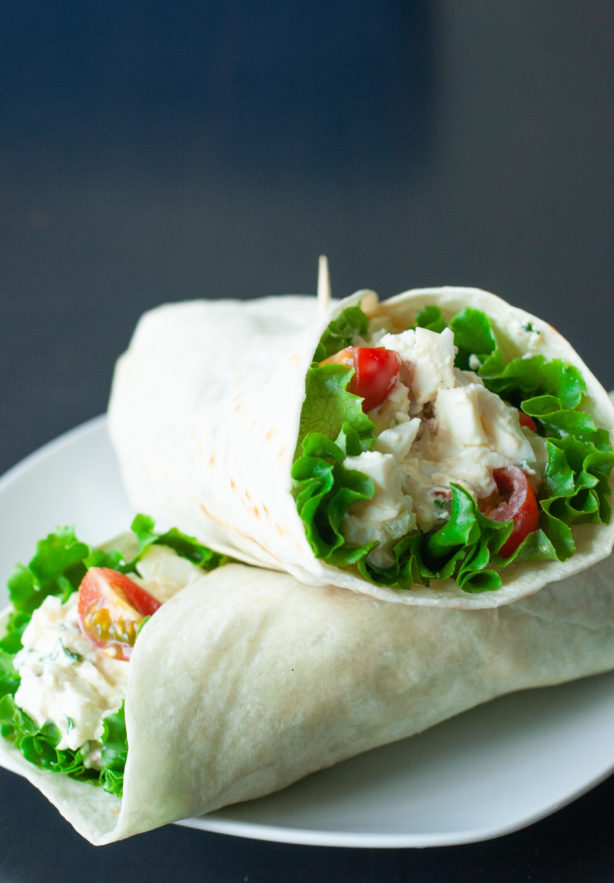 In a rush? Substitute about half a cup of real bacon bits for the crumbled bacon! It's a great time-saver for days when you're craving that smoky bacon flavour and don't want to be bothered with pulling out the frying pan.
Whether you try this recipe for World Egg Day or create something else, make sure to hop on Facebook, Twitter or Instagram to share how you'll be enjoying eggs on October 11 using the hashtag #WorldEggDay! There's no better time to share your appreciation for Canadian egg farmers and that simple yet essential must-have of every kitchen…the egg!
Bacon and Egg Salad Wrap
Classic egg salad gets an upgrade with the addition of crispy bacon! Perfect for a quick and easy lunch!
Ingredients
8 eggs
1/3 cup mayonnaise
1/4 cup diced celery
1 tsp Dijon mustard
1 tsp lemon juice
1 tsp salt
1/2 tsp pepper
6 slices bacon, cooked and crumbled
1/2 tbsp fresh parsley, chopped
1/2 tbsp fresh chives, chopped
4 flour tortillas, warmed
4 pieces green leaf lettuce
2 tomatoes, sliced
Instructions
Using your favourite method, cook eggs until hard-boiled.
Peel eggs and chop roughly. Add mayonnaise, celery, mustard, lemon juice, salt and pepper. Mix well.
Fold in fresh herbs and crumbled bacon until fully combined.
Layer lettuce and tomato on flour tortilla and top with egg mixture. Fold and serve immediately.
Notes
Substitute 1/2 tsp. each dried parsley and chives if desired. Egg salad may be made in advance and refrigerated for up to three days.
Nutrition Information:
Yield:

4
Serving Size:

4 Servings
Amount Per Serving:
Calories:

527
Total Fat:

33g
Saturated Fat:

8g
Trans Fat:

0g
Unsaturated Fat:

23g
Cholesterol:

397mg
Sodium:

1419mg
Carbohydrates:

33g
Fiber:

3g
Sugar:

3g
Protein:

24g