It's no secret I love to cook. The kitchen is my happy place and there's nothing better to me than experimenting to perfect a new dish, like these Tuna Salad Deviled Eggs.
But I also have three boys, which means I usually have limited time to research and come up with new meal ideas. That's why I'm in love with Chefs Plate!
The company's recipes are absolutely mouth-watering, and for as little as $8.99 a serving, I get a box of pre-measured ingredients to cook my chosen recipes, delivered right to my door!
Recently, Chefs Plate asked me if I would test out one of its boxes and share the recipe and my results, and I couldn't wait. I decided on the Halloumi Pesto Burgers for my recipe, and they were hands-down out of this world.
The halloumi burgers are served with roasted red peppers and a simple spinach salad. The recipe has just six steps, and I used a few pro tips that, in my opinion, make an already great meal even better!
The recipe starts with slicing up the halloumi and onion. The onion is then put in a pan with butter, salt, pepper and sugar and cooked until it softens and starts to caramelize.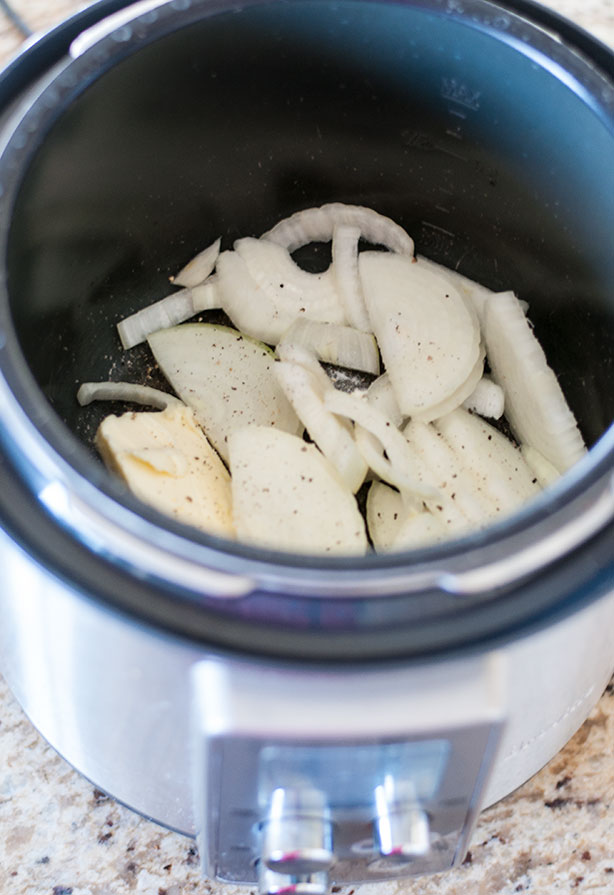 PRO TIP ONE: If you have a pressure cooker, toss the onion, butter, salt and pepper into it! You can skip the sugar in this case. Pressure cook for 8 minutes, drain off any extra liquid and enjoy perfect caramelized onions without the work!
Next, the halloumi is tossed in oil and Herbs de Provence, then baked in the oven, flipping halfway through. The buns are toasted in the oven right after.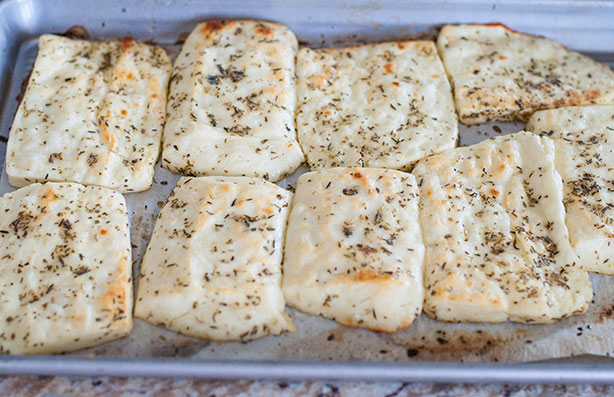 PRO TIP TWO: For really nice golden-brown halloumi, consider broiling the cheese instead. With my gas oven, which doesn't get quite as hot as an electric one, I found broiling gave me better results. Just keep in mind, you'll have to keep a closer eye on it in this case!
The spinach salad is mixed up next. Baby spinach and a salad topping of nuts, seeds, and berries are tossed together for the salad. A simple blend of oil and balsamic vinegar seasoned with salt and pepper is used for the dressing.
PRO TIP THREE: Add a tiny bit (about half a teaspoon) of mayo to the dressing and whisk it well or shake it up in a jar. The mayo helps the oil and vinegar to emulsify so that they don't separate. That means every bite of your salad will have the perfect blend of oil and vinegar!
With everything prepped, the final step is assembly! The buns are spread with basil pesto, then piled with grilled halloumi, roasted red peppers, caramelized onion and a bit of the spinach salad.
The resulting halloumi burger is fancy enough for any gourmet, and was a huge hit with everyone in my family.
This Chefs Plate box has sold me on how easy and delicious the company's meals really are. Now my only concern is deciding which recipes to choose next time, because they all look amazing!
If you love cooking as much as I do, check out the recipes on the Chefs Plate website for yourself and see how easy and affordable delicious meals for the whole family can be!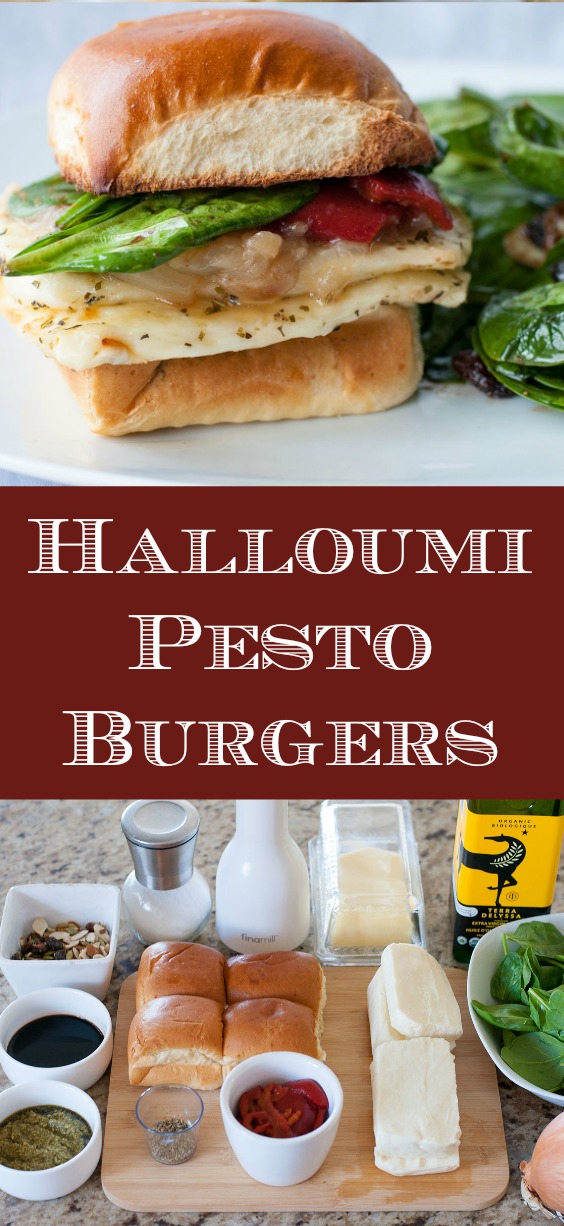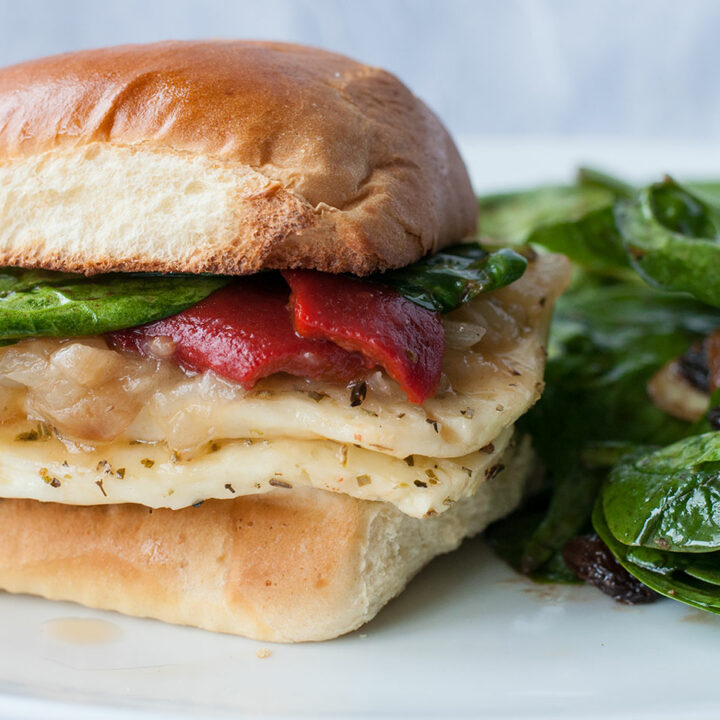 Halloumi Pesto Burgers with Spinach Salad
Delicious vegetarian burgers made with grilled halloumi cheese, served with a spinach salad.
Ingredients
From the Box
400g halloumi cheese
4 brioche buns
1 large onion
112g roasted red pepper
2 tbsp. basil pesto
2 tsp. Herbes de Provence
226g baby spinach
2 tbsp. balsamic vinegar
1/2 cup salad topper mix
From Your House
2 tbsp. plus 2 tsp. butter
4 tbsp. plus 4 tsp. oil
2 tsp. sugar (optional)
salt and pepper to taste
Instructions
Preheat the oven to 450F. Start the recipe when the oven is ready. Wash and dry all produce. Cut onion into 1/4-inch slices. Cut halloumi lengthwise to create 8 thin slices. Place halloumi in a colander and rinse under cold water.
In a large non-stick pan, heat 2 tbsp butter over medium-high heat. When butter is melted, add onions and 2 tsp sugar. Season with salt and pepper. Reduce heat to medium-low and cook, stirring often, for 10-12 min, until onions are soft and golden. (Alternative: Eliminate sugar and cook in pressure cooker for eight minutes instead.)
Prepare a foil or parchment-lined baking sheet. To the baking sheet, add halloumi. Toss with Herbes de Provence and 4 tsp oil (double for 4 portions). Bake, on the middle rack of oven, for 6-8 min, turning halfway through cooking, until halloumi is golden. (If desired, use oven's broiler to cook cheese instead.)
Halve buns. Directly onto the upper rack of oven, add buns, cut-side up. Toast, for 1-3 min, until golden.
In a large bowl, mix vinegar and 4 tbsp oil. Season with salt and pepper. Add baby spinach and salad topping mix. Toss to coat.
Serve halloumi on buns. Dollop with pesto and top with roasted red peppers, caramelized onions and some spinach salad. Plate remaining spinach salad alongside. Enjoy!
Recommended Products
As an Amazon Associate and member of other affiliate programs, I earn from qualifying purchases.
Nutrition Information:
Yield:

4
Serving Size:

1
Amount Per Serving:
Calories:

960
Total Fat:

66g
Saturated Fat:

34g
Cholesterol:

75mg
Sodium:

1810mg
Carbohydrates:

55g
Fiber:

5g
Sugar:

15g
Protein:

41g