SpongeBob Squarepants has been a hit in our house for over a decade now, so we were all excited to learn that the new SpongeBob movie, The SpongeBob Movie: Sponge On the Run, is now available on Blu-ray and DVD!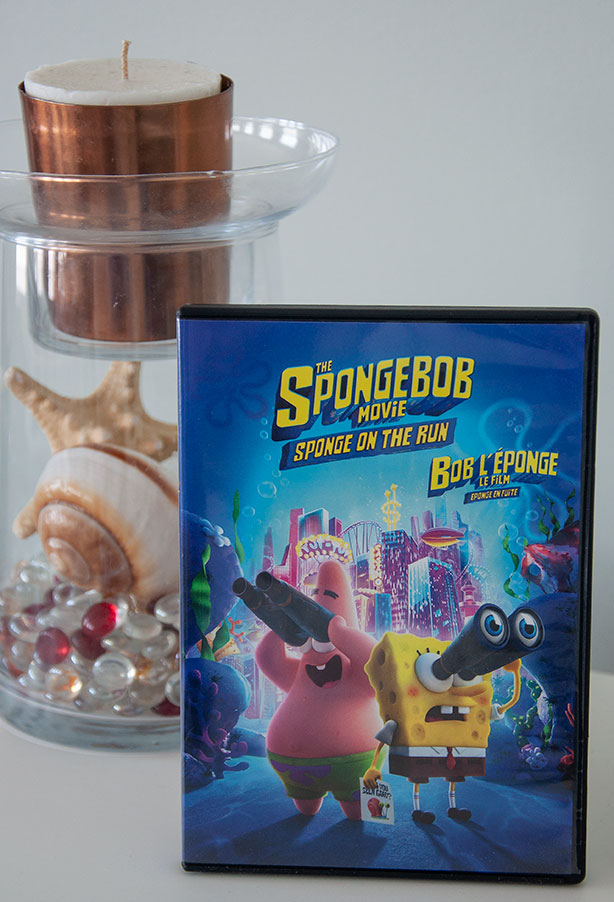 I recently received a copy of the DVD to review, and I was almost as excited as my boys to check it out. Here's a brief synopsis of the movie:
When SpongeBob's beloved pet snail Gary goes missing, a path of clues leads SpongeBob and Patrick to the powerful King Poseidon, who has Gary held captive in the Lost City of Atlantic City. On their mission to save Gary, SpongeBob and his pals team up for a heroic and hilarious journey where they discover nothing is stronger than the power of friendship.
Since my boys have a week off school right now, the timing was perfect to check out the new movie. In true SpongeBob style, there was lots of absurd situations, fun celebrity cameos, and outrageous villains.
Personally, I was especially happy to see how much my preschooler enjoyed watching the movie. Finding things that are fun for him and his older brothers is no easy task, but SpongeBob got the job done!
The DVD also includes a brand new mini-movie, deleted scenes, and sing-along music videos for even more fun for kids and adults alike.
Want to check out the movie yourself? One lucky reader is going to win an amazing prize pack containing a DVD copy of the movie, SpongeBob Squarepants plush toys, and Pineapple House toppers, an $80 total value! To enter to win, just leave a comment about your or your kids' favourite SpongeBob Squarepants character.
The SpongeBob Movie: Sponge On the Run is a fun, family-friendly movie choice that's sure to result in lots of laughter on your next movie night. Find it in stores or online now and get ready to head on an undersea adventure with SpongeBob and his friends!