If there's one thing that's true about family life, it's that it's never boring! From work and school to chores and sports, life can feel like a whirlwind at times for most families.
So how can a busy parent keep track of classes, birthdays, appointments, and more? A good smartphone calendar can help a lot, but it's not the prettiest or most engaging way to track family events!
If you're the type of person that would rather use a calendar that's bright, beautiful, and highly personalised, then the simplest solution may be to make a calendar yourself!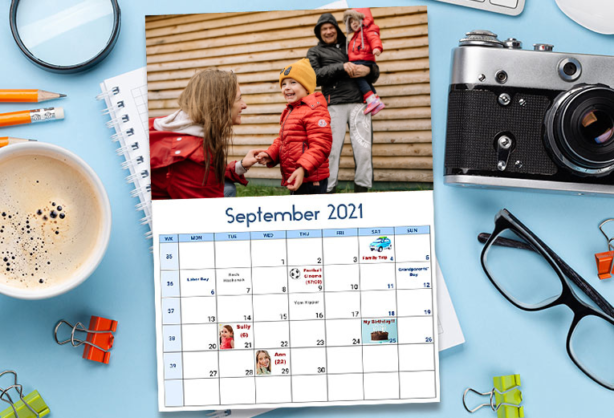 With a bit of preliminary work, you'll be able to show off a calendar that tracks all the things that matter most to your family. And if you involve the kids in making it, they may just be more likely to check it later and keep track of their activities on their own!
If you're new to creating a personalised family calendar, set aside a bit of time and download some good calendar creation software. Photo Calendar Creator is a great easy-to-use program that gives you a chance to create calendars of many formats, including wall, desk, pocket, spiral-bound, and more.
Besides, you'll have limitless customization options – from the style of the month grid to the pictures you can put on your calendar.
And as an added bonus, the software lets you create your own list of important days, from birthdays to coming sports events, and put them in place on the calendar. You can even add pictures and cliparts for more visual appeal!
Wondering what type of calendar might suit you and your family best? Here are five different calendar types that you may want to consider:
Workout Planner
For the active family, a workout planner can be a lifesaver. Kids can use it to keep track of sports classes and games, while adults can use it to plan a proper workout routine.
Having a visual motivation to exercise can be a great help on a busy day, and makes tracking your progress more fun as well!
Meal Planner
If there's one must that every busy family should have, it's a meal plan! Meal planning is a surefire way to spend less on groceries, waste less food, and eat a healthier diet.
But it can be overwhelming at first, so putting each meal on a calendar and then jotting down the ingredients on your grocery list is an easy way to get started. You'll be amazed how much smoother the days run when you've planned supper for the week!
Birthday Reminder
If you have a large family and lots of close friends, consider creating a birthday calendar. Set it up without including days of the week, and it can be used year after year.
It will be lots of fun for family members to reference if you include photos of the birthday boys and girls on their respective dates, and you'll always remember to send them that cute Happy Birthday video you made!
School Calendar
If your kids are in different grades, or even different schools, their schedules may be very different.
Designing a school calendar that tracks days off, final exams, and other big school events will help keep you organized, and keep your kids on track with work.
Office Desk Calendar
Having an office desk calendar to track corporate events or colleagues' birthdays is sure to come in handy. But when it's made with photos of your loved ones, it becomes meaningful as well.
Not only will you have an easier time staying organized at work, you'll have the smiling faces of your family to get you through those stressful days!
No matter what type of calendar you decide to create, you'll love the way it adds extra style to your home as it keeps your day running smoothly.
And once you've seen how easy it can be to make a personalised family calendar or planner, you may just find yourself making them as gifts for friends and family members, too!
After all, everyone loves the gift of organization when it looks so good!